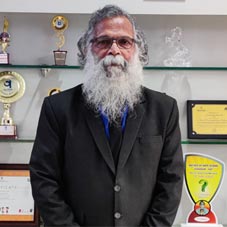 The right education can empower the nation. It is the need that our children receive the education that is on par to make a child capable of making a positive difference in society. Gone are the days where schools getaway by teaching what is in a textbook. Now, armed with the latest technology, the institutions have the choice to venture out of the books and enrich kids to pursue what they love. CEO Insights proudly presents Laxmi Global School as one such International Institute that promotes independent learning and encourages learners to be responsible for their learning. It offers a child-friendly, student-centered learning environment with digitalized, air-conditioned classrooms.
The school gives challenges to learners to observe, research, and present biocentric child. Here, the learners and educators are more reflective in practice and collaborative in activities. It introduces French from Lower Secondary Grades, 3DPrinting & coding classes from Primary Grades. It offers flexible subject combinations at IGCSE/AS/AL. With the teacher-student ratio of 1:10, individual attention is the core of the learning process. Kindly peruse the following snippet of an exclusive conversation with Komath Bhaskaran, Principal, to know more about him and his administration at LGS.
Briefus on your educational and professional background. Also, explain your current role at Laxmi Global School.
I completed Masters in Economics with B.ed and Diploma in School Administration. I worked for 15 years in UAE as an educator (Dubai Cambridge School, Dubai, and Ibn Seena English High School Sharjah). I come with 20 years of experience with the Ministry of Education, the Republic of Maldives as a Leading Teacher and Principal.
I am familiar with Cambridge and joined Laxmi Global School in March 2019. Here, my responsibility is to Provide Professional Training to Educators, Assist the Examination Officer to liaison with CAIE, Career Counselling to AS/AL learners, Counselling on the choice of Universities and courses of studies for AS/AL Learners, Connect and relate with parents and community members.
How has your journey with the school been so far?
I have got a very supportive Senior Management Team and a vibrant school community, who helped the school to take off at a very high speed in terms of quality in instructional strategies and learning outcomes. I am proud to have learners getting A* at CAIE examinations and alumni in higher studies in countries like the USA/Canada and the UK.
What challenges have you encountered during this journey?
Being a premium school providing quality education of Cambridge International, keeping abreast with international developments and standards is always challenging.
Ensuring the educators are informed, are trained, and persuaded to leap forward with the trends, though challenging, is what makes the Laxmi, Global too!
LGS plans to solicit Cambridge to have a viability study for its Business Management School on the campus
Where is Laxmi Global School positioned in the current education sector of India? And, how are you leveraging the best of emerging education opportunities for the growth of the establishment?
We have more than a decade in the provision of curriculum delivery of CAIE and have carved a niche in Western India.
The Smakerspace, a very innovative idea of our dynamic Edupreneur Ms. Kinjal Gajera has brought a special place to Laxmi as well in the educational map of India. We as an institution are on the frontline in blending academics with co-curricular activities, which is one of the core parameters of NEP as well.
Provide some insights on the admission process and various academic courses that you offer at your school.
We provide a wide range of courses for Cambridge IGCSE subject. We build a curriculum around their specific needs with a wide range of abilities, including those whose first language is not English. Encouraging learners to engage with a variety of subjects, and make connections between them, is fundamental to our approach.
We offer a flexible and stimulating curriculum, supported with excellent resources and trained staff that helps in developing skills in creative thinking, inquiry, and problem solving among students. Admission is open to learners from any Board. We conduct the written test in English and Maths. If the performance is satisfactory, it is followed by admission counseling and meeting with the Principal.
Tell us the most effective methodology & technologies used in your school to ensure better learning experiences for your students?
Our only Methodology & Technology is promoting "Learning by doing". Incorporating technology into our teaching is a great way to actively engage our students, especially as digital media surrounds young people in the 21st century.

We encourage students to ask questions and investigate their ideas, helps improve their problem-solving skills as well as gain a deeper understanding of academic concepts; both of which are important life skills. We differentiate our teaching by allocating tasks based on students' abilities, to ensure no one gets left behind. Also, assigning classroom activities according to students' unique learning needs means individuals with higher academic capabilities are stretched and those who are struggling get the appropriate support. We have clinics open for slow learners, which is very rare.

How are you updating your curriculum models to increase your school's repute as compared to other international schools? What is the future roadmap set for your school?
We have included Global Perspective in our curriculum. Global perspective (GP) is an informative subject that is a blend of issues of global significance and individual, local, national, and global point of views on it and I believe it will help students to build their confidence and articulate their arguments using concrete evidence on various issues. They will not only gain awareness but this will also go on to help them in future grades or when they enter the 'real world'. We have the plan to register with Cambridge for its Early Year Program.

Komath Bhaskaran, Principal, Laxmi Global School
Highlights
Surrounded by over 120 acres of greenery, Laxmi Global School maintains a range of educational and sporting facilities such as:
• Science laboratories
• Computer laboratories
• Spacious dining Hall with canteen services
• Two canteens and a dining hall
• Gymnasium
• Basketball and badminton courts
• Athletics, football, and cricket grounds
• Infrastructure for Swimming, Kung-Fu, 3-D printing, football, volleyball, Cricket, indoor games (Table tennis, chess, etc.), and outdoor games
• Separate hostel facilities for boys and girls
• Infirmary/sick Bay with qualified nurse and doctor on call
• 24 hours CCTV surveillance
Laxmi Global School School believes in the overall development of the students by balancing academics, extracurricular activities, sports in the state-of-the-art infrastructure within the campus