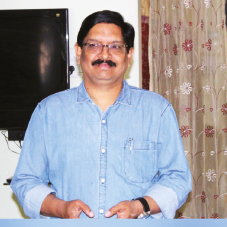 The internet revolution post 2016 has brought a whole new world of changes to the users' perspectives. Indians today consume more data (9.8GG/smartphone) per month than any other countrymen in the world. Since the number of smartphones is expected to double by 2023, we are looking at a 40 percent increase in internet user-base. With the telecom sector putting-forth a huge potential, the need of the hour is stable and seamless internet connectivity. Meeting this dire entailment with world class Wireless Fidelity(Wi-Fi) is Loyal Telesystems Pvt. Ltd. a Hyderabad based company that works as an aggregator of all the major telecom service providers, providing seamless internet connectivity at an affordable cost.
Under the aegis of RSN Murthy, Managing Director and with the unconditional support of his partners cum buddies Dr. Attili Venkata Suresh and Dr.Lakshmayya Naidu, Loyal Telesystems has come a long way from where it began its journey in 2014.CEO Insights explores the interesting endeavors of the company through an all tell conversation with Murthy.
How has been the company's journey so far?
We kick started this journey in the year 2014. My two close friends, Dr. Suresh and Dr. Naidu who happen to be professional practicing doctors, have been a fantastic supporting system alongside me. They gave complete liberty to build the organization with the best ethics and business practices. Although it initially took time to stabilize the
businesses, today, we are an established brand in the 'Gated Community'segment for residential broadband and in the SME segment for Wireless/Wi-Fi services.
We offer aggregated and integrated services with SI/NI works, in addition to ensuring end-to-end connectivity solutions on IoT platform
How does your nearly three decade strong experience in the industry guide you? How does it help you in molding strategic business modules for your company?
My career had a humble beginning in the early 90s with GlobalTelesystems Ltd. (GTL), selling email/EFS/EDI. It was a time when the internet was an expensive deal for the corporate and even a professional email was in high demand. Post 1998, we, GTL, also became an ISP. Ever since, I have always strived to upgrade myself and my team with the latest trends in the Telecom sector. After my four year and three year stints in SprintRPG and Sify Technologies respectively, where in truth I had a great learning curve, I joined Reliance Communications in 2008 as the head of Enterprise Sales in Chennai and subsequently had a great exposure in South India. I then shifted to Tulip Telecom in 2009 as its business head in Bengaluru, before starting my entrepreneurial journey. This diverse experience is my guiding light in taking the company forward.
What's the range of services that you offer? What's the focus while building your solutions?
Wi-Fi is our core competency. We offer aggregated and integrated services with SI/NI works, in addition to ensuring end-to-end connectivity solutions on IoT platform. The solutions include Smarton Home Automation Solutions and a wide range of solutions that provide seamless connectivity to Malls, Gated
Communities, Hospitals, and many more.

We are keenly focused on upgrading our Carrier Class technology services by manifesting various new products on a quarterly basis. Of late, we have signed up with a global company that helps us in creating SIM based GSM integrators that help us in providing strong telecom signals for SME/Corporates in Class B & C cities. We are also focused on village Wi-Fi services, catering to Kirana Shops, Fancy Stores and many more. Going ahead, we lookforward to build an IoT integrated, solar based three in one Wi-Fi access point on street lights, along with an HD quality CCTV camera.

How do you ensure maintaining the quality and efficiency of all your telecom services & products?
Being an ISO 9001-2015 certified company, we take products from OEMs of superior quantity. Accordingly, QOS is also maintained.

What is the future roadmap set for your company?
We are working together with FTTX's project of STERLITE for MAHANET, and an APSFL project with two other companies, and are keen to be a part in the TFIBER project. We are executing FTTH rollout for Reliance Jio and associating with Airtel for telecom infra projects. We are hoping to be a leader in telecom infra over the next five years and aiming to be a $50 million dollar company by 2023.

Key Management:
RSN Murthy,Managing Director
Murthy has an experience of nearly three decades in Telecom Sales across North and South India. He is on a mission to take part in India's telecom revolution.

Offices: Hyderabad (Headquarter), Bangalore, Chennai, Visakhapatnam, Mumbai, & the US

Offerings:
•Network Integration
•IT Services
•Telecom Services