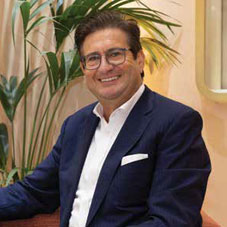 Luc Perramond is a senior executive with a proven track record in the luxury industry, specializing in watches and jewellery, an entrepreneur passionate about business development and creating value. He has held senior managerial positions since the age of 26 and has demonstrated his ability to achieve desired results in adverse business environments, executing multiple successful turnarounds. Luc brings in a wealth of experience building worldwide markets on six continents, as well as skills in wholesale and retailing. A creative thinker with extensive management experience in both family-owned and publicly listed organizations, Luc Perramond has managed various joint ventures and acquired several firms, as well as successfully completed LMBO, IPO in NYSE and ZURICH, and subsequent sale of TAG Heuer to LVMH. Currently, Luc Perramond is the Chairman and CEO of Damas Jewellery, a renowned jeweller in the Middle East. In an exclusive interview with CEO Insights, Luc Perramond enlightens us about his professional traits and the unique play of Damas Jewellery in the market.
Throw some light on your professional background and experiences. What drives you today?
My entire career of 30+years has been in the luxury industry with a focus and a true passion for Watches and Jewellery. I have held senior management positions since the age of 27 when I became CEO of TAG Heuer USA. I've had the privilege of working with renowned brands and companies including TAG Heuer, LVMH, H.Stern Jewellers, Hermès, Ralph Lauren, Richemont, and now Damas. I have worked with both family-owned and publicly traded firms, working personally with exceptional designers like Ralph Lauren himself, traveling the world and developing expertise across six continents.
I consider myself a brand builder and brand developer with specialized expertise in the brand transformation from turn around to repositioning for profitable growth. My expertise is in retail and wholesale, both online and offline, and I am passionate about the
product and customer experience. I had the opportunity to conduct various acquisitions and participate in TAG Heuer's successful LMBO, IPO, and sale to LVMH. I also manage Joint Venture and Franchise agreements. I am more of an entrepreneur than a corporate executive, and I strive to assemble the best teams of talents and lead them toward success.
I am more of an entrepreneur than a corporate executive, and I strive to assemble the best teams of talents and lead them toward success
Define Damas Jewellery as an organization. What makes the company unique from the other competitors?
Damas is a leading jeweller in the Middle East with an unrivaled footprint of 180+stores in 7countries, millions of consumers, the #1 share of voice on social media in the Jewellery category, and a rich heritage dating back to 1907. Damas' unique selling point is that we are "from the region to region"; we have a deep grasp of our local clients and a long and lasting relationship with them. The majority of our collections are created inhouse by our design team, who understand the brand's DNA and create exclusive products inspired by Arab culture and heritage. We offer unparalleled value leveraging the finest craftsmanship and exclusive designs, which we intelligently price.
Our new store concept pays homage to our Arabic roots with motifs and earth tones inspired by the region's rich architectural and design legacy. We are continually innovating to surprise our clients and provide them with new and exciting experiences Women empowerment, labgrown diamonds, Bayt Damas.
What are the future market opportunities that you look forward to investing your time to reach your goals?
Damas is uniquely positioned to capitalize on the numerous opportunities that exist in the region.Geographically, we see enormous growth potential in Dubai, particularly in the highend and luxury segments, as a result of the Dubai government's exceptional policies, which are making Dubai a very attractive and desired destination for business and tourism. KSA is also a crucial priority for us as we are witnessing this amazing country's rapid and successful transformation. Qatar is a market where we are redefining
the brand, as we did in Dubai over the last 2 years where Damas has significant development potential due to the brand's high recognition. Finally, Egypt is another exciting growth market in the midterm.

In terms of product category, we see growth opportunities in the luxury segment with a famous brand like Graff, as well as in the bridal business in general. With prominent names including Mikimoto, Roberto Coin, Djula, Fope, and Marco Bicego, our unique collection of premium international Jewellery brands will witness rapid growth in the coming years. We will announce two new additions to our portfolio in the Fall. Within Damas' portfolio, we were the first to innovate in2021 with Gaia, the Middle East's first Labgrown diamond collection. This year, we will continue to grow with an amazing engagement/bridal extension in October that will provide tremendous value and the benefit of sustainability to our loyal clients. This initiative will expand the market size by attracting more customers to our diamond destination.

What would be your advice to budding entrepreneurs?
If I could give any advice to aspiring entrepreneurs, it would be this: be passionate about what you do; only passion will help you overcome the many challenges you will encounter on your path to success. Put a premium on emotional intelligence to guide you in your decision-making and people management. Surround your self with talented people who are much better than you in their respective fields of expertise. Find a "mentor" who will guide you and ensure you get the most out of his or her experience and wisdom: you will avoid many pitfalls and progress faster on the learning curve.

As for a mantra, I am always inspired by this quote from Nelson Mandela: "I never lose. I either win or learn."

Luc Perramond, Chairman and CEO, Damas Jewellery
Luc Perramond is an exemplary Entrepreneur, passionate about business development and value creation. He brings 30+ years of expertise, having held top management positions in several organizations of repute, and has demonstrated his ability to achieve desired results in adverse business environments, executing multiple successful turnarounds

•Hobbies: Spending time with my family, fly fishing
•Favorite Cuisine: Japanese, sushi and sashimi in particular
•Favorite Book: The Monk who sold his Ferrari
•Favorite Travel Destination: Corsica, France