Madala Bharath Kumar: A Passionate Entrepreneur Striving To Deliver High-End Technology Products And Software Services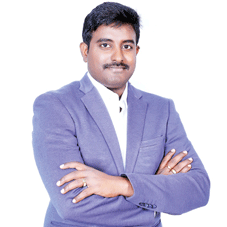 Engaging in an exclusive interaction with CEO Insights, Madala Bharath Kumar highlights his jour-ney as one of Hyderabad's highly efficacious corporate leaders due to his ability to define success in his terms.
Bharath Kumar reveals his successful journey; Says "key to success is communication"
1. How do you tackle the initial challenges? Also, how do you ensure that the critical principles deployed by you at NProdax Technologies are used appropriately to meet its short/long-term needs?
As lessons are an everyday routine for any entrepreneur, I got some hard times managing everything initially but accomplished steady growth soon. I have always believed
that the key to success is communication. For all clients, I have been on the client-side that helped the company grow faster, and it has worked for me since its inception. The company ensures the best quality work, openness, and transparency to all clients. We set many alternatives to us even for simple budget-friendly maintenances of all the projects.
2. Highlighting the differential factors that set your services a class apart from your competitors, explain your USP.
Our USP has always been about being beyond the expectations of clients. We suggest what is best for them and at the same time we say what is not needed for them even if they ask us to do. We don't act as vendors but handle projects by always remaining aligned with our clients' perspectives. As we never use outdated technologies, we are the first steppers in Hyderabad to start with a BigData database named MongoDB in 2014 and use an advanced tech stack to keep our client beyond the market. We do not ask the client to pay for any number of visits as our company is client-centric.
We started proving to be the market leaders in the revolutionary industry 4.0 with the most advanced technologies like machine learning, deep learning with artificial intelligence
3. What are some of the new age challenges confronted by this market and how do you safeguard your clients/customers from these flaring challenges?
One of our major challenges is that almost every client expects instant results. Understanding the needs of our clients and delivering them results with the utmost focus can achieve client satisfaction. Our
analytical skills always make us stand out of the box with the best results. Adopting the advanced method-ologies, we try to set high standards in the industry where we are regarded as leaders till date.

4.In your professional journey so far, which are the milestones that bestowed you with utmost satisfaction?
The satisfaction that I got when we saved millions of money for a client with a smart move in 2015 had a huge impact till date. The product named ProcureX that we made in 2017 is another milestone where we excelled in Supply chain management. 2018 was tough for us and it made us learn a lot as we immediately moved towards success via IoT developments we started in 2018.2020 being a year against the businesses had ZERO impact on us because of the distinctive projects we handled. At the same time, we did not deduct a single rupee in our employees' salaries, and we are pretty proud of it.

5. Is there any innovation/up-gradation currently happening in your company that might be launched soon into the market? What is your plan for the future?
Recently in early 2020, we started a Research and Development wing where we have worked on Industry Automation and excelled with the extraordinary results. We started proving to be the market leaders in the revolutionary Industry 4.0 with the most advanced technologies like Machine Learning, Deep Learning with Artificial Intelligence. Our innovative product ProcureX is a supply chain-based plat-form powered by Artificial Intelligence for corporates to manage their requirements via their vendors and it is equipped with processes beginning from Purchase Requisition to Invoicing. Being the market leader in Integration services, SAP and Salesforce, we have upgraded our skills with the most advanced technologies like Artificial Intelligence are consistently trying to reach $10 Mn revenue by 2023.