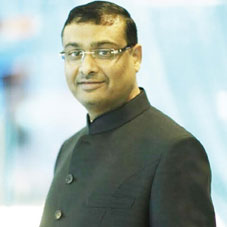 Leaders are not born, they are made! The saying best personifies the life of the ardent, vibrant, and 'self-made' leader Mahendra R. Gupta, Chairman, Burakia Group who climbed the success ladder with nothing but determination. He is inspired by the wise words of a Chinese philosopher Lao Tzu, "A leader is best when people barely know he exists, when his work is done, his aim is fulfilled, they will say: we did it our selves." Born as the eldest of four children of a Haryanvi family, he shifted his base to Gujarat to seek better opportunities, thinking beyond a small job was just impossible for him. However, the dream of doing an own business was always alive in his mind. Making the ends meet, today his brainchild Burakia Group consists of All India Roadways(Logistics), Balaji Formalin Pvt.Ltd.(manufacturing) and Fakirsons Papchem Pvt.Ltd. (trading) 350+ Crores group with close to 300 employees.
Recognizing him as one of the top leaders, CEO insights engages an insightful interview with Mahendra. The valuable nuggets from him is a true inspiration. Kindly peruse the following snippet which showcases his leadership style and journey.
Highlight the interesting facts about your professional journey. How did the transformation from an employee to a business person happen?
It is common to believe that leaders are born with leadership qualities in their genes. But that's untrue. Leaders are made rather than born. People are not born with leadership qualities these qualities are developed over time through practice. One should have the courage to set the vision and determination to make that vision into a reality.
I came out just as a job seeker but I always aspired to have my own business, which I thought is anunachievable dream. However,
one should have enormous courage, deter mination, man management, leadership, and interpersonal skills to build a business group from zero which we did.
Give us a brief detail about your educational background and professional background.
All my schooling was done in Ahmedabad. I was good in studies but had to stop after a certain point of time after finishing high school, to support my father in his business, conditioned such due to his deteriorating health conditions. My father had the dream of having his own business too. After briefly working with a transport company for a few years, my father had shown the courage to start his own transport business in 1978. All the knowledge about having a business that I gained in the initial stages was through following my father's daily activities in the workplace.
As a leader, it is my duty to not just lead theorganization, but also the people in it. People from the organization and they can make or break it. Hence, it falls upon me to motivate them and guide them
In a transport business you need to have continuous monitoring and interaction. My father used to handle situations and people firmly, without losing his temper. I have learned skills like man management, grievance redressal, and interpersonal communication from him. Even though I don't have an MBA degree from a recognized institute, I truly became a Master of Business & Administration by learning from my father's business.
What are your strategies to leverage the best of it and carve out beneficial solutions for both the company and the clients? Also, how do you ensure that Balaji Formalin's specialization reaches every client in the best way possible?
I am one of those few Directors who doesn't actively use social media, like Instagram and Facebook. However, I do understand the importance of technology especially in manufacturing and customer service. We are the trendsetters in the Formaldehyde market. We are the first Formaldehyde Manu
facturing Company in India to import the whole silver-based Formaldehyde Manufacturing plant. Balaji's first manufacturing unit in Ahmedabad's plant is imported from abroad. Keeping in view the technological advantages, I was sure that this decision will help us to provide quality products to our customers.

Our second manufacturing unit in Maharashtra uses European technology. Across India and South-East Asia, the quality and uniform size of the Prills of our Paraformaldehyde is widely accepted and appreciated.

Keeping in mind the technological advantage and customer service, we have implemented a robust ERP system a few years back. The customer portal where in customers can see the price, place their order, download the invoice, see the statements,view the delivery schedules, etc. is almost finalized and expected to be online by February 2021. Such specializations are being done to keep customers satisfied and making the trading process smooth. A major chunk of the group's income is earmarked for constant update of technology.

How has your family supported you in your career so far? Also, how do you manage to balance between your personal & professional life?

When I think of the family, the first image coming to my mind is of my mother. Most of my father's time was spent in handling the transportation business ­ it's such a line where even 24 hours seems to be insufficient. Since my father wasn't able to provide much time for the family, all the responsibilities were on my mother. She has sacrificed a lot for her children.

Being the eldest son, I have seen my mother's sufferings and hence, I have always ensured that I give sufficient time to my family, even though it was difficult at the time I started my journey.

Different roles executed so far:
Chatting with old acquaintances is my main hobby. I don't read much, but a newspaper is a must. I do enjoy going out with my family and friends occasionally. I generally prefer anything made at home, like Khichdi with kadhi, rather than going to restaurants and eating out. No place or destination is a favourite to me. For a place to be my favourite, it will have to have my friends and family enjoying by my side. But, I do prefer beaches.