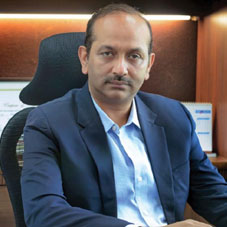 A true leader nurtures his people and transforms them into leaders of tomorrow. Naveen Kumar Singh is an ideal example for such a leader whose professional forte is steering a team into a leadership pipeline. As a Group CEO of Napino, he is an expert in talent spotting, positioning them as a valuable, highperforming, and motivated team. Naveen is a passionate inclusive leader whose thought leadership helps in structuring and driving long/ midterm growth strategy viz. Customer Strategy, Regional Strategy & Product strategy, which are his vital skills.
He developed expertise towards manufacturing excellence, charting out long-term growth strategy and linking global alliances. His focus is on implementing collaborative R&D philosophy for new technologies by accelerating innovation, and integrating technology planning with the business strategy. He strongly believes in meeting customer expectationson quality, reliability and safety for the products and solutions offers by Napino.
With nearly 3 decades of expertise in the manufacturing industry, he is involving in Make-in-India Initiatives to support the growth of the Indian economy. Naveen is shaping up several emerging technology businesses at Napino such as Digital Solutions, Internet of Things and Electric Vehicles. He is a steward of digital thought leadership with an interest in technology companies and as mentor he guides them towards growth and market readiness. Kindly peruse the following snippet of conversation between Naveen and CEO Insights to know more about his journey.
Brief us on your educational and professional background. How has your learning helped you in your journey so far?
I completed BE Mechanical from Manipal University and Business Management from IIM Calcutta. I relish the experience of over 3 decades in the automotive industry. My education and experience shaped my strategic views to take
actions that are oriented towards growth, partnerships, collaborative research, and development. MBA helped build the under standing and importance of marketing leading me to build a strategy and execution plan for after market products and distribution network for B2B and moving to B2B2C.

What were the initial challenges that taught you the basic lessons of managing diversified functions of the organizations?
We were lagging on R&D capabilities although we had good manufacturing experience and after we started investing in R&D, we were able to generate more value addition to our customers and in our products. The importance of technical knowledge in business engagements is key to survive and compete in the world today. The importance of the strategic alliance with technology partners, supplychain companies, component suppliers, and startups has given Napino an edge to compete efficiently in a rapidly changing ecosystem.

Most recently the pandemic of 2020 and 2021 has taught me to be more compassionate towards the needs of the employees, partners, and customers. Once you win their trust you will have lifelong fruitful relationships.

As a Group CEO, how crucial has your industry experience been in shaping your leadership journeys?
It all comes from the experience, learning from failure, and implementing the lessons learned to become a master at what you do, everything is learned on the job. Having seen the industry landscape change over the years, I always focus on the trends and have a vision to bet on what is emerging and the latest. Strategy is the domain of not just business functions but also R&D, operations, and HR whom all contribute towards building a world class product or a service.

How do you ensure that Napino's specialization reaches every client in the best way possible?
With a collaborative R&D approach through partnerships, even our customers have had mutually beneficial relationships with faster time to market. We have a world-class manufacturing infrastructure with best-in-class equipment, machinery, processes that produce 20 Mn highquality units annually and we plan to expand it further to meet our customer needs. We are not just a regular manufacturing company, our decades of experience in the industry and the best in business human resources help our clients with invaluable consulting.
Moreover, we have built trust with large global companies that have made us their trusted online supplier.

As a CEO what are the strategies/ methods you put forward to align your organization with your vision and mission and how do you generate great value for your organization?
I usually let the operations of ongoing business be run by my sr. leadership team while I spend a vast amount of my time thinking, planning, and executing on actions that are going to generate revenue in the next 3-5yrs. My focus is on building technological capabilities, global partnerships, and nurturing the leadership team to deliver a truly world class product to our customers and uphold their trust in Napino as a bankable partner. I make myself readily available to respond to any change in a moment's notice and promote passion and empathy during testing times.

How has been the company's growth and what is the future roadmap set ahead?
We have more than doubled our production volume, revenues, employee strength, manufacturing infrastructure and even scaled up our partnerships and acquisitions in the last four years. The road ahead is going to be far more exciting as we build our capabilities to address the market needs in the emerging technology areas such as EV, IoT, ODM and even our own Napino branded products for B2C markets.

Naveen Kumar Singh, Group CEO, Napino Auto & Electronics Ltd
Different roles executed so far:
•Group CEO-Napino Auto & Electronics Ltd
•Senior Vice President-Napino Auto & Electronics Ltd
•VP(Operations)–Subros
•Business Head–VARROC
•Plant Manager-Faurecia Clean Mobility
•Manager Operations–ISMTL
•Diversification into emerging technology business such as Digital Solutions, IoT, EV, among others
•Visionary Aspire to become an Indian MNC product company to address global needs.

Awards and Recognition:
•Frost & Sullivan Manufacturing Excellence Award(2005, 2008 and 2010)
•JIPM-TPM Excellence Level Category A Award 2018-Haridwar plant
•JIPM-TPM Excellence Level Category A Award 2019-Manesar plant
•ELCINA awards