Santosh Kumar Sinha: Leading His Manufacturing Firm Towards International Markets Through Smart Business Planning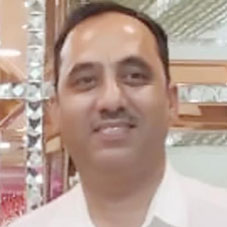 In an exclusive interview with CEO INSIGHTS, Santosh talks more about his professional journey and the operations of Rootech Services.
Can you tell us more about your educational and professional background?
I did my B.Sc-I and Diploma in Mechanical Engineering (specialization in production) and training from Hindustan Aeronautics Ltd Lucknow. The inclusive learning environment the institute offers and their curriculum that emphasizes on offering holistic education to its students helped me to be better equipped with the skills needed to thrive in this modern world. The practical and theoretical training that I received there also allowed me to get a head start in my professional career. When it comes to my professional journey, I have had the blessing to work for some of the most reputed brands in the industry including Kianoria Steels, Kings Coatings Pvt Ltd, Glass Equipments (Somany Group), Everest Blowers and Busch Vacuum. Working for these organizations allowed me to gain experience in all
the different facets of manufacturing including Procurement, Quality Control, Production, Third party Inspections, Application Engineering, Design & Development, Customer care and it even paved way for my entrepreneurial journey. Even though, the manufacturing industry is a highly competitive market realm, the expertise and experience that I acquired during my professional career laid the path for the establishment of Rootech Services.
Rootech is a quality oriented organization which is working on principle resource utilization and minimizing after sale services by producing qualitative products consistently through constant innovation
Can you elaborate more on the challenges that you faced in the industry and how are you coming up with innovative business strategies to gain an edge over the rest of the competition?
Challenges are constant not just in the manufacturing industry but in any industry vertical and those who are able to face these challenges and push forward can attain sustained success in the industry. Even when I started Rootech Services I had to face multiple challenges but I never thought about the adverse impacts of those challenges, rather I tried to find the positives in that and saw my mistakes as a learning process and I believe that even the mistakes I did have helped me to be a better professional and business leader. Also, I love to involve with all the different facets of our business operations and this not only helps me to analyze our entire operations, but it also allows me to identify the problems and come up with solutions that will address those problems in the most efficient way. We as an organization have also made it mandatory that we never compromise on the quality of our offering and this has allowed us to not just build a positive reputation in the industry but it has also allowed us to create a niche in the market.
Elaborate more on your offerings and the uniqueness of your operations?
Rootech is a quality oriented organization which is working on principle resource utilization and minimizing after sale services by producing qualitative products
consistently through constant innovation. Owing to the high standards of our manufacturing operations, we are also able to provide our customers two years of on-site warranty too. To cater to the varied requirements of our clients, we have created an impressive product portfolio that includes application of Roots Blowers in various fields like material handling (pneumatic conveying), vacuum process applications, waste water applications, aquaculture applications, and mechanical vapor recompression to name a few.

Manufacturing and providing products according to the needs and applications of our clients is our primary strength and through constant surveys as well as research, we have been able to offer products that will address the pain points of our clients in the best way possible.

What are the various factors that have helped you to have a successful professional career and according to you, what is the most important skill that a modern day CEO requires?
Starting from my academic days, I have always wanted to create something that will help others and with Rootech Services, I have built a strong platform that I can use to leverage to help others by offering quality products and that drive to always offer the best has been a crucial factor behind my growth. I have also made sure that I update myself with the latest trends and skills, so that I can constantly reinvent myself to remain relevant in the industry. This passion for constant learning has also helped me to remain competitive in the industry and guide my company towards sustained success.

A CEO should be the jack of all trades and he/she should be able to take the right business decisions at the right time to ensure the success of the organization. Also, I believe that the best utilization of Techno Commercial activities and resources is the keytowards being a successful CEO, especially in the current highly competitive market realm.

Santosh Kumar Sinha, CEO, Rootech Services
Under his guidance, Rootech Services has been able to transform into a centre of business excellence that has been setting new standards in the industry. The company has also been awarded on numerous occasions including being recognized as the Top 10 most promising Aquatic Product companies-2020 & Top 10 Industrial Fans & Blowers manufacturers-2020 by Industry Outlook.