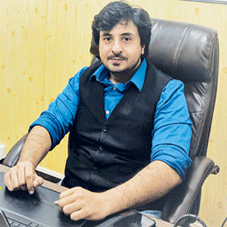 In this new age modern era of cut throat competition, every organization wants the best for themselves, no matter what the arena is. Nowadays, the business world is dynamic and evolving constantly, and companies need to adopt a pro-active approach relating to their brand establishment growth. Here is where the concept of Public Relations(PR) steps in. Corporate houses these days are more and more realizing the importance of PR for the success of their organization. Termed as the new-age marketing venture it is the best way to reach out to the market. Helping the industry reap these benefits is Mumbai-based Media Care, a fullservice 360-degree brand solutions agency specialized in PR and Digital Marketing.
This 2016 established organization is an independent growing agency and possesses a firm understanding of the marketplace in India and UAE. It uses strategic message development to build brands and achieve critical business objectives. From the audience to market research and in-depth strategic planning to partner with clients on day-to-day execution, Media Care sees the big picture but also understand how to create change. Under the aegis of Yasin Hamidani & Heemanshu Hemrajani (Founders & Directors), the company has cemented its hold in the PR industry as one of the leading organizations that operate as a highly professional partner for PR solutions. CEO Insights interviews Yasin & Heemanshu to know more about the features of Media Care.
Tell us more about PR as an industry and Media Care as an organization along with the services that you are offering.
In the current era, PR is considered as the keystone for individuals, companies, and startups to establish their reliability in the market. It has become an integral part of every organization to reach the target audience through various media platforms. Here, our aim as a PR agency is to offer such kind of services to our clients, that not only attains high returns for their businesses but create a positive image in the minds of people that will stay forever. We believe that, like every other kind of relationship, good communication is key to every thing.
We are experts in the PR industry. We set target oriented objectives and ensure that they are executed in a right and effective manner. We follow a perceptive & strategic approach that leads us to success. Our clients from prestigious
institutions to global enterprises can attest to our in depth understanding of the media and our ability to leverage their brands' attributes to produce meaningful results.
We believe that, like every other kind of relationship, good communication is key to everything
Talking about the offerings, our services comprise of 360-degree branding solutions. On the PR front we offer press release dissemination, crisis management, media advocacy, press meets & conferences, media relations, media profiling, competition analysis, media news track and many more. In digital marketing, we offer Social Media Marketing, SMS & Email Marketing, SEO, SEM and Online Reputation Management. Besides, we have a team for video content development, website & app development, and Event Management as well.
What are the factors that differentiates you from others players of the industry?
There are many factors that help us to stand apart in the industry and I would like to mention a few. Media Care is renowned for holding a good name since the very beginning of its journey. We have excelled in all the campaigns and projects we have done in the industry. Our competitiveness, willingness to work with others, expertise, trending knowledge, connections in the industry, right background and price points are some other points that differentiate us from others.
I would also like to mention one major aspect that has helped us to establish ourselves in the industry. It's our organizational structure. We have a team of young, enthusiastic and energetic people who brings specialized industry knowledge and extensive media relationships to every account. Our team possesses a strong understanding of today's needs & demands of the clients and their behaviour which influences them towards accruing the product/services of our clients. Guided by a multi disciplined and proactive approach the team consistently delivers maximum exposure for our clients and their companies.
What are your thoughts on the public relations industry in India? What opportunities do you foresee?
The PR business in India has witnessed rapid growth over the last few decades, and new services such as digital and social media communications have contributed extensively to the growth of the industry. From press releases, interviews and press conferences, the sector has evolved and started adapting innovative methods such as engaging videos, online content, bloggers outreach, and many more to achieve maximum lime light.
PR is not a formula driven business it is active in nature and continuously evolving. The scope of
PR is changing with each passing year which requires firms to keep in mind the various trends impacting the profession. In the coming year PR will experience some major shifts such as capitalizing the digital landscape innovative press releases, developing new skill sets, focus on influencer outreach, and the importance of thought leadership. We have already started to explore many opportunities and have also adapted to the evolving nature of the industry. With the flow of new services, we look at growing our clientele while exploring new ways to increase our revenue.
What is the future roadmap set for your company? How are you updating yourself with the latest industry trends in order to make your company reach its future goals?
Our immediate goal, for now, is to close at least another 100 clients in 12 months and grow the team. Also with our international presence in UAE we are in discussions with few industry key players in Australia & Canada as well. As a long term goal, we want to establish ourselves internationally and hold offices in every city of India with a team strength of 100+ employees and 500+ satisfied clients.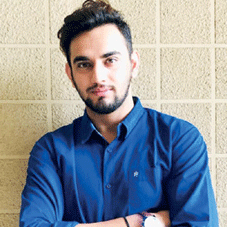 Heemanshu Hemrajani, Founder & Director
In order to update ourselves, we follow the western market trends that help us to learn new ideas. Besides, we analyze new case studies to churn out innovative solutions for our current & new clients. We have also been purchasing new software in the market which helps us to make our work easy in terms of tracking the news, competitor's analysis and many more.
KEY MANAGEMENT
Yasin Hamidani, Founder & Director
With over eight years of experience in the media and marketing industry, Yasin has successfully established a network across industries and have built the required reputation and name for his organization which is needed to sustain in the market. He is focused on strategizing plans & campaigns for the clients.
Heemanshu Hemrajani, Founder & Director
An expert in Digital Marketing Heemanshu holds an experience of more than six years in the industry. His experience is beneficial towards execution of the campaigns & day to day activities in Media Care.
Offerings:
PR, Media Relation, Social Media Marketing, Graphic Design, Brand Strategy and more
Offices:
Head Office Mumbai, Other Office Pune, Ahmedabad, Bengaluru, Kolkata, Hyderabad, Delhi & Dubai