Melban Mascarenhas: Delivering A Holistic Approach To Business Growth With Robust Marketing Support Programs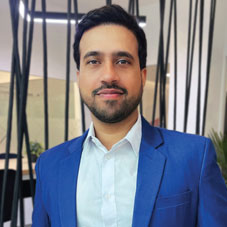 There are many emerging free zones that are promoting entrepreneurship and offering business support services to companies to help them grow and become economically contributing entities. Many players in this segment intend to offer exceptional customer service to all their clients, with flexible solutions to meet their needs.
A hands-on marketing leader with more than a decade of professional career, Melban has experience working on multiple marketing requirements and has introduced exceptional marketing strategies.
In an exclusive interview with CEO Insights, Melban Mascarenhas talked about the significant role of his leadership, casting light on his journey, the company, and the challenges.
Could you give a brief account of your professional background and experiences?
Having initially worked in sales and events, I transitioned to marketing in my early 20s and have since accrued 12 years of experience in this field. During this time, I have had the opportunity to work in various agencies and have spent the last decade working in the UAE.
What is the motivation that fuels your daily routine?
Beyond personal ambition, my motivation is deeply rooted in the desire to make a difference. Marketing has the power to transform businesses, elevate brands, and positively impact the lives of consumers. I am driven by the belief that through strategic marketing initiatives, we can shape narratives, influence perceptions, and create experiences that resonate on a profound level.
As a marketing leader, I am not content with mediocrity. I strive for excellence in every endeavor, pushing boundaries, and defying conventional norms.
In a rapidly evolving landscape where trends come and go, and consumer behaviors shift with lightning speed, I find inspiration in the endless possibilities that lie before me. The challenge of staying ahead of the curve, anticipating market needs, and delivering exceptional experiences fuels my drive to constantly learn, adapt and innovate.
I believe that to effectively lead a team, setting a positive example & promoting open communication is paramount
How would you define SPC Free Zone as an organization and its current position in the market?
SPC Free Zone is a subsidiary of the Sharjah Book Authority that provides entrepreneurs and investors with a streamlined and efficient option for establishing their businesses in the UAE. With a wide range of over 1,500 business activities and modern facilities, we offer flexibility and convenience which makes us an ideal choice for entrepreneurs seeking to set up their business quickly and easily.
Tell us about your flagship offerings and what are the value additions that customers can expect from your offerings.
At SPC Free Zone, we pride ourselves on the ability to issue a business license in just 45 minutes and UAE residency in only 5 working days. Additionally, we offer over 40 support services, including corporate banking assistance and VIP Medical and Emirates ID assistance, to ensure our clients have everything they need to start and run their businesses smoothly.
As the Marketing Head, what are the latest strategic plans you have adopted to expand/optimize operations and engage new audiences in the market?
We have developed a strong online presence through which we reach out to more than 1.5 million people
every month. We've done this by tailoring our communication to their specific interests. We have also established a 24X7 contact center to assist our customers, ensuring that their needs are met in a timely and efficient manner.

Our exceptional customer service has earned us an impressive 4.9-star rating on Google, reflecting our commitment to providing the best possible service to our customers. We strive to exceed their expectations by delivering prompt courteous, and professional assistance.

Tell us about your leadership approach. What are the guidelines or methodologies you follow to lead your team?
I believe that to effectively lead a team, setting a positive example and promoting open communication is very important. Creating a culture of learning and development as well as celebrating successes and learning from failures can also contribute to successful team dynamics. At the same time empowering team members and delegating tasks fosters growth and encourages a sense of ownership in the team's success. Leading with empathy and combining strategic thinking, interpersonal skills, and a growth mindset are crucial components of effective leadership.

What is the future destination you are heading towards?
We are in the process of implementing an 'SPC Marketplace' and introducing a loyalty program, in which registered businesses can gain points to use for development and training. Additionally, we are actively pursuing collaborations with leading brands in the region and expanding our operations globally. These initiatives are part of our ongoing efforts to enhance the services and opportunities we offer to our clients.

Melban Mascarenhas, marketing head, SPC Free Zon
Originally from a sales and events background, Melban moved into Digital Marketing in his early 20s and has been in this field for the last decade, working on multiple requirements. From Social Media Marketing and Search Engine Marketing to Website Development and Film and Stills production, He has 360-degree experience in Digital Marketing.