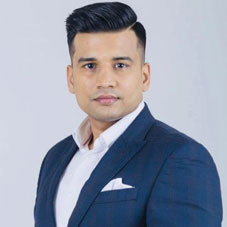 The success stories of Indians ruling the global business world are epitomes of pride & accomplishment. They are captivating because they are rare & remind us of the immense talent potential of the country. Naren Vish's journey is one such inspiration.
Naren Vish's journey is nothing short of remarkable from a modest upbringing to the pinnacle of achievements, he has encountered every hardship & challenge along the way. At a tender age, Naren imbibed valuable business lessons from his father, sparking a keen interest in entrepreneurship & the art of growing businesses. Later on, he ventured into the media & advertising industry, where he discovered a deep passion for the art of storytelling. With an unwavering fascination for the power of storytelling across diverse media, Naren's passion for this field has only grown stronger over the years.
Throughout his career, Naren has worked in various industries, including Real Estate, Retail, Media, Education, & Technology sectors, & has been fortunate enough to work on global campaigns.
One of his most notable accomplishments came in 2013 when he led the Mumbai Meri Jaan campaign in India for the Kanakia Group, earning him & his team recognition in the Limca Book of Awards.
In the UAE, Naren has successfully positioned Ellington Properties as a designled Real estate developer. His masterstroke brand campaign, 'Live in Design', launched in 2017-18, is still considered the most eye-pleasing campaign in Dubai, helping Ellington grow its buyers base in both national & international markets.
How would you describe your role at Alef
Group?
My journey at Alef has been nothing short of a magnificent journey. I was given the opportunity by our CEO, Issa Ataya, to create & develop the marketing department from scratch, which has grown into a think tank for the entire organization. As the head of the marketing team, I had the distinct honor of directing & managing the overall marketing & branding strategies for Alef's AED 8.2 Billion portfolios, encompassing real estate, retail, hospitality, & entertainment, in the UAE market.
The highlight of my tenure at Alef was the successful launch of the national-level brand campaign 'Essence of Belonging' for Al Mamsha Sharjah, the first fully-walkable mixed-use community in Sharjah. This colossal 5.5 billion AED project in the heart of Sharjah has captured the attention of Property Investors.
Anything of true value will always be supported by the universe
As if that wasn't enough, we followed it up with the national launch of 'Hayyan - Making Homes Human', villas & townhouses, for which we received the Property Finder award for the best project launch. Our outreach has grown exponentially, & we are now regarded as a distinguished real estate & retail developer in the UAE.
As Alef Group's Marketing Head, my tenure was fulfilling, enriching, & challenging. I look back at my time with immense pride & satis faction & eagerly look forward to the adventures that lie ahead.
How do you formulate your strategic plans for business growth?
As a seasoned marketer, I rely on a tried & tested approach to developing strategic plans for business growth. Data-driven decisions are key, & in today's era of AI & business analytics, data is more accessible than ever before. However, I also believe in the power of emotional triggers in buying decision-making. Storytelling can tap into those emotions & create a deep connection with the audience that drives engagement & loyalty. The delivery of the message is also crucial, especially in today's world of short attention spans & multiple screens.
My approach to crafting strategic plans that catalyze business growth is a meticulous blend of refined data science techniques, inventive design thinking methodology, & state-of-the-art media activation strategies.
Could you tell us the unique qualities you
have picked from your experiences?
My experiences have molded me into a distinguished leader.

Foremost among these qualities is a strong work ethic which I believe is essential for success. I firmly believe that hard work & perseverance are irreplaceable, & persistence & tenacity can overcome any challenge.

Discipline is crucial for achieving goals by driving consistency & perseverance, & it is second on my list of essential qualities, alongside a strong work ethic. Finally, empowering people to make the right choices is a value that I cherish.

I foster accountability by empowering team members to make decisions, instilling pride in their work, & supporting their growth & development.

Going forward, how do you plan to invest your time in your career path?
Looking ahead, I am dedicated to ongoing learning & growth. In today's rapidly changing world, keeping up with the latest industry trends & techniques is crucial, & I am eager to take advantage of every opportunity to do so. Additionally, I am motivated to share my experience & expertise with the broader community. As a marketer & entrepreneur, I believe it is my responsibility to inspire & empower the next generation of professionals, leaving a positive impact on the world. Giving back & uplifting others are among the most rewarding aspects of my career, & I am fully committed to contributing to the betterment of the community. My goal is to balance my personal & professional development while dedicating time to community outreach & mentorship. Through these pursuits, I am confident that I can continue to achieve great success while making a positive impact on the world.

Naren Vish, Marketing Head, Alef Group

Naren Vish is an award-winning Brand Strategist & Marketing Professional, an early adopter of technology with a passion for digital storytelling. With over 16 years of digital marketing & branding experience, Naren has been a part of the digital revolution in the UAE, UK & Indian diaspora of Real Estate, Retail, Media, Education & Technology Sectors. He worked with some of the top industry leaders that have led to the success of various Global brands in B2C, B2B, & B2G segments.