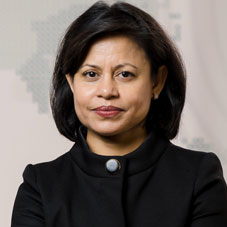 The demand for greener products in the mining industry has been increasing over the years. In this context, Paramita Das, Global Head of Marketing, Development and ESG, Metals and Minerals, Rio Tinto, is playing a crucial role in empowering this sector. With her extensive experience in leadership roles expert in ESG, Blockchain, Diversity, SupplyChain, and Digital/Business Transformation she brings a unique perspective to the table. She's an active public speaker who has been sharing her knowledge and insights with the industry. With her leadership, the mining industry is expected to see significant growth in the coming years. Let's learn more from her in below interview snippets.
Can you provide a summary of your professional background and experiences? What drives you in your daily work?
My professional experience has involved leading a team of innovative and diverse leaders. While I have worked in various areas of business, my passion lies in providing value to customers through customer centric solutions that promote sustainable practices. This purpose motivates not only myself but also my entire team who use their knowledge to develop pioneering solutions that meet our customers'needs. We listen to our customers and the market to drive innovation within our company.
You have more than 20 years of experience. Can you describe your journey toward success and your approach to achieving it?
My journey has been a continuous learning experience rather than a clear path to success and I dont have a specific mantra for success. Moving from India to the US, I had to adapt to effectively communicate my thoughts and ideas. Working with global organizations allowed me to understand the impact of multiculturalism and the importance of diversity and inclusion. I have gained tremendous respect for different ways of thinking and
learned from others' experiences including the younger generation and new hires, who bring fresh perspectives and ideas. Even my son challenges me to improve every day. Learning is a significant part of my journey and I am passionate about it.
How would you characterize Rio Tinto as a company and its current market position?
Rio Tinto is a global leader and a trailblazer. The organization has a proud legacy of pioneering achievements by employees who ventured into uncharted territories, accomplished the seemingly impossible, and persevered in finding solutions that meet the needs of the world. This legacy continues today, as demonstrated by the recent development of carbon-free smelted aluminum after more than a century of R&D. Rio Tinto's commitment to innovation, customer-centricity, and ESG leadership has enabled its success and global standing, and legacy for future generations.
As a leader, it is crucial for me to bring out the best in my team & harness their collective energy
As the Marketing Head, what are the latest strategic plans you have adopted to expand/ optimize operations and engage new audiences in the market?
As the Head of Marketing for Rio Tinto's metals and minerals, my team and I are continuously striving to improve and expand our operations while engaging new audiences in the market. One example of our recent strategic plan is the launch of START, a blockchain-based nutrition label that provides radical transparency for our materials. We initially launched it for aluminum and are now expanding it to copper and minerals. This technology provides our customers with ESG credentials and the provenance of the material flow, enabling them to make informed decisions about their material choices. We aim to be the partner of choice for the Green Future by continuously innovating and listening to our customers and consumers' needs. We'll continue to work towards this vision and improve our selves to achieve it.
Can you describe your leadership style and the principles or methodologies that guide your
leadership of your team?
To me, leadership is centered around people. Our company values are care, courage and curiosity, and we are currently undergoing a cultural transformation. As a leader, it is crucial for me to bring out the best in my team and harness their collective energy. However, what I find most rewarding is when my team shares their enthusiasm for a concept or journey. I encourage everyone in our organization to view their work as more than a job, but rather as a passion and movement.

What is your ultimate goal for the future?
My goal is to build strong partnerships with strategic organizations to pave the way for a greener and more innovative future. Achieving this will not be easy, and we need to work together with our customers, suppliers, and consumers to make it happen. We must be humble in our approach and constantly push the boundaries of innovation. We need to be proactive in identifying and addressing our weaknesses, so we can feel proud of the work we do together, rather than relying on one person or organization to lead the way.

As someone with a strong industry background, what guidance would you offer to emerging industry leaders?
My advice, while it may seem cliche, is to simply be yourself. When I was first given this advice, I didn't fully appreciate the importance of authenticity. As long as you're respectful, share your thoughts and experiences (no matter how small), listen to others, and never shy away from being true to yourself, you will find that authenticity is invaluable. It will also give you a lot of personal energy and be a truly enriching experience. This advice I learned from my own son, and it has been the most liberating advice I've ever received.

Paramita Das, Global Head of Marketing, Rio Tinto
As the GlobalHead of Marketing, Development, and ESG for metals and minerals with Rio Tinto, Paramita is responsible for aluminum, copper, battery materials, and critical minerals and the development of the portfolio. She's based out of Chicago but has worked in several countries. She has previous experience in leadership roles in Oil and Gas Industry (BP) and with Investment consortiums (Sumitomo Corporation, UACJ, and Itochu). She is a passionate advocate for ESG and inclusion.