Middlemile Pro: A Young Firm Recognized For Offering Standard And Bespoke Ground Transportation Solution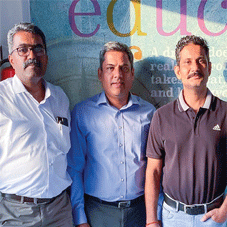 Every country's economic backbone is the logistics industry and because of the technological advancement and rise in digital services in India, logistics startups have been able to expand their operations and diversify their revenue streams. This has helped them to strengthen the existing supply chain frameworks and fill in gaps in the Indian logistics industry, which is still poorly organized. CEO Insights interviewed Rajesh Bhatia, the Co-Founder and Partner of MiddleMilePro LLP, wherein he shared about the journey that went into founding their business.
What are the major aspects of your company's Startup transportation & logistics services?
MiddleMile Pro LLP is a digital logistics suite that integrates the physical and virtual environments into the supply chain of our customers. Our vision involves expanding our scope to help retailers meet demand around the country and provide a consistent service to their customers regardless of location.
We are designing state-of-the-art technology solutions encompassing load pairing with available carriers, forecasting demand and supply, analytics and business intelligence, order management, shipment management, tracking, dock management, and financial services through a strategic focus on automation and digitization.
Enlighten us about the various services offered under the transportation & logistics portfolio. Also, explain the unique benefits that customers can avail of these services.
We offer a collection of services that provide traditional and bespoke ground transportation solutions, including for time-sensitive industries like e-commerce and healthcare. Also, at MiddleMile Pro we offer consulting services for network design and resource management, as well as assisting customers with the transition to pull- based supply chains with inventory level monitoring. Apart from this, under Digital Logistics Suite we provide functional excellence, moving to enterprise logistics management and ultimately leading the customers to the supply chain integration and collaboration to characterize supply chain leaders.
What are the innovative technologies/methodologies that you leverage to offer your services? Also, how do you ensure to maintain the quality and authenticity of these services?
The technologies that we offer to our clients are end to end. They include GPS and SIM-based tracking, Driver app for an end to end real-time visibility, Control tower for alerts and exception management, Shipper and Carrier app for load pairing and carrier rating, Reverse auction engine, and Dock management.
MiddleMile Pro LLP believes the increasing convergence of logistics operations and technology strategy presents an opportunity to develop a digital solutions suite (DLS) that leverages the strengths of existing stakeholders to create an ecosystem that delivers solutions to all stakeholders on both the demand and supply side
What opportunities and challenges do you foresee in the current transportation & logistics market and how are you moulding your company with respect to the same?
The road transportation of goods sector has many stakeholders, and knowledge flow between them is either non-existent or broken at best, resulting in inefficient asset utilization, stakeholder misuse, and poor service. Knowledge gaps also prevent the creation of solutions that can benefit the sector, especially on the financial side. The ownership of assets in road transportation is highly fragmented, resulting in a lack of processes, scope, size, and financial capital.
Changing market trends results in either a supply shortage or surplus, causing a spike or decrease in prices, affecting shipper supply chain output and as-set owner financial viability, respectively.
Some of the major challenges faced by transporters are on the demand side such as Generate demand, arrange capital to fund transactions. And on the Supply-side, it is Supply discovery and arrange supply of required equipment at the time and place required. Currently this is done through making numerous calls till they either get lucky or fail and give up.
And the opportunity that we foresee is to develop a digital solutions suite
(DLS) that leverages the strengths of existing stakeholders and available capacity/offerings to create an ecosystem that delivers solutions to all stakeholders on both the demand and supply side.

Are you coming up with innovations or up-gradations to enhance your existing services?
We have a five-year plan in place that involves port-folio growth as well as expanding our presence to help our clients achieve functional excellence and resource management. The launch of the Less Than Truckload service is scheduled for the coming financial year.

Brief us about your team involved in offering transportation & logistics services along with their professional experiences and expertise in the industry.
Alex Mathew, an Industry consultant with rich experience in Operations, Planning &Engineering and Customer Service. Prior to his current role, Alex has served his duties as Sr. Vice President Supply Chain Operations at Delhi very. Sr. Director Hub & Transport at Flipkart and Executive Director at FedEx. Alex is specialized in areas such as Planning & Engineering, Operations, and Customer Service.

PramodTripathi has a rich commercial experience of 20+ years, having worked with market leader in Ground transportation. Prior to MiddleMile Pro LLP Pramod has worked as Sr. General Manager, Gati KWE, Profit Center Head, Sales, Customer Experience and Key Account Manager at FedEx.

What is the future roadmap set for your company? How are you updating yourself with the latest technologies/industry trends in order to make your company reach its future goals?
MiddleMile Pro LLP is well aware of the increasing convergence of logistics operations and technology strategy. A new generation of web-based enterprise logistics applications will drive the future, allowing for collaboration and optimization while utilizing a central logistics knowledge backbone that offers visibility across the enterprise and extended supply chain.

To create new process models and ensure fulfillment excellence, we design solutions that are closely integrated with the core warehouse, transportation, and labour management systems.

Rajesh Bhatia, Co-Founder & Partner, Middlemile Pro
Rajesh Bhatia Isa logistics industry veteran with 25 + years of experience with industry leaders in Global and Indian markets. He was Managing Director Sales India, FedEx and has looked after Sales, Operations, Customer Service, Credit & control at Blue Dart Express.