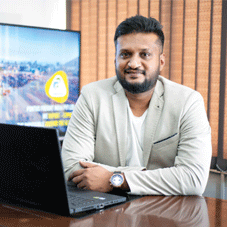 Without logistics, the world will come to a standstill, so it is an irreplaceable business vertical and when it comes to business opportunities, there is immense potential to grow in the logistics industry. In a big country like India, there are a lot of areas within the logistics industry that has untapped potential and one pioneering business organization that strives to realize the true potential of these arenas through innovative business strategies is Pontus. The Uniqueness of their business operations and the quality of their services have helped the company to not just create but also maintain an impressive clientele that includes companies of different sizes from multiple industry verticals. Rakshit is the founder of Pontus and his industry expertise and business acumen have been a key driving factor behind the growth of the company.
In an exclusive interview with CEO INSIGHTS, Rakshit talks more about his professional journey and the operations of Pontus.
Tell us more about your professional journey?
I started my career in the industry nine years back and I developed an interest in marketing and sales from that time itself. I quickly started climbing up the ranks and after a couple of years, I was heading a branch of my own in the firm that I used to work for. When I came out of the organization, I decided to start my own company for offering import and export services. We started from scratch in a small office with two to three people and
we have been growing organically in the industry picking up new clients and starting to expand our market presence over the course of our operations. We are aiming for business expansion through new business verticals and increase our presence globally in the coming years.
What was the inspiration behind the establishment of the company and what are the challenges that you faced in the industry?
My inspiration was to do something of my own and unique, as I wanted to create a business that will bring value addition to our client's operations. We faced the same challenges that most other new businesses face in the industry. Finding the right team and getting the first few clients was a challenge for us but through constant endeavor and determination, we were able to overcome these challenges and develop into a recognized name in the industry.
Trust in oneself and trust in our team. Empowering my employees, because I believe if you take care of your employees, they will take care of the organization
Can you tell us about the various services that you offer under the transportation portfolio? Also, how do you stay ahead of the technology curve?
We have three verticals that include ocean, air and multi-model transportation. We are specialists in imports and exports and we also do last mile operations. We offer a complete range of services and our team is built in such a way that we are able to offer expert solutions to our clients that will address their pain points in the most efficient manner.
We are looking to transition ourselves into the digital path and offer a better user experience to our
clients. We want to innovate in such a way that our operations get more efficient and by doing that, perform in an optimal manner. We also strive to incorporate new technologies into our operations so that we can always stay on top of our trade.

Can you tell us about the expertise and experience of your team?
We have got four core teams, Finance, operation, sales and overseas network development which contributes to our growth. We have skilled individuals working on their strengths and vast experience which helps us thrive in this industry amid the challenges.

According to you, what are the various factors that have contributed to the growth of your company
From the beginning itself, I was able to get the best out of my team and motivate them to work for a common goal. All of our employees have rich experience in the industry and this has been a primary catalyst behind our sustained success in the industry. I also make sure that the people that we hire are the right fit for the organization. We have 25 to 30 people working for us and we have assigned them specific roles so that they can operate in a quintessential manner.

Can you tell us about the future plans of the company?
We have been growing exponentially and increasing our turnover every year and going forward, we are looking at different exciting projects from both inside and outside India in the coming years and this will be a major boost for us. We are aiming to have our presence in all major ports of India, and in due course make a mark globally. Also for the future our main focus is going to be to tap unidentified market and sectors.

Rakshit R Shetty, Founder, PONTUS FREIGHT
His commitment to take the company to greater heights has helped him to formulate one-off business strategies for Pontus Freight. With him at the helm, the company is also aiming to strive for consistent growth in the industry.