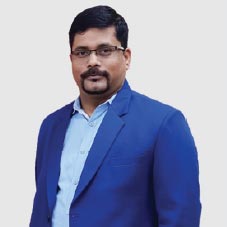 One of the integral parts of human relationships is gifting! To make your special moment blossom with gifts that are close to your heart, Jhingalala brings creative personalized products to you. Under the aegis of Mohammad Barkat Ali, the Founder and Director, the company showcases creativity as an everyday expression reflecting its core artistry & uniqueness. It aims in fusing a tint of creativity with your day-to-day lifestyle. Today, it is India's one of the leading online destination for creative and quirky designed printed products and gifts, to make every occasion and festival more special for you.
Inspired by the vision of acting as a silver lining to make our surroundings beautiful with colorfully printed products and make moments imperishable with exquisite gifts, CEO insight interviewed Mohammad Barkat Ali. Kindly peruse the following snippet to explore his journey.
Tell us about your academic & professional background and experiences. How are you leveraging those learnings to lead your company?
I completed my MBA in marketing from Aligarh Muslim University and later did SDP, Strategic Management for Luxury and Lifestyle Business from the Indian Institute of Management Bangalore. During my MBA, I was a member of the university drama club and I was a frequent participant in drama and cultural fest. I have won many recognitions and prizes for mimicry, poster making, theatre, and plays. I think those experiences have resulted in positive outcomes and helped me a lot in making decisions in terms of designing or product
selection. All past associations laid a foundation for me to lead an organisation that is completely focused on design and creativity.
Talking about the professional journey, after my MBA, I got to work with Oxford University Press where I was responsible for Marketing, Account Management/Business Development in the territories of Delhi/NCR, Haryana, and Punjab. As a part of my job, I got an opportunity to visit over 200 plus management and engineering institutes. What came to my notice was the inaccessibility of gifts to the students who lived in hostels and/or within the campus. I thought there should be a solution to this snag. After a healthy discussion with my family and friend, I launched the company to make the life of Students Jhingalala.
Jhingalala is also into merchandising solutions for schools, Colleges, and Institutes with a creative range of co-branded printed t-shirts, mugs, coasters, and much more
Throw some light on the strategies/ methodologies/technologies involved in offering products.
Our strategies are simple – 'keep an eye on the market trends, design the product state, modify it if required, after-sale rectification if required.' Design, Creativity, Quality, and Affordability are at the core of our operations. I personally visit many Expo's & Seminars to know about the technologies and new machinery which can enhance the products. Keeping customer service at the forefront, we take multiple feedbacks to ensure they get the best.
Enlighten us on various products & services you offer under your brand with a key emphasis on your flagship offering.
Our passionate team strives to offer a wide range of up-to-the-minute styles, art, and design that is 'quality guaranteed'. We offer a myriad range of products that would amazingly fit consumers'
requirements. From Mobile Covers to Tech Accessories, Home Decor to Tees, we have it all. Our décor collection especially includes some super cool printed mugs, shot glasses poster, wall sticker, cushion cover, coaster, and much more.

What benefits do your services offer to clients that similar other players fail to deliver? Explain your USP.
The Unique selling point is keeping track of what's going on in the market and trying to design something different from the existing one. Unique designs help us to have an edge over the existing product and this can be the USP apart from the best quality material we use.

How the pandemic has changed the Décor Brands industry? What changes the company is adapting to cope with the challenges?
The décor & gift category is not a basic essential of life and it is very difficult for every business to survive. But with every problem, we have an opportunity to find different solutions. Before the pandemic, we were not trying anything different for the portfolio either because of infrastructure or time. The lockdown gave us a lot of time, so, we have tried to launch products, which we couldn't do earlier and improved the portfolio to be better than before.

Let us know a bit on your personal front.
I love reading self-help and motivational books. I also write a lot of plays, skits, and children stories. Apart from this, I usually go through different kinds of paintings and try to understand what the artists are conveying. This is to check and find some new ideas for our designs.

Mohammad Barkat Ali, Founder and Director, Jhingalala
Roadmap
Jhingalala envisions to expand its focus to offer exiting products to Students in tier 2 and tier 3 cities
Bollywood and Hollywood Movies Merchandises are the products which are awating in the brand portfolio.

Key Expertise
Online Retailing, Digital Marketing, Market Research, Product Planning, Product Development, Product Positioning, and Marketplace Management