Ravi Roshan: Understanding And Acknowledging Individual Requirements To Develop Unique Decor Stories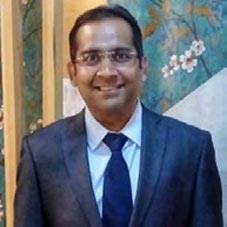 For years, renowned interior designers have worked with consumers, created product lines, and established their brands. It takes hustle and lots and lots of media savvy to become a household name. The best-known designers of today took a number of roads to the top, but now the covers of magazines with buzzy commissions and customers can also be seen gracing or landing daily gigs on TV. When they made it, they learned how to build on their success and extend their scope internationally. While each of them has different specialties and styles, these designers and architects have undoubtedly made their mark on the industry and continue to influence how people live and decorate.
CEO Insights interviewed Ravi Roshan (Chief Executive Officer, 100Krafts), to learn in detail about the personal and professional expedition and also company's journey so far.
What are the major aspects of your company's Decore Brands? We would also like to have an insight into the way you run the company.
We are in the ninth year of the business, and in cities such as Bangalore, Pune, Cochin, Mumbai and Calcutta, we have completed over 1200 projects. 100Krafts has handled projects ranging from small to large deals, and our company's main differentiator is that we are a supplier of end-to-end theme solutions. We are not one of those businesses that offer one size fits all sorts of solutions, what we do is, we understand the needs of the client, the profile of the client, their budget, and what they are looking at in terms of their lifestyle, social status and further enhancement of the same.
Our model is based primarily on a design perspective of the client and not on the perspective what supply chain can do. In Short, we are 100 percent Customization Interior Solution Platform. We have services such as an annual maintenance contract, we have state-of-the-art technologies that provide various kinds of finishes, right from the sheet-based finishes to coating based finishes. So although anything we do, we don't compromise on quality.
Throw some light on the strategies/ methodologies/technologies involved in offering Decore Brands products. Do you provide customization while proffering your services?
The key approach to our customers from our side is entirely focused on the point of view of their life style consultancy and as I said before, we don't sell off-shelf goods, we acknowledge that each customer has some needs and a particular way of looking at their home. It's the client who has to live in it and not the interior designer, so we understand this technique very well.
We get into the specifics of the customer's needs, covering every nook and corner of the available space. Space Design to Space Décor are well kept in our Design Philosophy. We fit into the innovations that meet the needs of customers and the solutions we sell at 100Krafts, we also look into the detailing like choosing materials and design which are fire retard, Non Bacterial and Fungal, Less Hazardous to Kids and Elders at Home.
We have certain quality standards set at 100Krafts, we only work using only renowned brands, and we do not use any products without certain certifications
Each company often has a unique definition of quality & affordability. How do you ensure to keep up this quality and inspire your clients to do business with you?
We have certain quality standards set at 100Krafts, we only work using only renowned brands, and we do not use any products without certain certifications. Secondly, we know the benchmark that has been set by our company, and in the past nine years we have understood every aspect of our solutions, and most importantly, we have a very well trained and experienced team. By undergoing various training sessions conducted by the industry experts, our team at 100Krafts is so well prepared that just by having a look at the products they can judge the quality of those products.
We work such individuals who are well trained by some of the national standards which are set by the good quality vendors. Then, our operations team, they are well-groomed, and skilled in terms of understanding all the kind of things done. So till now in the last nine years, we haven't received a complaint where the customer says that the quality is bad.
Tell us about your company's recent revenue growth, and the future roadmap.
We are certainly increasing the projects we manage each year by two times our ticket size, and the number of projects we obtain has also increased significantly in the current year. As the customers come from all over the country, the kind of customers that have been contacting us are also very high end.
And we're also getting noticed by a few businesses in the US and Europe, and they're talking to us about the services that the collaboration can offer. During this Pandemic, we were able to gain entry into Ahmedabad, Hyderabad and Goa. Another major future strategy is to extend our services in the next three years to 10 cities in different states.

We believe in philosophy of working in collaborations, this is something that has worked for us in Bangalore and Pune. We would be inviting and looking for Talented Interior Designer/Aspiring Entrepreneurs to come and collaborate with us in Geos like Hyderabad, Ahmedabad, Goa, Chennai, Cochin, Surat, Ranchi, Kolkata, and Mumbai. At this point of time, 100Krafts have all that processes, documents, training systems, ecosystem set to roll out across Geos that we would be looking at. However, this would-be gradual process and not an instant roll out.

Ravi Roshan, Chief Executive Officer, 100Krafts
Ravi has completed his degree in Computer Science from Visvesvaraya Technological University. Has Business Development and Marketing Expertise for over a decade before jumping to Entrepreneurship. Having been working with the top-notch IT companies, also Ravi was a part of IBM. Having set up business development models for various IT Companies in the region of UK/Nordic/South Asia, Ravi learnt the process of how the process should be encapsulated for any startups.

Office: Bangalore

Rimjhim Kumar Charan, COO, 100Krafts
Rimjhim completed her bachelors in Economics from esteemed Miranda house of Delhi University. She then pursued MBA from an International college CIIM – Cyprus International Institute of management with Strategic marketing and Finance as her specialization. After working for few Years in Online gaming and Online Forex industries in Companies like Empire Online and Finotec.com in Cyprus, she got a good hold on the then fast developing online marketing industry and its tools and techniques. By 2008 after shifting back to India she joined 100krafts with Mr Ravi with a new GEO, Pune. Recently in 2019 she was selected for the Goldman Sachs 10K women Entrepreneur Program held at IIM Bangalore NSRCEL to create a Business Growth Plan for the company under the guidance of the IIM faculty as well as Industry experts/ Mentors

As of now as a COO, she fully manages the firm's operations be it in sales, finance, strategy, new geo development, process implementation and team training as well as all HR dynamics across multiple Geos.
Office: Pune