Munmun Desai: Overcoming The Barriers Of Financial Industry Through Hard Work, Persistence And Dedication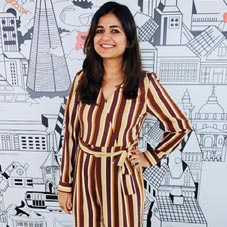 The statistical study of financial services across the globe indicates that nearly or just over half of the employees within the finance industry are females. Although, we are currently witnessing much more welcoming gestures for female professionals in the financial industry, the scenario was not the same a decade back. Coming a long way through her passion and dedication, Munmun Desai, an economics graduate and post-graduate in Marketing from NL Dalmia Institute, is currently functioning as Deputy Managing Director in Batlivala and Karani Securities. Having stepped into the financial management arena in 2006 as a management trainee, Munmun Desai joined B&K securities as a relationship manager and moved up in a corporate hierarchy with sheer hard work and relentless passion to serve the investor community.
To know more about Munmun Desai, the CEO Insights presents an exclusive interaction with her depicting the ups and downs of her journey till now.
What inspired you to join Batlivala & Karani Securities India? Tell us what keeps you going- what is that driving force or inspiration.
I joined Batlivala & Karani Securities as a relationship manager from campus placement and have completed 14 years in the organization. The distinguishing factor of B&K is its ethical approach in dealing and focus on research/value-based advisory business. There are four key reasons which form the DNA of my success, which are Commitment to clients defining my excellent relationships with the clients,
Commitment to Excellence which has been validated by various industry bodies (awards), Commitment to Firm referring to my association with B&K Securities for the last 14 years, and lastly Commitment to mentoring others in my field.
Tell us about the journey of Batlivala and Karani Securities under your guidance. Brief us about the distinguishing aspects of your firm.
I believe in the adage – 'Tough times do not last. Tough people do.' Working in an industry that is impacted by myriad factors and that regularly goes through peaks and troughs
We have managed to build a business from scratch to $ 3.5 Bn in less than 14 years in a very competitive Institutional Advisory. With multifold Increase in revenue in the last three years, we have been able to navigate investors Portfolio in a tough credit market with Zero accidents. 40% of NSE 50 companies trust us for guiding them for their Investment needs and our business grew every year despite tough competition from the regulators in the form of Direct. Consistently delivering value and leading a team who is No 1 in India in Institutional Advisory, we have been awarded by CNBC (2016, 17, 18), included in the Hall of Fame in 2019 for financial education by CNBC TV 18, and awarded '40 under 40' Alternative Investment Professionals in India 2020.
What were the major challenges that you encountered during your professional journey and how did you manage to overcome them?
The major challenges in advisory firms are mainly the regulatory changes over the years and these changes pushed us to upgrade and improve our deliveries to investors and work harder as a team. Our team, which is our core strength is with us for over a decade and help us servicing Investors without
diluting the quality of advice. In the financial world, knowledge gives you an edge to stay ahead of the curve. Fortunately, I realized it early in my career and never left learning. I did my Financial Market Course from Yale University and continued to invest in upgrading my skills. Other than Financial markets, I finished a course on 'Science of well-being' and try to learn from different fields than just finance.

What did it take to position Batlivala & Karani Securities India at the current heights in the Indian finance segment and what are your thoughts on the present scenario and future of this space?
At B&K, we have built our entire business model on the back of research-backed advisory in fixed income space since 2004 and kept upgrading the same. Leadership in research-backed and value-added advisory helped us become corporates and Start-ups preferred investment advisor. I believe this segment will continue to grow as corporates will continue to need professional advice. The managing corporate treasury money is fiduciary responsibility and with markets being so dynamic, advisors will continue to add alpha and value addition in the portfolio.

Do you have any suggestions on your mind for the budding entrepreneurs in the same segment?
I believe in the adage - 'Tough times do not last. Tough people do.' Working in an industry that is impacted by myriad factors and that regularly goes through peaks and troughs, it is important to stay committed and not lose focus of the end goal. While markets maybe whimsical, one must stay focused on the long-term.

Munmun Desai, Deputy Managing Director, Batlivala and Karani Securities
At the age of 37 Munmun Desai takes pride in leading a Team who is Independent and driven by Value and manage Marquee investors of the country. Over years, she has developed winning insights into the workings of wealth industry that have had outsized contribution to fund house business, client treasuries while setting a benchmark for performance.