Nahar International School: Fostering Next Generation Students via its Experiential Learning Methodology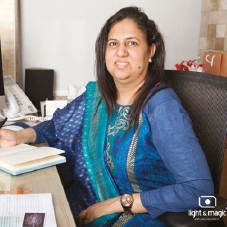 Today, learning is not limited to academic pursuits but has moved on to becoming a life skill. Learning begins right from a child's early learning days, especially when children begin to form learning habits and explore the world around them. Children have the immense desire to search for knowledge and answers to the endless questions their natural curiosity constantly presents. This is where experiential education literally 'learning by doing plays a significant role in the early development of children, enabling them to pursue their own areas of interest while gaining skills to navigate through real life situations. But unfortunately, specialized experiential learning approaches are rarely implemented by Indian schools. Standing in sharp contrast amidst many is Mumbai based Nahar International School (NIS) that practices the experiential model of learning or 'Learning by Doing' while offering world class education facilities to children ranging from pre-primary to grade 12.
Vandana Arora, Founder Principal, in an exclusive conversation with CEO Insights throws light on NIS teaching methodologies and pedagogy. Here is the gist of the interview:
Give some insights on your journey along with the challenges faced during the incorporation of NIS.
I have worked as a teacher for schools following a spectrum of curriculums and pedagogies, ranging from national boards: CBSE, to international boards: Cambridge International Examination (CIE) and IB, even to the holistic Rudolf Steiner philosophy.
I have been involved in, in fact, responsible for, the inception of NIS. Right from setting up an academic team to enrolling its first students, it has been an incredible journey, spanning 7 years and still growing at 1100 + students across primary level to double batches at grade 10. The greatest challenge we faced during this time is conveying our individual learning methodology to parents. We had to make them realise that each student takes responsibility for his/her own learning, and learns in their own way, which is unique. Another challenge is to keep teachers aligned with the NIS vision and ideology, and hence with the approach that must be taken towards learning and instruction. With our initial smaller numbers, it was easier to do this, but as our student, teacher and parent strength grows, it becomes more and more challenging to consistently align everyone with our school vision.
Despite the challenges, the environment is always conducive to learning; teachers establish a friendly relationship with students and understand their needs, but also encourage a learning focused approach ensuring that childrenactively participate in the learning process. At NIS, we see every student as an individual who has the potential to grow and we believe that it is our responsibility to create a beautiful environment where we help children build the right skills that will allow them to be successful in the career of their choice.
Being a non-competitive school, we don't test children for pre-primary and primary sections
Throw some light on your course curriculum, admission process, and any distinct teaching methodologies. Also, highlight your state-of-the-art infrastructure.
Established in 2014, NIS follows the CAIE curriculum up to IGCSE level and offers IBDP at Grades 11 and 12. Nahar is affiliated to Cambridge International and updates its syllabus every three to five years according to international standards, based on an intensive process of review and research.
Being a non-competitive school, we don't test children for pre-primary and primary sections. We interact with their parents to make them understand the school's unique teaching methodology via orientation programs and finally organize one-to-one interactions with the team of respective section teachers. I, too, personally meet all the parents to give them more insights into the school ideology. From grades 6 onwards, until grade 12, admissions are done via written test, designed based on curriculum that examines students'language and mathematical ability, logical thinking, critical thinking, problem solving and creative thinking ability followed by one-to-one interaction along with their parents.
A Nahar, different learning approaches are employed at different stages: in pre primary, the experiential learning method is implemented, enabling kids to learn from toys and play methods; in primary years, learning takes place via teachers equipment and student centric pedagogy by the time students enter into middle school a slightly competitive approach is allowed and they practice various life skills learning, empowering them to figure out what they want to achieve as a career. But mostly, instead of competition, we look at the value of collaboration. At NIS, we strongly believe in inculcating values into our students which will actually sustain them throughout life, help them achieve success in their career, and mold them into a great human being.
Our school infrastructure is aesthetically designed and intelligently planned architecture that supports learning inside and
outside the classrooms. Right from the layout of the classrooms to the amount of light, ventilation and movement-space, everything has been kept in mind while designing the structure. Facilities for use of audio visual aids in the classroom are greatly helpful for aiding student understanding of complex concepts. German Waldner laboratories, an acoustically enhanced and performance ready auditorium, and a large turf based sports ground are some of the salient features of our premises and campus.

Among the number of international schools mushrooming today, what differentiates NIS from them?
The fundamental principle for education at NIS is based on the belief that 'Every Child Is A Star', where aspirations are nurtured by enhancing skills through value-based versatile education and learning is made conducive for all types of learners. At Nahar, students are not only exposed to academics but also encouraged to take-up various activities for their personality development. Working towards the holistic development of the student, NIS follows a child centric approach where each young mind is given individualized attention, catering to their diverse learning needs including sport, dance, music, science, language; everything is an integral part of Nahar's education system.

Unlike others, NIS partners with students in their learning process and makes them equally responsible for their growth, success and happiness. This distinct approach not only creates a co-creation environment in all aspects of school life right from drafting 'essential agreements' in class, to taking accountability for personal spaces and responsibilities, to acknowledging the significance of consequences but also keeps everyone on the same page while working towards a common goal, via a united mindset. The methodology also empowers children to uphold Indian culture, language and values whilst fostering international mindedness.

What are the various steps taken at NIS for students'career counseling? Also highlight the role of teachers in this entire process?
At NIS, each student from grade IX is exposed to career counseling through an online portal and dedicated career counselor who continuously guides them regarding higher studies best universities, career approaches based on their area of interest. Not only this, but the school also provides support in terms of figuring out what is required from the skill/curriculum learning point of view to enter into the university of their choice. Going the extra mile, NIS maintains a separate team of counselors/special educators and student care professionals (Well Being Department) who try to bridge the gap between the student's needs and their career growth while providing emotional and intellectual support.

Key Management
Vandana Arora, Founder Principal
Location: Mumbai