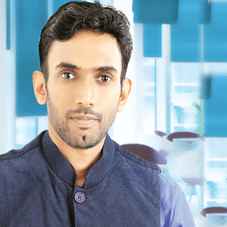 The IT products sector remains a realm known for its cut throat competition. No wonder young entrepreneurs often prefer IT services sector over product sector. But the young Founder & Managing Director of sNav Technologies, Naval Ditto immensely trusted his development skills and was never apprehensive about competing with the established product companies. Thanks to a couple of cuttingedge Fintech products and technologies (D-Cell and Atmos) developed by sNav Technologies a product based company in FinTech domain is outrunning its experienced competitors by quite a margin. The D-Cell and Atmos technologies are opening up a new way of Data Processing (ETL) in business applications.
CEO Insights engages in an interesting conversation with Naval to know more about his exciting journey and sNav's ground breaking innovations.
What inspired you to become an entrepreneur, and how has been the journey so far?
It all began with a freelance project that I did in 2015. A few years after I kick-started my software development career, I happened to do a freelance project for a healthcare organization. The company's overwhelming feedback about the software triggered the thoughts about making a difference in the IT products segment, and hence entrepreneurship. I keenly focused on developing a track code for the next few months. The next client was from the BFSI sector, and their financial support & contributions in terms of domain expertise were instrumental towards further developing a go to market product. I incepted the company in 2016, and the journey has been inspiring ever since. As we further developed our product, we
outran many of our decades experienced competitors. We are currently growing at a rate of more than 200 percent.
Our solutions are designed and highly customized to address the discrete challenges of our customers
What's the crater in the industry that encouraged you to build this product?
The leading BFSI solutions available in the market were only proving a few vanilla benefits, rather than addressing the core issues of the organizations, including reduction in processing delays. Thus, in our R&D unit, we developed award winning (the award for best innovator in KMA-NASSCOM IT Awards – 2019)technologies like Digital Cell and Atmos, which reduce the turnaround time of tasks that previously took seven eight man hours to complete to two three minutes. It also saves 90 percent of the infrastructure costs as well as a lot of manpower. Putting it in a nutshell, our solutions are designed and highly customized to address the discrete challenges of our customers. That's what drives us and why were we able to outrun our competitors.
How was the support from your family while commencing your entrepreneurial journey?
They were really supportive, and most importantly, they trusted my talent. I was initially doing very well with my career as a developer and that made them recognize the potential. My family, especially my mother Alice, encouraged me a lot and constantly reminded me to focus on what I am doing. That meant a lot to me and was crucial in developing an excellent solution after six seven months of brainstorming. On the other hand, since the clients were happy to make 60-70 percent payment when we finished 75 percent of the tailor-made program, I never had to ask for or accept any kind of financial support from my friends and family.
How do you socialize & inspire aspirant and budding entrepreneurs?
It's always a happy feeling to share my technology thoughts and experiences as an entrepreneur. I
never miss an opportunity to talk to college students, especially engineering students and IT science students, and try to inspire them to venture into entrepreneurship. They are the innovators of the next generation. Apart from that, I am actually not severely involved in social media due to lack of free time.

How do you foresee your future?
The global technology products market is valued at $72 billion, wherein India contributes around $12 billion. While the 50 percent of this market is shared among the largest enterprises, the rest 50 percent belongs to startups like us and SMEs. Our aim is to become a $40 million company within the next three years.

We have two revenue models creating generic platform of D-Cell technology and building products specific to the industry and organization. Going forward, we constantly oil our R&D engine to come with innovations and better solutions to our customers' challenges. We are already in the fine-tuning phase of digital. Our lab has developed technologies that can digitally transform the clients' business to enable new avenues of growth for them. I believe that not just our clients' challenges, but almost all the humanoid challenges faced by the country can be mitigated through technology. We are working on a lot of solutions to address the problems of the public as well.

Key Management:
Naval Ditto, Founder, Managing Director & CTO
A wizard in programing, Naval completed his engineering in IT from Jyothi Engineering College, Thrissur in 2012. He formulated DigitalCell (D-Cell) and Atmos Technology and has deep expertise in MultiDimensional Computational Objects in ETL Process.

Hobbies: Watching football (Naval is a Barcelona FC fan), reading tech & business management magazines, and watching movies.

Favorite Cuisines: Seafood

Favorite Apps: YouTube & Facebook (which constantly update him with technologies and trends)

Offerings:
•NACE-Fin (Core Banking Solution)
•NACE-Retail