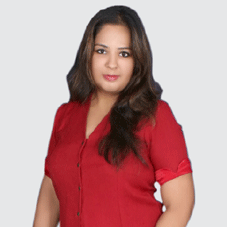 Growing business does face a lot of challenges. As it grows, different problems & opportunities demand different solutions. Recognizing and overcoming the common pitfalls associated with growth is essential if your business is to continue to grow and flourish; because rewards rarely come without risk. Your ability to take advantage of an opportunity will depend, in part, on your tolerance for risk. These are the strong beliefs of Neha Aggarwal (Founder & Creative Head) that have moulded her into a successful entrepreneur and her brainchild Smart Design Hut into one of eminent Web/Graphics designing company in India with proven high quality technology and innovation.
Today spearheading a successful company that caters to clients worldwide, Neha has sailed through many struggles from absorbing market competition to managing multitasking, thereby bringing that one-woman-army definition into real. In an exclusive conversation with CEO Insights,Neha opens up about her inspiration, entrepreneurial journey and shares her suggestions for tomorrow's entrepreneurs.
Give us brief details about your educational and professional background. How are you leveraging the best of these elements across your company's operations?
As I have always been carving my viewpoint towards the aim of creating an identity of my own, I chose a professional degree like BCA. It was worth building my interest in the IT niche and so is my initial step towards this who knows
what next future. Doing business is one pointed arrow in the arsenal of reaching my aim. Hence, I chose MBA in Business Marketing which led me to an open podium of learning and exploring about how a business is being run and managed. With a firm attitude towards hard work and success, I started my career as a designer. The road towards becoming a successful professional was filled with loads of errors, jargons, challenges, brain storming, pressures, rejections and what not, but they made me who I am today!
For me, knowing that a name has become brand with the efforts provided from our team is soul satisfying
What inspired you to establish Smart Design Hut and how has your journey been so far?
My hunger for creating something of my own has been my inspiration. It's been a wonderful experience since Smart Design Hut has been started but nothing comes without risks and struggle. Like any other challenge, getting married and bringing two lives Laisha and Aryaveerin to being is another struggling yet memorable phase I came across and led cheerfully. For me, Smart Design Hut has been the first thing that I nourished and nurtured with all my blood and sweat and zillions of sleepless nights which still gives goose bumps to me.
My journey has been full of ups and downs but then what comes well as a result is called a success. Today I see the name Smart Design Hut to be smartly designing different business names no matter big or small by giving them a recognition in the market. For me, knowing that a name has become brand with the efforts provided from our team is soul satisfying. Starting from a small corporate booth and switching to a space I can call a close knit work family is something I always wished for. Though I have been able to achieve that, still there is lot more to go.
Family plays an important role in every person's life. How has your family supported you in your career journey so far?
Encouraging my education and initiating towards business by bestowing me with the emotional strength is wholly my parents' gesture. Even today, they have all the ears to listen to my work issues and suggest me the best they can. But when it comes to professional talks and debates, my better half has always been a true support.

Tell us about your hobbies & favourite cuisines.
I love doing creative things, driving, exercising & listening to music. Since the clock has a different ticking speed on daily basis for me, I can manage time for hobbies only when I'm away with family to some peaceful place. Talk about Indian Kitchen, Kadi and Rice connects directly to my taste buds and when I'm on family outing, I prefer Italian & Thai cuisine.

Do you have any advice/suggestion on your mind for the budding entrepreneurs in theWeb/Graphics design space of India?
Finding your true self, no matter how long it takes, is how you make it countable. I believe that now is the right time and don't let it just pass with bare thought. Also, success is not an asset, it's like a rental deal that you need to update every time you face a challenge.

As the founder of a startup, investors will expect you to have a vested interest in your business. If one cannot afford the risk with it, financially or emotionally, then you might make decisions that are feeble to be successful.

Key Management:
Neha Aggarwal, Founder & Creative Head
Neha is a web & print professional excelling in both start-up and corporate environments. A strong proponent of innovation, she has the knowledge of what works, but she believes in pushing beyond expected solutions to come up with something even better. Neha puts her heart into her work and strives for reaching the biggerpicture of what can be achieved.