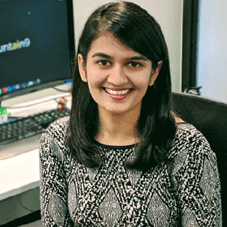 Although big data has been the buzz word for quite some time now, are companies across the globe efficiently equipped to leverage this digital gold and extract meaningful business insight? Niki Khokale, an experienced data scientist and co-founder & CEO of fountain9, a provider of AI-powered enterprise analytical products, believes that while the world is drowning in data, it is starving for insight; and that is exactly what she envisions to help her clients with. Drawing from her stint as the Head of Strategy and Analytics team at Google Fiber, CA, and the Director for Risk and Information Management American Express, NY, Niki has been privy to the inner workings of some of the most iconic companies.
Bringing the same vigor and culture to fountain9, she aspires to build a company that truly stands for doing good in the world and solving problems that matter. In a tete-a-tete with CEO Insights, Niki speaks about the big data problem and how her young organization is gearing up to solve these challenges while also having fun on the journey.
An entrepreneur essentially identifies a gap in the market and finds a solution to it. What gap did you see in the data science industry that you are striving to fill?
Both me and Rajas, my co-founder & CTO, have worked in the data science field for the past nine years. Over the course of several jobs and numerous analytical projects, we observed that while advancements in storage technologies have enabled organizations to gather loads and loads of data, the process of analyzing data is still very manual. Heavily dependent on analysts & data scientists to constantly look through the data to derive meaningful insights, several opportunities that may be important to the business get missed because
they are never really uncovered. We observed that decision makers are not close to the data and countless amount of time is wasted in back and forth between analysts and them; also hiring good analysts can be expensive and time consuming.
I strongly believe in the value of machine learning and that it truly has the potential to transform our lives for the better
Identifying a problem is half the battle won. How is fountain9 poised to win the other half of the battle? Also, tell us where is fountain9 positioned inthe analytics space?
Our company falls under the category of augmented analytics products, which is defined by Gartner as an approach that automates insights using machine learning and natural language generation. I strongly believe in the value of machine learning and that it truly has the potential to transform our lives for the better by solving some of the biggest challenges we face.
Our key offering is our AI-powered virtual analyst that can find answers locked away in volumes of data. It continuously churns through millions of data points to discover meaningful insights it can automatically predict trends for key metrics, detect and alert when things are out of the ordinary, and present natural language descriptions on what and why something happened. It also has a natural language interface that can provide real time insights by just asking questions in plain English. For businesses, using our product will be like hiring a large team of data scientists and analysts that continuously look for relevant patterns and trends in their data, and keep the results ready, even before the business users ask their questions.
Although fountain9 has been in the market for a short span of six months, how has the journey been so far as an entrepreneur and what challenges you faced?
The journey so far has been amazing. The first few days were of course spent in digesting the fact
that I had resigned from a job that I loved in a company like Google and had moved back to India. But the feeling of freedom and rush at solving one new problem everyday has been incredible.

But we have had to work very hard at every single step of the way. Our first challenge has been to put together a core team that understands and shares the same values as us. We screened over 500 candidates before we picked our final team of five. Another challenge for us has been to facilitate an environment where people have fun while solving meaningful yet tough problems. But our biggest challenge so far has been to create a balanced workplace where different backgrounds, opinions and personalities are valued and respected is an ideal, fulfilling and happy workplace. We understand that it is especially difficult to change these things once we become big so we want to try and get this right from the get go.

Our relationships often play crucial role in shaping our lives. Can you tell us about the people who have helped mold you as a person and an entrepreneur?
My parents raised me in a gender neutral environment, let me live independently from an early age and supported all my choices both in my personal and professional life. My father is a perfect example of learning never stops with age. He did an MBA a few years back and is now pursuing PhD. He continues to inspire me to always keep learning and growing.

My life story will be incomplete without mentioning Rajas, who is my co-founder not just for fountain9 but for life. We have known each other for over 17 years now and overtime, we went from being classmates to friends to a couple to co-workers to co-founders.Throughout all these intertwining relations, the one thing that makes things very easy for us is that we both believe in equality for everything.

KEY MANAGEMENT
Niki Khokale,Co-Founder& CEO
Having earned a Masters in Information Systems Management and Bachelors in Electronics and Telecommunication Engineering, Niki believes in building brilliant products that users would love and trust deeply.