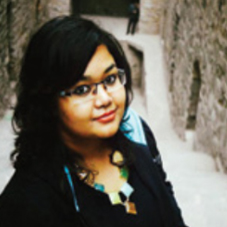 Albeit the social hierarchy that separated the nobility and commoners is long gone, there is still a sharp contrast between people at the top of the social class and those at the bottom. However, art prevails as a unique phenomenon that transcends across these borders. Nitika Ghosh (Founder, khoj.city) realized that art has its own language despite the contrasting themes in society, as her 12-year-long career took her through the premium airport lounges as well as the remotest corners of India. This propelled her to establish a social enterprise, which provides a platform for all the artists to showcase their creative ideas and individuality without any kind of discrimination.
Born in UP in a Bengali family, Nitika earned her B.Sc IT degree with a silver medal, and MBA with a top rank. This coupled with her experience of travelling nationwide and her prowess in easily connecting & communicating with all kinds of people across categories, enables her to relate to most cultures PAN India. This comes-in handy, as she travels nationwide now to find artists, take a video interview of their family, lifestyle & city and provide them brand consulting service. To know more about Nitika's competences and her entrepreneurial journey, delve into the following excerpts of an exclusive conversation between her and CEO Insights.
What inspired you to establish Khoj?
I commenced my career at the branding sector, where I handled customer loyalty & engagement programs for airports and luxury car owners of BMW. My shift to the development space at Bharti Foundation was a real eye-opener for me. There, I got to meet the underprivileged children in India's remote corners while curating
Employee Engagement Plans that provided them free-of-cost education. Noticing the similarities between art in both these areas despite the class difference propelled me to create a community of artisans & creators from all over the country, which appreciates the art & talent of individuals, facilitates every artist to enjoy the same privileges and helps them find their identity.
What were the initial challenges that you faced as an entrepreneur? How did you overcome them?
Having lost my father at a very young age, I have witnessed my mother's perseverance, who had gone through many financial, societal and mental pressures as a single parent. She gave me the core strength to shatter the woman's barrier and gain the trust of people who doubted whether a woman can handle all aspects of a bootstrapped business. Moreover, the fact that I was three-months pregnant when we conceptualized Khoj brought-in a slew of physical challenges, which I overcame with the great support of my family and colleagues. I have a close-knit bond with the people around me – not just with my mother, husband & daughter, but also with my team at Khoj. Even now, many of my ex-colleagues give us a hand during weekends when we receive a big order.
Nitika's experience of travelling nationwide and her prowess in easily connecting & communicating with all kinds of people across categories, enables her to relate to most cultures PAN India
How has been your journey so far?
I'm a well-organized person who breaks a huge problem into smaller chunks and handles it through a step-by-step process. Initially, the project went live with the jewellery I hand-painted as a test product on the website. Meanwhile, I scouted for like-minded creators on social media and fortunately received a good response from housewives as well as corporate women who were passionate about art, but had it as a hobby. Having received our first
order after two months, I got my first intern from NIFT, Kannur, who worked hard with me till we recruited a technical team. We kick-started our branding journey after the third operating month. Today, within a short span of six months, we have grown into an eight-member strong team, handling a community of 25 artists nationwide and serving more than 20 orders per day.

Tell us about the milestones you have reached in your entrepreneurial journey that gave you utmost satisfaction.
The very first milestone that filled me with joy was receiving the incorporation certificate for Khoj. Getting all the compliances in place without any help gives me a big sense of pride. Likewise, I would never forget the day we got our first online order at nearly midnight. Evidently, two-month-long stagnancy wasn't strong enough to dishearten me and stop me from checking our panel at 11:30pm. Receiving positive feedback for our creative photograph from a giant MNC on a social forum was yet another proud moment for me.

How do you upgrade yourself in order to steer Khoj ahead?
Being a strong proponent of constant skill-upgradation, I chisel myself with certifications (like Digital Marketing) and by participating in conferences, forums, seminars & webinars. In fact, every Khoj employee is mandated to update his/her skills by attending an event relevant to their field every month anywhere in India. A happy place with zero hierarchy, Khoj also has other employee-friendly policies like mandatory work-from-home.

Key Management:
Nitika Ghosh, Director
A techie by education and a brand consultant by profession, Nitika combines her competencies to empower artists across categories to find their identity.
Favourites:
• Hobbies: A singer who has performed at state-level competition and for radio without any formal training, and travelling, which is both her passion & profession
• Cuisine: South Indian (especially Appam), and anything non-veg, sweets and fruits.