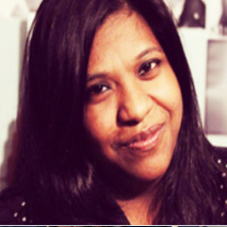 The Former President of India, A. P. J. Abdul Kalam, once said, "You have to dream before your dreams can come true". Being unswervingly persistent in pursing those dreams is what distinguishes a successful entrepreneur from wishful thinkers. Shoumita Ganguly (Founder, Sitannya) is one such persistently motivated spirit who has successfully brought alive her childhood dream of becoming a Fashion Designer and launching her own fashion label. Having carved a niche for herself with her prowess in designing Indo-Western silhouettes, today, her creative online fashion line sells-out more than 10,000 clothes annually PAN India.
It's the brand's eye-catching range of elegant designs with high-quality garments, breath-taking prints, gorgeous colour palettes and flattering silhouettes offered at an excellent value-for-money that makes Sitannya a winner all round. Never letting her finger off the market's pulse, Shoumita brings the trendiest women's apparels right from the runway. Shoumita, in an exclusive interview with CEO Insights, shares about her entrepreneurial journey and the efforts she has been investing to elevate Sitannya to the next level. Here are the excerpts:
What inspired you to incept Sitannya? Also, enlighten us about your entrepreneurial journey.
Probably because I'm a Bengali, I was always fond of art. Creating a fashion brand and naming it after the combination of my parents' names has been a childhood dream of mine, because it's their blessing that got me here. Having learnt the ropes from the best in the industry for over four years, I infused life into
my passion for designing & developing a hub that fulfils everyone's needs by establishing Sitannya in Faridabad in 2017. Our keen focus on building a stronger relationship with our online customers by delivering quality products with innovative designs on or before time enabled us to gain a toehold in the market. Moreover, Sitannya grabbed the limelight in 2019 during the shows – India Runway Week (season 11) in March and Bangalore Fashion Week in September, where my collections earned several appreciations. If the cards are right, we will launch a store as well in Delhi and Bangalore in future.

Please tell us about the roadblocks in your entrepreneurial journey.
Today, people seek either a well-established brand or a low-quality knock-off piece at a cheaper price. Hence, promoting a new brand that offers high-quality pieces at a price that's slightly higher than the low-quality clothes (even though it's quite lower compared to top brands) is a Herculean task, especially so in today's sluggish market.

Kindly throw some light on the diverse roles & responsibilities you have been undertaking so far.
Designing being my forte, I singlehandedly manage the entire designing process. I follow the trendiest fashion and stay updated every minute to provide the best design updates as per the latest market trends. I read several magazines and attend & follow international fashion shows to learn about the popular collections and the colours, designs & silhouettes that are in trend worldwide. Based on this research, I create trendy western style pieces that are suitable for the Indian market.

As the founder, I multitask quite often. Whenever we curate a new design or pattern, I sit with tailors and explain what kind of stitching would bring-out the best in order to bring alive the design as it is. The quality of a design wouldn't mean anything if the quality of the fabric is compromised. Hence, I prefer to go to the market personally and purchase high-quality garment that would work for the particular design. I also take part in making the samples. Since Sitannya is an
online fashion house (also available on various reputed websites such as Fittractive, Instagram, and so on, apart from its own website), I work with SEO Specialists to analyse & manage the website's performance, brand's social media presence and the promotion process, among other digital marketing aspects.
Creating a fashion brand and naming it after the combination of my parents' names has been a childhood dream of mine, because it's their blessing that got me here
How has been the support & inspiration from your family in your journey so far?
My parents have supported me in every step of my professional journey. They have never stopped me from chasing my dream or doubted my capability just because of my gender. In fact whenever I'm in low spirits and things don't go my way, they galvanize me to seek a different way to get back on my wagon. Even if this means that I won't be able to spend time with them, because they are well aware of the fact that I'm investing my time in career today to build a better future. They are very proud of where I am today, which fills me with great joy.
Key Management:
Shoumita Ganguly, Founder
After earning her Master of Arts in Fashion & Textile from Pearl Academy, Shoumita worked with some of the eminent designers in Delhi as well as in an export house for over a period of four years in order to obtain end-to-end knowledge of the entire process. This enables her to steer her brand towards the right direction.
Location:
Faridabad
Favourites:
•
Hobbies:
Music and exploring various parts of India by herself
•
Cuisine:
Spicy Indian Food