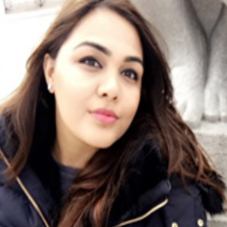 Today, the world is evolving at a never before pace in all areas. To succeed in this era, an entrepreneur must reinvent oneself periodically and monitor & re-evaluate one's business at every stage. Tanvi Somaiya (Director, The Bear House) is one such perfectionist who raises the standards higher for herself with each passing day. This meticulousness has enabled her to catapult The Bear House from being a small venture that produced 5000 garments per month into a full-fledged brand which today produces garments in six figures.
Her Master's degree in Communication & Journalism and certification in Fashion & Clothing Technology from NIFT, Mumbai gives Tanvi an extra edge, as she understands both sides of the coin. Moreover, Tanvi has not only assisted reputed Fashion Designers as a stylist for various magazines, ad films & fashion shows, but also refined her production knowledge with her two-year tenure in a manufacturing unit specializing in shirts. This enables her to simultaneously work with 10-12 factories as of today. Tanvi, reminisces about her journey and divulges her secret to success in an exclusive interview with CEO Insights. Here are the excerpts:
Kindly tell us about The Bear House's unique values that thrust the brand ahead of the competition.
The competition has always been with myself and not with any other brand. This attitude has enabled me to be a better version of myself to satisfy this perfectionist in me. Our products are unique & aspirational because of the attention given to every little detail along the entire process. It all begins with the idea of a new collection, or extending our product range into an exciting new category. We spend ample time in conceptualizing the product before getting to the design board. Thereafter, it's the tailoring, fabric
selection and the best of trims to complete creating a product that's worthy of sporting The Bear House tag.
Throw some light on the peaks & valleys you have encountered during this entrepreneurial journey.
It wasn't easy to convince high-quality manufacturing factories to make small order quantities, and suppliers who rejected doing business with a new brand like us. Shortage of staff was yet another tough nut that we cracked with our multitasking ability. These minor setbacks have taught me to not take anything for granted when things are running smoothly and to always have a Plan B. We ensure that our fabrics come from reputed mills, trims of international standards from various parts of the world, interlinings from top-notch suppliers, to even the thread & packaging – every single detail has been taken care of. It took away a lot of time to actually set this supply chain, but it was all worth it!

Started-off as a small venture in 2018, I took the leap of faith inspired by the great response from customers, and have successfully launched four categories in a span of two years – all with a lean team of ten members. It's a huge accomplishment for me, as every category requires extensive R&D, in-depth manufacturing and execution knowledge. It is our mantra of delivering products of exceptional quality at an affordable price that enabled us to gain a group of loyal customers and expand our presence to over ten e-Commerce platforms, along with a profitable & independent e-Commerce website.

Please give us some insight on the way you run The Bear House?
Being a proponent of teamwork, I roll-up my sleeves and throw myself into anything the business requires, whether it's lifting cartons, dispatching goods, business development or designing inputs. I regularly make factory visits, meet the suppliers to negotiate for raw materials and involve myself in trend research for creating quality-driven products. Essential of course is to manage my team and their needs. I am fortunate to have people who share the same aspirations & wish well for The Bear House; in turn, I strive to treat them right and nurture them.

How has the support from your family been in your journey so far?
Harsh, my husband, has helped me push my limits, motivated me to
deliver the best quality and given me the strength to run this brand at this magnitude. Additionally, my in-laws consider me as their daughter and have given me the freedom and nurtured me more than I could have asked for! Above all, my talents are a reflection of my upbringing, as my parents always encouraged me to learn & experiment from childhood.
What is your future roadmap?
Having already expanded the product range into t-shirts, polos, denims and boxers, plans are afoot to launch outerwear, shoes and accessories next. We also have many other ideas to evolve as a business.
Our mantra of delivering products of exceptional quality at an affordable price enabled us to gain a group of loyal customers
How are you upgrading yourself to achieve your goals?
I have always prioritized work & love combining it with my love for travel, wherein I explore the local brands, thrift & vintage stores in various countries predominant in fashion for market & consumer research. I also refer to trend books, WGSN, visit several trade shows (like Texworld Paris & Première Vision) & exhibitions and meet fabric suppliers worldwide. However, just a simple walk into any fashion store is one of the greatest ways to learn consumer psychology.
Key Management
Tanvi Somaiya, Director
Tanvi is a passionate researcher who spends hours doing her groundwork to understand the pros & cons of every aspect, before diving into anything. She is completely focused and passionate about taking The Bear House to the next level.

Location: Bangalore
Favourites:
• Hobbies: Music, Painting, Shopping and Exploring new parts of the world
• Cuisine: Asian
• Travel Destinations: London & Prague