Nitin Khanna: Leveraging 20 Years Of Experience To Establish Sany As A Leader In Heavy Equipment Manufacturing Market In Australia Oceania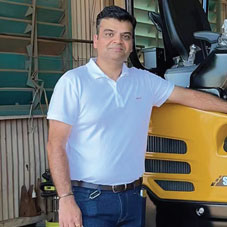 The Australian heavy equipment market is expected to be worth $567.3 million and have a volume of 15,221 units by 2027, increasing at a CAGR of 3.34 percent by volume between 2021 and 2027. Due to the strong demand for main mineral commodities, demand for Australian equipment in the mining sector is predicted to rise steadily during the forecast period. Considering all of these elements SANY Australia handed the leadership opportunity to Nitin Khanna, who holds solid professional expertise in the Mining Metal Oil& Gas and Construction Equipment Business intending to flourish as a leading firm in Australia.
Below is an excerpt of Nitin's interview with CEO Insights.
Give a glimpse about your professional background and how you landed at SANY Australia? How would you describe your current role?
I entered the Heavy Equipment Market, generally known as Yellow Equipment market in 2012, while working at GMMCO Ltd, a Caterpillar Dealership wing of the CK Birla Group in India. Later on I was accountable for this category, as well as a portion of the other related business units. Besides, when I was getting more familiar with this industry, I came across SANY which was the fastest growing construction company across the world. Furthermore, at that point, SANY was looking for somebody with mining and construction equipment background who had worldwide experience of working in different nations across the world. Visionary leader of SANY Chairman Liang Wengen was very keen in trying to locate and select some Indian talents to lead in various advanced markets across the world. This is when I was allowed to funda mentally introduce myself and offer my thoughts. I went to China and met the Chairman and after all the interactions he extended to me an employment opportunity to work in China as Deputy Director for the SANY international business.
I arrived at SANY headquarters in 2018, as the Deputy Director for the worldwide business. I was there for more than six months and subsequently there arose an oppor
tunity to head SANY Australia, since they were hoping to expand deals in the advanced western market, particularly the Australian market which isan exceptionally crucial market for SANY. It was around January 2019, I relocated to Australia to lead the SANY team in the region. Through out my professional career I have been lucky to work and live in different countries and cultures. I began my career in India before moving to the US and then worked briefly in the Middle East before returning to India, then to China, and eventually to Australia.
We have been upholding sany's motto of quality changes the world, which is a global vision of our chairman to establish the number one organization that produces the finest quality heavy equipment
Talk about SANY Australia as an organization and how it has been maintaining its mark over the years?
We have been upholding SANY's motto of QUALITY CHANGES THE WORLD, which is a global vision of our chairman to establish the number one organization that produces the finest quality heavy equipment and has the best resources and people, and we have been doing the same thing. It doesn't matter if we are in Australia, England, Germany, or wherever the concept of establishing SANY anywhere in the world and following the same procedure is to create three number one that is number one organization, number one in the quality of products we offer to our customers and maintaining resources to ensure that people who have been hired and groomed have the opportunity to produce their best.
Tell us about your decision making style and what are some of the best decisions you have made for the company and its people?
I consider myself to be a highly people oriented leader. According to my mentors and what I've observed over the years, when you give deserving individuals account ability and responsibility they tend to perform exceptionally well. And my approach is to always recruit individuals who I believe are either good or better than me because that is the only way to build a rock solid team of achievers and individuals who can truly help you improve as a professional. My management style is mostly people oriented I do not
believe in micro management.
When you have a micromanaging style, you tend to limit people's creativity and team strength when they want to do something out of the box. If I had to summarize things I would say that the smartest decision I did was to ensure that we are more localized with bigger and better Australian team. As a result, we now have a highly effective and a successful Australian team. Over the last few years I have been totally focused on promoting the SANY brand in Australia. The goal is to make SANY company that is heavily invested in the Australian culture with a global outlook.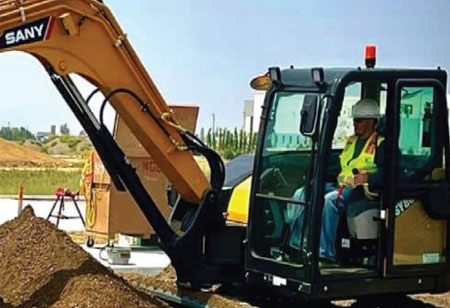 How are you aligning your strategies while brewing efforts to fulfill the companys main goal?What are the principles you have set for yourself as the MD?
As the Managing Director, my number one priority is to see SANY become the market leader in Australia which means we must compete with brands such as Caterpillar, Komatsu, and Kubota, which have been established in the Australian market for over 70 years. However, as I have previously stated, with our new strategy and products, we have been able to make big impact in the market through our dealers, customers, and services. As a priority I would continue to push after sales services as the No.1 strategy to compete in this market. Australia, being a highly developed market, places a high value on after sales services and customer delight; therefore, no brand can aim to succeed here without considering these critical factors. As a result, it is my top priority for the next three to five years, because we have amazing products and can compete and surpass in quality to any brand in the world.We will undoubtedly be market leaders and number one in the Australian market in the next three to five years as a result of our vision, which is also my vision and goal as the Managing Director of SANY Australia.
Nitin Khanna, Managing Director, SANY Australia
Nitin has completed his B.Tech in Fuel and Mineral Engineering from IIT Dhandbad, India MS in Mining and Mineral Processing from Southern Illinois University, US and MBA in Finance and Marketing from ISB Hyderabad, India. He started his professional journey at BRAMCO Oman LLC and have been part of some prominent companies like Reliance Energy, Reliance Power and GMMCO Ltd-C K Birla Group.