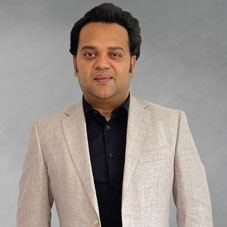 The world is going through a major paradigm shift as we are preparing for the post pandemic world and it is high time that we make necessary changes as we enter this new era. Learning from our past mistakes, it is crucial that we give more importance to the protection of our environment and how we can move forward sustainably. Regen Power is a pioneer in commercialization and promoting renewable energy technologies in Australia and overseas. They are a renewable energy solution provider meeting the power requirements of residential, commercial, off grid markets in Australia and international markets since 2003. The company's vision is to create affordable power solutions through sustainable measures and innovative technologies.
Nikhil Jayaraj is the Managing Director of the company and under his guidance, Regen Power has been ranked as 55th fastest growing company in Australia by'Financial Review' in 2020, based on last three years' performance growth, Winner of Product Review award 2021 & 2022 for receiving highest 5-star reviews in the solar industry for the calendar year 2020 & 2021, and Winner of Belmont & WA awards two times under 'Business Management' category in 2019and under'Sustainability' category in 2021.
In an exclusive interview with CEO Insights, Nikhil talks more about his professional journey and the unique business operations of Regen Power.
Throw some light on your professional journey with Regen Power.
When I joined Regen in 2010, I was very fortunate to meet then CEO & Founder Late Emeritus Professor Chem Nayar who became my mentor. Prof Chem was a real renewable energy enthusiast. He served 30 years at Cutin University as Professor before establishing Regen Power. His 51-year career in electrical engineering and renewable energy placed him as a pioneer at the forefront of academia, research, innovation and the commercialization of solar and wind power systems in Australia and overseas. Initially I was unaware of the benefits of renewable energy. Through Prof. Chem's guidance I quickly discovered that Australia is a world leader in a variety of technologies
that are reshaping the energy and utility industries.Several of the most significant difficulties we will encounter in the coming century are linked to energy and utilities. They include maintaining a sustainable and stable energy supply for a rising population, managing the world's supply of drinkable water, modernising Australia's outdated distribution networks, and developing new solutions to global warming, waste management and urbanisation.
Regen targets to maintain the top retailer position in WA and expand business in other states
What inspired you to start your professional journey in the renewables and environment industry and what drives you today?
My intense interest in this subject prompted me to enrol at Curtin University for a Doctorate of Business Administration. My study, titled An Empirical Study of Residential Solar Energy Storage Adoption in Australia and Policy Effectiveness, will help renewable energy players better understand end-user demands and policy makers improve present regulations. I feel highly motivated by the sense that I am making a difference.
Also,how does your company differentiate itself from the competition?
Resourcefulness, innovation and sustain ability are the key strengths that are leading to the excellence of our business and keep Regen different from competitors. We are the supply partner for the mining giants like Rio-Tinto and BHP Billiton in Perth. Regen has completed big solar farm projects in Malaysia, Vietnam, and India. We have built strategic partnerships and received grants from universities like Curtin and University of Tasmania and major suppliers like Tesla & Huawei. At Regen new products are under development for renewable energy based microgrid applications. We also conduct R&D to invent products like HybridGen aiming at energy conservation.
By adopting the principle of energy conservation, we have contributed the energy equivalency of planting 30,000 trees, saved burning 500 million Liters of fossil fuels, and reduced 600 million kg of coal in WA. Regen is one of the only three ISO 9001:2015 certified solar companies in Perth. Regen has been contracted for 5MW solar farm project in Malaysia in 2015, 500kW floating solar project in India in 2018, 50MW solar farm in Vietnam 2019, Regen holds eight percent market share in 2020-21. Over the past four years, Regen Power has grown tremendously with a 500p ercent increase in sales and
revenue.

As the Managing Director, how are you preserving this legacy of Regen Power while also assisting the organization in reaching new heights?
At Regen, we employ a futuristic approach through strategic planning. With eight percent of market share, Regen is ranked first in terms of installation volume on residential/commercial solar sales in WA. This position willbe maintained by increasing market share by 10 percent in the next three years. The past three years witnessed a tremendous growth of 300 percent in sales and revenue with a 500 percent increase in net profit. Our future action plans are well documented and communicated with the employees. With over a 35,000 customer base and exclusive agreements with major suppliers, Regen is poised to take the lead in the future market. Regen targets to maintain the top retailer position in Western Australia and expand business in other states.

What are your major aspirations for the future?
We have laid out a careful path for our future and there are multiple facets that we will be working on includinga) Strengthening the foundation: Clearly defined mission statement, vision and core values to maintain and sustain long-term growth. Setting the right strategic plan in place is essential to navigate the expansion path, ensure the right rate and pace of growth and to set milestones b) Customer centric approach Redefining the business model to make it more target centric by genuinely understanding customers will be Regen's future priority, c)Focus on marketing: Distinctive branding, communications, digital and social media strategy to reach the right audience, d)Training and development: Introducing KPI to all staff including top management. Comprehensive training and education programs for employees,e)Quality Control: Regen is already ISO 9001:2015 certified. But additional quality control methods will be introduced in all areas including marketing, sales, operation & installation to improve overall efficiency of the company, f)Access to products: Partnering with all major suppliers depending on demand for the products and services to offer more choices to customers and g)Competitive analysis: For effective understanding of the competition, Regen will depend on market research analytics and intelligence rather than depending on Ad hoc information.

Nikhil Jayaraj, Managing Director, Regen Power
Under Nikhil's vision, Regen Power is aspiring to break new business frontiers and reach for greater heights in the corporate realm.