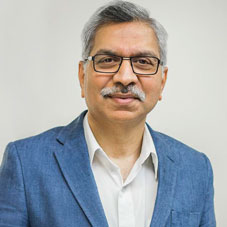 Rarely do we find leaders leaving a highly promising career path and move in to something more challenging both personally and professionally. Among them, very few get to swim against the tide and come out successful. Mahesh Enjeti, Managing Director, Auracle World (a Division of SAI Marketing Counsel), Brand Advisor, Bubblefish Creative Brand building, Co-Founder Brand Read.i.y, Director, Allevia and Adjunct Faculty, Sydney Graduate School of Management (Western Sydney University) is one of those multifaceted leaders with an experience of more than 45 years in Research Strategy, Sales, Marketing, Communications, Operations and Advisory services.
In an exclusive interview with CEOInsights Mahesh shares his professional journey, his share of challenges and learnings, his view of the emerging market landscapes and more:
Shed some light on your professional background and experience. What motivated you to venture into brand consulting and the marketing industry?
After spending more than 25 years in many of the market leading organizations such as: ITC, DCM, Coromandel Fertilizers in India, and Tourism Tasmania, Star City in Australia, I started SAI Marketing Counsel as a Strategy practice around 20 years ago. Working in both functional and general management roles for over two and half decades made me understand the fact that: a brand is not just a function of marketing but also the very foundation of every business. Your own identity such as who you are, the values you stand for and how you do things defines any business.
This made me take a plunge into brand strategy consulting where I created and built many iconic brands as Managing Director of SAI Marketing Counsel and as Advisor to Bubble fish Brand building, a boutique creative agency. Presently my focus has moved from creating, repositioning, and building brands to
helping clients addressemerging challenges in an increasingly uncertain and unknown world. SAI Marketing Counsel has assumed a new avatar as Auracle World.
Define Auracle World as a business and its position in the industry. What is the unique proposition it offers to its clients?
Being a highlevel advisory that helps firms navigate the future in a volatile, uncertain, complex, and ambiguous(VUCA) world, Auracle World helps its clients tweak their well thought legacy strategies to adapt to an emerging, dynamic business landscape. Unlike full scale strategy engagements which are more time and talent consuming,Auracle World helpsorganizations to develop confidence and gain clarity in negotiating the future by asking the right questions and helping to tease out the correct answers which may include research and analysis where necessary. It will be relevant to both well established and younger businesses aspiring to grow profitably sustainably and responsibly.
A Brand is not a function of marketing. It is the very foundation of a business
Throughout your professional journey, what are some of major challenges you have faced and how did you overcome them?
There have been many challenges, some of the learning happened in hind sight. Moving to Australia along with my young family in 1994 was a huge challenge as I had to leave behind a promising career along with a secure lifestyle and start over in a new country with a limited network. Even my MBA degree from IIM was not known those days. Six years later, when I ventured out on my own, I faced challenges again. I undertook pro bono writing assignments for a mentor in return for coaching while contacting every major Ad Agency in town believing I could offer some thing of value but to no avail. It took me around two years to get my first big break in brand strategy consulting.
What I learned from these experiences is that you have to work harder when you don't have the networks. Don't give up on your dreams, but always have a plan B. Never stop looking around as opportunities come at the most unexpected time from the most unexpected quarters and always get a mentor regardless of how good you think you are.
The post-GFC period(2009-10)was a critical period in Australia when even big consultancies had to drop their prices. Even though my work was comparable to the best in the business, my prices were already lower, so I chose not to discount any further and took on engagements where I could add differential value. I did not blindly follow what the competition was doing, swimming against the tide and playing to my strengths.

What are the changes in marketbehaviour and opportunities that you are expecting in the future?
I cannot predict but only hope that this trend towards mindless pursuit of differentiation, relentless revenue growth as well as the obsession with acquisition ignoring your existing customer base, letting technology make our decisions will all reverse in time following diminishing returns. Businesses with a balanced view towards emerging technologies are more likely to succeed. Physiological, safety and security concerns will be given more priority than other customer needs. Augmented human intelligence and native creativity will combine to give competitive advantage. Companies will recalibrate their growth aspirations based on environmental and social impacts. Product performance will become a key driver of customer satisfaction and a marketer's growing focus. Those who are ahead of this curve will come out winners.

Any advice you would like to give to the budding entrepreneurs and industry practitioners?
Get your basics right as foundations do matter. Before walking in your customer's shoes first take off your own. Every human being must work hard at 'being human'. Always remember that what you have learnt till now might become less relevant compared to what you are going to learn today and in the future. Finally, if you can connect the dots, you will never miss the big picture.

Mahesh Enjeti, Managing Director, Auracle World
A PGDM from IIM Kolkata, a Fellow of the Institute of Managers and Leaders, a CPM Fellow of the Australian Marketing Institute(AMI) and a Graduate of the Australian Institute of Company Directors, Mahesh has spent over 45years in industry. At the half way mark, he ventured into brand consulting and now offers strategy advisory services as Auracle World "Your sounding board for sound strategy." He is a prolific writer and a frequent presenter.