NKG Infrastructure: On the Path of Quality Growth, Successfully Equipping India with World-Class Infrastructure Since 1989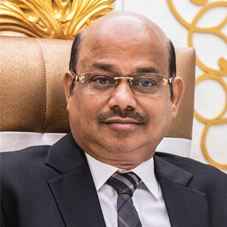 As a burgeoning infrastructure sector is often considered to be the primary yardstick to gauge a country's economic development, the Indian government has prioritised investing in this sector over the past halfcentury. Today, India benefits from the world's second largest road network, spanning the total length of approximately 4.32 million kms (vis-a-vis 0.399 million kms in 1951), paving the way to extensive industrial growth. NKG Infrastructure Ltd. one of India's largest privately owned construction companies, has been a significant contributor towards such infrastructure development endeavours over the past 30 years. With a distinct track record in successfully developing contemporary world class infrastructure in metropolitan & Tier-I cities, the company also engages in socio economic infrastructure projects in rural & semi-urban geographies. In fact most of its projects are government funded and aim to develop infrastructure facilities across India.
NKG Infrastructure was started as a family business long back, which was later incorporated into NKG Infrastructure in 1989. As a corporate, NKG Infrastructure has fared exceptionally well on the back of strong cost control, robust execution and uncompromising quality. As the company is at an inflexion point of quality growth today, present MD, Pradeep Garg is making full use of his three decade long experience and capabilities to continue building a strong institution. Pradeep, in an exclusive conversation with CEO Insights, delineates the company's accomplishments and shares his roadmap. Here are the excerpts:
Kindly tell us about the distinct elements that enable NKG Infrastructure to surge ahead as one of India's fastest growing infrastructure construction organisations.
Our company is established on the corner stone of strong ethics and maintaining our credible corporate reputation is our primary goal, placed above all other business considerations. Our culture is also
deeply grounded in maintaining a high quality of work and the highest safety standards for our workforce to help maintain zero percent injuries. In fact, our technical & project execution capabilities are recognised by various government bodies, global institutions, and leading infrastructure developers of India. With our state-of-art machinery, plants,equipment and shuttering materials, we have an enviable track record of executing more than 500 projects successfully.
Our company is established on the cornerstone of strong ethics, and maintaining our credible corporate reputation is our primary goal placed above all other business considerations
Kindly throw some light on a few of your iconic projects.
Considering our humble beginnings, we have always prioritised taking-up challenging projects such as laying large water pipelines in the underdeveloped cities like Faridabad, and Noida or Delhi. We have built numerous bridges and flyovers under challenging terrains in cities like Uttarakhand and Himachal Pradesh, and we have also overseen the construction and commissioning of large sewage & water treatment plants in a few remote areas. Such projects have a quite rewarding impact, as they often become destinations that local authorities consider developing townships around. Apart from this, we have been a significant player in developing bridges expressways and underpasses across Noida for the past 15 years. In 2011, we setup a 10MW Solar Plant in the biggest Solar Park of India (Gujarat), which still standsout as the most efficiently running project and provides the highest output amongst our peers.
We are on the verge of successfully completing a project worth Rs.1,500 crore at East Kidwai Nagar, New Delhi (one of the first subsmart cities and the largest GPRA project undertaken by Indian Government). Having successfully constructed institutional buildings for premier education bodies like IITs, we are currently involved in building a new campus for IISER. Furthermore, we are a leading player in developing government hospitals for institutions like AIIMS and ESIC and have won the contract for the construction of Jabalpur airport terminal from the Airports Authority
of India.

What is the future roadmap set for your company?
We are keen on expanding our presence into more states and increasing our execution team's strength(we currently have around 1,100 employees which includes highly qualified engineering staff for our various construction sites and backoffice) to nurture our portfolio in government sector projects. Moreover we are strengthening our sourcing capabilities by putting the best corporate governance practices and processes towards vendor identification empanelment and management for all significant inputs. We are also investing in new technologies to heighten our efficiency and scale of operations.

We intend to focus on our internal strengths and fast track the completion of ongoing projects withoutcompromising the construction quality so that they are monetised promptly, while also working on building a strong pipeline for a new set of orders. We foresee unhindered growth, as we have established a comfortable debt profile, which provides for lower finance cost, enables healthy cash flows and headroom to raise funds with relative ease. We aim to be amongst the top10 Construction & Engineering companies in India by 2025.

Key Management:
Pradeep Kumar Garg, Managing Director
Pradeep is a Chartered Accountant & Law Graduate with more than three decades of experience. Under his aegis NKG Infrastructure has grown exponentially and has diversified into several new verticals.

Offerings: Construction of roads, bridges, power substations community electrification network, institutional as well as residential buildings, potable water distribution systems and wastewater/ affluent treatment plants medical colleges, hospitals and airports, amongst others.

Offices:New Delhi(headquarter), with presence in 16 states including J&K

Achievements:
•Most Valued Customer by ICICI Bank
•Vishwakarma Award in 2011 for the 'Best Professionally Managed Company', having a turnover exceeding Rs.1,000 crore by CIDC (Construction Industry Development Council)
•Registered as a 'Grade A' Contractor with various State Governments &their Departments
•N.K.Garg received the 'UDYOG RATTAN' award by Institute of Economic Studies in 2007
•Accreditation of ISO 9001: 2015, ISO 14001:2015 and OHSAS 18001:2007