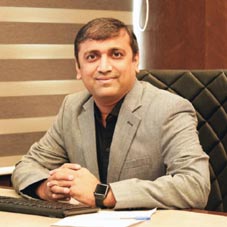 Despite the statistics portraying that the construction market in India is expected to emerge as the third largest globally by 2025, there are a horde of challenges slightly obstructing this estimate. The major challenges in this market are with regards to stringently adhering to preformed timeline and bud-get while not compromising on the quality of services delivered. Not many of the construction companies in India have truly mastered these three aspects! Yet, Ahmedabad-based Shilpa Construction Private Limited (SCPL) takes utmost pride in offering the best of quality, timely delivery and affordability across its wide range of construction services to clients. Established in 1997, SCPL currently holds an unbeatable position across the construction of industrial, commercial and residential buildings & civil structures. Further, this ISO certified company is well-known in the market for its fortes such as expert professionals, customer-oriented approach, vast networks and market competitive costs.
Thanks to its linchpin ­ Anil Padmani (Director & CEO), SCPL has bagged a huge clientele from all over India. In an exclusive colloquy with CEO Insights, Anil has passionately described about the company, its fortes, future plans, and many other aspects.
How has the journey of SCPL been so far?
It was truly remarkable! The company was incorporated with a vision to inspire and integrate value creation, impeccable quality, modernity and excellence aimed at fostering an ever-lasting bond of customer relationship that is built on trust, confidence and customer delight, while adhering to principles of ethics and professionalism. Even till today, we conform to this vision and soar high as one of the most reputed organizations in the construction industry of India.
Tell us about the wide range of construction services that you provide.
Being a client-centric organization, we ensure to customize each construction service in tune with clients' demands. We offer a spectrum of construction services
under industrial, commercial and residential segments by deploying advanced technologies. Some of the services offered under industrial segment are industrial, factory, steel factory structure, factory machine room and factory cabin construction services. Under residential, we provide services such as residential farm house, residential hotels, restaurants, residential building and residential society construction services.
We at SCPL proactively control the timeline and spending of our projects by following a unique process with regards to planning, organizing, erecting and remodelling structures
What is the unique process that you follow at SCPL that differentiates you from your competitors?
Executing industrial, commercial and residential construction projects is no easy feat and can't happen overnight. We at SCPL proactively control the timeline and spending of our projects by following a unique process with regards to planning, organizing, erecting and remodelling structures. This process includes six steps.
Firstly, it is the initial planning phase which includes procuring the requisite permits and breaking down the work into specific tasks. Secondly, scheduling the job involves setting the initial construction date, estimating time needed for completion and also giving an accurate cost appraisal. Following this is organizing resources ­ assigning skilled craftsmen to appropriate tasks, locating & purchasing requisite materials, and concocting an orderly procedure to guide employees. Later, we direct workers in their tasks ­ assign specific duties, supervise performances, and provide training when needed. The fifth and sixth steps are controlling the construction process and effectively coordinating the entire construction process between various individuals and teams involved.
Brief us on your team of experts and their expertise.
I strongly believe that great things in business are never accomplished by one person, but rather by a team of experts. I'm extremely proud to have a wonderful team of professionals at SCPL who hold rich experience in rendering the best-in-class services with unparalleled supremacy and on-time delivery to our clients. Especially our team of engineers has experience ranging from three
to 18 years across big OEMs like Reliance Group, BPCL, IPR, and ISRO; many from food industry like Inbisco India, Hyfun Foods, In-stafarm Products, and Zodiac Food Park; and from textile industry including companies like Raghuvir Group, Jayshree Group, Nisan Exports, Moulding Units like Bony Polymer, and many more.

What are the major challenges that you face?
Challenges pop-up in every phase of a company's journey ­ mostly while endeavouring to become a successful company against the rap-id competition in the market! To overcome them, we ensure to seamlessly enhance the skillsets of our employees through training workshops and provisions of ample learning & growth opportunities.

Walk us through your future plans.
Currently, we are working on maximizing the deployment of data & digital models through-out the processes to review existing market area, embrace new business opportunities, and enable change management & adaptability. Our future plans entail attracting new talents with substantially diverse skillsets and constantly upskilling them, adopting advanced & sustainable technologies and new materials at scale, and creating a virtual world through AI, software systems and autonomous construction equipment. Besides, we aspire to integrate and collaborate across the value chain of construction industry, and also shift our construction activities to factories wherein we can harness lean principles and advanced manufacturing processes.

Anil Padmani, Director & CEO
Anil is a well-experienced technologist and business leader currently taking SCPL to unparalleled heights through seamless developments. He also stands as a torchbearer to all his employees with an inspirational personality, deep-rooted domain knowledge, and excellent managerial skills.

Quick Facts
• Inception Year: 1997
• Location: Ahmedabad

Offerings:
• Industrial Construction Services
• Residential Construction Services
• Commercial Construction Services

Awards: Best MSME Award ­ 2017 for outstanding contribution in quality and excellence, in the realm of customer satisfaction by India 5000 Best MSME Awards

Major Projects: Reliance Industries, BPCL, IPR, ISRO, Kakrapar Atomic Power Station, Inbisco India, Hyfun Foods, Instafarm Products, Zodiac Food Park, Raghuvir Group, Jayshree Group & Nisan Exports.