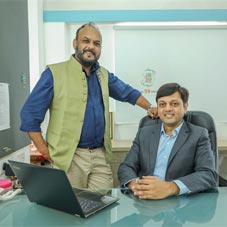 As the country races towards a trillion dollar economy, the MSME segment is in doldrums to catch a breadth now more than ever. With lenders being cautious towards MSMEs, firms like Online PSB Loans are clearing the smog and helping lenders see clearly through the applications, and in turn uplifting the MSME economy. Online PSB Loans is a single window to all financial requirements. It endorses an Automated Digital Platform, Simplified Lending Process, Ease of Understanding and Application, Realtime Data Auto Updation, Intelligent Interactive System, and other such facilities.
Through these, the company assures its customers of a much rational lending process which is transparent, digitally backed, quick and hassle free with minimum documentation. We got to have a rendezvous with Ronak Shah, Co-Founder & CEO, and he told CEO Insights why MSMEs struggle to flourish, and how Online PSB Loans is making a fair bit of an effort to support the country' backbone of economy.
What laid the foundation to Online PSB Loans? Which key pain areas did the founders intend to address?
Original idea was to provide advanced technology based financial innovative solutions for borrowers and lenders. The founder Jinand Shah, himself being a CA, interacted with a lot of MSMEs only to realize the hardships those organizations faced to raise funds for small ticket size, despite having the required credentials, files or financials. This was the center of our envisagement for Online PSB Loans.
Our platform was first, soft launched by the then finance minister Shri Arun Jaitley, on September of 2018, and later officially launched by the
Prime Minister of India, Shri Narendra Modi on November 2018. We're aware that MSMEs are the backbone of India's economy. We're also aware that such MSMEs face a lot of difficulties finding the right funding at the right time. So, we position ourselves as the technology provider to the borrowers and lenders, making the entire process seamless. While a lot of market players start off offering retail loans in the form of personal loans or auto loan, we stepped first to offer loans for MSMEs. Recently, we digitized entire Mudra Loan process too.
Tell us about PSB Loans key offerings and how bridges the gap between MSME borrowers and the lenders?
As of today, we have little to no competition in the market. I can give this statement credibility. The only primary offering, our website psbloansin59minutes. com itself speaks volumes for the kind of promise we make in the market to our audience of MSMEs. As the domain name suggests, MSMEs loan applications actually takes less than 59 minutes. The retail loans take up to a maximum of 15 minutes. Most importantly, this platform has empowered MSMEs to apply and get instant In-principle approval of loans without visiting any bank or its branches, anywhere and anytime.
The founder Jinand Shah, himself being a CA, interacted with a lot of MSMEs only to realize the hardships those organizations faced to raise funds for small ticket size, despite having the required credentials, files or financials
The platform streamlines both, the borrower journey, as well as the lender journey. The borrowers don't require piles of documents to avail a small financial product. Being integrated with a number of banks and their respective branches, our platform allows the borrower to select his preferential product from the numerous options based on
interest rates, requested amount, tenure, credit score and others. On the lender's end, the real time data of the borrower actively searching for a product is received.

The banker or lender receives the CAM report as per his bank's policy. Right from analysis of GST to verification of ITR, everything is done within the platform. Our USP lies in our integration with all the nodes of banking offerings. We have integrated with all the public sector banks, major private sector banks and large co-operative banks. We have also created an app-based solution for micro finance too. So, at core, we are slowly heading towards building an ecosystem for the MSMEs, wherein they find a one stop shop for all their funding needs.

What is the biggest differentiator for your platform?
The biggest factor that sets us on a different league is that our platform is not a lead aggregator. It has the capability of executing a thorough analysis of data in real time from the source to the destination. In-principal approval of MSME loans or Retail loans or Mudra loan have been 'fast-tracked' because of this platform. Now, all such MSME requirements can be availed from public sector banks and other major private lender in a drastically shorter time, as compared to most online loan disbursement services.

How do you perceive the future for Online PSB? What are the key introductions you're going to make?
We have always believed that 'learning never stops'. And it's true for any industry for that matter. If we want to stay ahead of the curve, we need to keep learning. In the near term, we intend to complete the entire ecosystem of MSME loans and Retail loans. Further, we will be bringing in more digitization into the process. MSME environment needs a lot of support right now, and we feel we have just scratched the surface, we have a long way to go.

Ronak Shah, Co-Founder & CEO
Ronak holds a chemical engineering degree from Pune University and has an MBA from Symbiosis Institute of Management. He has worked with the DDB Mudra Group's Earstwhile Mudra Communication. Throughout his career he has been associated with branding and building businesses for fairly reputed MSMEs.