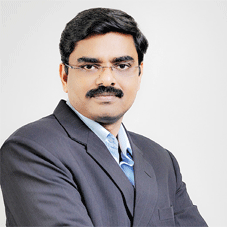 Having over 25 years of experience in product innovation, digital transformation, and business process expertise for organization capability enhancement, Prabhaker Yasa has demonstrated impeccable performance and growth throughout his career by pushing the boundaries of innovation. Driven by the desire to make a difference as a change catalyst, Prabhaker is capable of orchestrating transformative business strategies through robust enterprise architectures, lean process engineering and cognitive sciences coupled with his empathy, leadership, integrity, consistency, and an overall mindset of service. He is now on a mission to bring transformational results through his smart farming firm Cenaura, which specializes in offerings related Controlled Environment Agriculture (CEA) and Health n Safety spaces.
Engaging in a distinctive interaction with CEO Insights, Prabhaker Yasa shares his journey as one of the exceptional entrepreneurs from the city of Hyderabad who is renovating the domain of smart farming.
1. Give us a brief detail about your educational background and professional background and how has it helped you in your journey so far?
I have worked with various MNCs such as Caritor, Genpact, Blue Yonderand others in various technology leadership positions. I pursued an MBA from Aston Business School, UK while I was on a sabbatical in between. After a career spanning almost 25 years of various senior technology leadership roles in 2019, I took the plunge as an entrepreneur post almost 24-25 years of experience. So, my journey predominantly has been in technology and processes and throughout my career, I used to enjoy creating products by critically evaluating a problem and looking for a solution. I enjoyed the experience of converting ideas for products and launching them to the market, as well as for in-house usage. This helped me with the required skill set to take an idea to the market, which eventually helped me as an entrepreneur.
2. What different roles have you been undertaking at Cenaura Technologies? How do you align your organization with your vision and mission?
Founders of startups must pretty much get hands-on with all aspects
of the company ranging from R&D to engineering and marketing to financial management. We started with an idea of making fresh, nutritious, and healthy greens grown using clean room technologies, sustainable methods, and LEAN farming processes. All this to get higher yields and productivity, while compressing the farm to fork chain to make freshest possible produce in the hands of the consumers. The most important roles I play are those of the listener-in-chief and innovator-in-chief. Constantly listening to customer problems or feedback and innovating in the form of new products to solve those problems is crucial for any technology innovation led company's growth.
As we believe in customer innovation, we incentivize our workforce to continuously think about improvements in products and services that we offer to our customers
As we believe in constant innovation, we incentivize our workforce to continuously think about improvements in products and services offered to our customers. Innovation could be radical, resulting in a new product or in the product as per customers' feedback. So, we have a closed feedback loop coming back from the customer to improve our products consistently and that is how we align the vision and mission of our organization.
3. Enlighten us about the various products and services that you offer under the Smart Farming portfolio. Also, explain the unique benefits that customers can avail from them.
We are probably the first player to introduce a comprehensive portfolio of Controlled Environment Agriculture (CEA) technology-based products and services in India. CEA refers to a certain technology intensive method of farming, where all the parameters are artificially controlled, starting from temperature, humidity, CO2 level, lighting, nutrient management, and irrigation etc.
From the cleanliness of the consumables to the seeds and nutrients that go into growing them, we use some of the latest methods of hydroponic farming while fulfilling all traceability requirements. By growing and delivering nutritious food locally, farming becomes more viable, and enables prevention of spoilage and contamination, and better-quality control. This helps reduce the distances traveled by the fresh produce across India, we intend to make the concept of hyper-local farming more accessible and more viable which helps both
the society as well as consumers.

Our stack has a plethora of technologies ranging from lab-grade IoT sensors, actuators, controllers, edge compute modules, machine learning, cloud-based computing, and big data, which ensures real-time data flow and smart decision making across systems. Our USP is that all the technologies come pre-engineered in the form of farm containers or plant factory structure and this is our USP. A customer who wants to get into farming can start grow operations in a matter of weeks, as there is no need to set up a massive structure and they get their first crop probably within three to four weeks.

For example, if the customer wants to grow lettuce or basil, all they need is to go to the system and assign Basil to zone one assign lettuce to zone two. After this, the system will automatically configure itself and will create the conditions that are suitable for growing basil and lettuce in the respective zones. This is a game changer technology for the new generation farmers, as they can get into farming without the learning curve due to the AI based automation. They just need to ensure that the utilities like power, water, and internet are in place, which will enable them to manage their farm from anywhere in the world.

4. Which are some of the key milestones that bestowed you with utmost satisfaction - both as an individual and a Founder & CEO?
Our original vision is being translated into reality through our product range, while ensuring higher customer satisfaction and that's the only real validation we get. As entrepreneurs, as well as technology product creators, we can pride ourselves in terms of technology innovation, product launch and other things, but unless the customer perceives the product or service as adding value, nothing else matters. Fortunately, right from the early stage, we have customers who have been tremendous feedback, helping us improve the products and services consistently.

Prabhaker Yasa, Founder & CEO, Cenaura
Prabhaker holds rich expertise in leading geographically dispersed delivery teams over the years across US, UK, Romania, Hungary, Philippines, and India. His experience spans software development, cloud transformation, robotic process automation, embedded products, and machine learning. Employing creative problem-solving techniques, Prabhaker has prominent expertise in analyzing the structural, people, process, and technology components, and coming up with long-term scalable and sustainable solutions. With an aim to develop flexible, scalable solutions for consumer, employee, and business problems, he has taken up initiatives to institutionalize and embed a culture of innovation into employee mindsets.