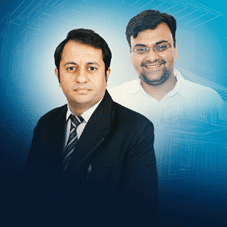 The life begins at 40! The adage tethers a million meaning to it. But unlike your childhood, you start your life's second innings with the knowledge of what you want to do with your life, and most importantly, you are not afraid to go down the path of achieving what you really want. While living our lives at 40 to the fullest, we slowly start to dream about a peaceful retirement life with all the gratification in the world on our side. An old age home doesn't have a place in that aesthetic dream. But since it's often a future-concern a dream that would be real only after people turn 60 the real estate developershave always refrained themselves from investing in residential projects for senior citizens. Going a step beyond the materialistic interests to provide senior citizens with a retirement life they deserve by pioneering the retirement villa concept is Prarambh Buildcon an Ahmedabad based real estate organization.
"The Prarambh Smart City is India's first ever exclusive township for retirement life. We can proudly say that this company is more social and less commercial, and it's because of our constant engagement with elderly people. They are the most prestigious people of our society and we have a commitment to satisfy their entirely different, but genuine requirements. As the name suggests, Prarambh is a new beginning for them," asserts Sachin Chaturvedi, Co-Founder & Partner,Prarambh Buildcon.
Tailor Made for Your Retirement Life

A project worth Rs.200 crore, Prarambh Villas are crafted elegantly & scientifically to cater to the discrete needs of a memorable retirement life. For instance, the architecture involves an entire gamut of world class features that are tailor-made for old-age-life, starting right from the ground floor homes not having an RCC staircase, as the senior citizens don't prefer to go up & down the stairs. Instead, Prarambh used this construction benefit to make the bungalows more specious (85 Square Yard). This is just the tip of the iceberg. The villas built in three different sizes have not only the antiskid tiles flooring, but also grab bars in the bathroom for support and individual ramp at the entrance. The design innovations have also enabled Prarambh to make the whole bungalow wheelchair friendly (including kitchen & bathroom), in addition to furnishing the living room with senior citizen friendly furniture like hard base sofa & handled chairs. Above all, the home owners are provided with four emergency switches in the bungalow(in Drawing room, Bedroom, Kitchen and Toilet), which realtime connect them to 24x7 medical assistance and security personnel.
The outside connectivity and social life provisions however go beyond the emergency situations, as Prarambh offers world class utility services, including an e-Cart for internal commute within the society, quality assured food service (meals three times a day), and housekeeping & garden maintenance facility. For all the services in township, Prarambh has tie-up with Age Ventures India which is an arm of HelpAge India, and known for senior living worldwide. Its endeavors to create a positively charged social life within the premises have been quite appreciable. This includes everything from a big Temple & Jain Derasar to preserve the spiritual values of homeowners to the Clubhouse for indoor games & party/events, huge garden for outdoor games & social gathering, and daily entertainment & engagement programs. Most importantly, anticipating the uninvited & drastic medical emergencies, Prarambh Smart City has established basic healthcare infrastructure inside the premises, which includes an ICU-on-wheels.
We can proudly say that prarambh buildcon is more social and less commercial, and it's because of our constant engagement with elderly people
"Our robust & dynamic healthcare infrastructure has already proven its purpose. Recently, one of our female-residents confronted with a low BP situation and fainted. Our medical staff attended her immediately, gave her first-aid, and took her to the nearest hospital in no time. She became normal after a small treatment. Her husband was extremely grateful to our timely response," adds Rajesh Jindal, Co-Founder & Partner, Prarambh Buildcon.
Customized to Suit All-AgeRequirements
To plan and execute such an innovative and challenging project, which today is home to a family of 280 members (mostly working professionals, retired bank & army officers,government employees, scientists, and NRIs) who indulge in world class facilities, amenities and a robust supporting infrastructure, Sachin and Rajesh have invested a lot more than the capital. Chartered Accountants by profession, their respect for their own parents, and the thought of giving them the best retirement life possible have been the cornerstone of Prarambh Smart City.
"This project is most inclined to service delivery than product selling and thus you need a different level of approach to sell it, which is not everyone's cup of tea," adds Sachin. Right after the inception in 2014, the duo was looking at multifarious challenges. For starters, it's not much accepted in our culture, especially in Gujarat, when senior citizens leave their current home for a new one (even if it's their wish). On the other hand,on a customer psychological standpoint, the retirement living is an immediate requirement for a 75-year person (who often can't make the purchase decision even though he wants to),
an indirect requirement for a 50-to-65 year old, and an investment for a person who is 40-to-50 year old. "It was crystal clear in our mind that we have to make it a multi purpose project to really hack it. Hence, we built Prarambh as a resort living and customized it for buyers of all age groups," adjoins Rajesh. He explains the rationale behind Prarambh having dozens of residents in their beautiful 40s, who love to live their life to the fullest.

Calm Amidst the Wind
The challenges were however never confined to the market. Within a couple of years from its inception, Prarambh entered the sloppy surface created by Demonetization & RERA and GST in the year followed. "The new reforms raised an unanticipated situation in the market, but we survived because of our transparency, and most importantly, the faith and blessings of our members,"elucidates Rajesh. Prarambh's pricing structure takes a huge chunk of credit as well.

The duo finding an affordable land close to the city of Ahmedabad has also played an instrumental role in villas' starting price coming down to as low as Rs.25 lakh. Moreover, it has also introduced a customized deposit module for people who are above 65 years of age. "We have also kept our margins on the lower side to make this sustainable property affordable for our elders. That's how a four-year-old company like ours has gained the trust of Ahmedabad. Our vision 2025 is building 10000 homes," concludes Sachin.

Key Management:
Sachin Chaturvedi, Co-Founder & Partner
Sachin Chaturvedi is a C/A & Co- Founder & Partner of Prarambh Life, His hobby of serving people made him proud president of Lions Club of Ahmedabad Fort and his hidden quality of addressing crowed has always helped to sell Prarambh. He married to Rupali and blessed with two children - Jash & Sparshi.

Rajesh Jindal, Co-Founder & Partner
Rajesh Jindal is a C/A & Co-Founder of Prarambh Life, he is the visionary part of Prarambh. His dream to make prarambh life a Unicon Brand is always pushing him hard and this is how Prarambh is coming up with a new venture. He married to Tripti Jindal and has two children – Mannat & Purab.

Prarambh Buildcon in Spotlight:
•India's first ever exclusive township for retirement life
•Villas in complete natural environment
•Incorporates door video camera & intercom facilities
•Emergency alarm system to give mental peace
•Healthcare infrastructure with basic medical equipments & ICU on wheels
•Anti-skid flooring to avoid slippery situations
•Specially designed spacious toilets with grab bars
•Specially designed furniture to suit the age
•Ramp and one-two step entry for the villa

Office: Ahmedabad

Quick Facts:
Year of Establishment: 2014

Project:Prarambh Smart City