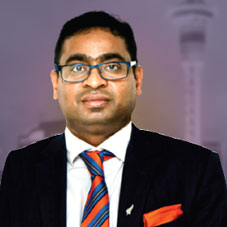 "The first wealth is health", said Ralph Waldo Emerson. Pure, fresh and healthy diet is most essential for the good health and sustenance of life. It is no exaggeration to say that community health is national wealth. Eating natural food is essential in promoting good health and that is why it is unavoidable to consume products that are organic and not chemically preserved. But unfortunately, with the flood of innumerable food products in the market, the practice of food adulteration is also increasing with every passing day. Food adulteration is one of the major challenges in the global society. Under standing the concern, Praveen Chirra, CEO, Jayen Export Consultants has set forth to instill accurate measures to minimize this practice and make naturally crafted products of New Zealand including Dairy, Manuka Honey, and Wines available to the world.
With a motive to familiarize the global markets with the purity of New Zealand's products, Jayen purely focuses on develop ment and distribution of products which are completely quality and sustainable in nature. Praveen takes pride in being the caretaker of the environment by encouraging a wide range of products in food and beverages, nutraceutical, skin and health care. With his illustrated experience in the export and procurement industry, he also assists large distribution houses in sourcing and supply of products from around the globe. Praveen has been a successful consulting partner for many businesses that wish to take their products to inter national markets. His vision has always been set on creating lasting partnerships by working collaboratively to generate value for his clients and enable them to reach their goals. I recently got in touch with Praveen and he was happy to talk about his journey as well as the latest endeavors of Jayen group. Below is an excerpt of our exclusive interview with him.
"We offer services to advocate and prepare our clients that are willing to do business in international markets and instill the confidence in them to be able to do so"
What was the idea that inspired you to be an entrepreneur and throw light on your journey so far?
As Dr. APJ Abdul Kalam once quoted "You have to dream before your dreams come true" As a child I have always been a dreamer of having a career in International Business platform. My journey towards my goal have started with a career in hospitality as a Steward (Intern) at TAJ Group of Hotels (Hyderabad) in 2001 and gradually working towards building my career in banking as a relationship executive at HDFC Bank before leaving to New Zealand in 2008 to pursue a Diploma in Business Management. My profes sional career in NZ started (early 2010) with an opportunity to work as a Purchasing Manager in a fortune 500 company and a global leader in food service and hospitality industry. That's how I started familiarizing myself with the global procurement and supply chain industry. In 2013 I moved to Auckland and started working for a leading food service company in NZ as a procurement specialist. After successful stint in the company and had the opportunity to work in an importing and distribution environment for four years, in late 2017, I was confident enough to start a business of my own. Going back a little bit, during the years of my 9-5 jobs I was intensely working on building my knowledge and skills on bilateral trade between NZ and overseas markets and also studying towards a Diploma in Procurement and Supply through Charted Institute of Procurement and Supply(CIPS) and International Business from Massey University, I was also fortunate enough to get the opportunity of being part of several business delegations to India and Sri Lanka through INZBC, A premier trade organisation in New Zealand, which has been working since 1988 to build trade relations between India and New Zealand.
This is where I have learnt the challenges and the opportunity of building business for NZ products in the subcontinent. Hence, I decided to start a consulting company that would help ease the businesses between the two countries. Starting with consulting, we have then transformed into a sourcing and exporting firm from NZ as well as importing and distribution in India through our firm Jayen Ventures Private limited India, Based out of
Chennai. Not stopping there Covid-19 has helped me think of the future for the company and restrategize the business of having a brand of its own, thus with the help of my executive team we started N&Z New Zealand limited with a vision to showcase the vast array of quality, naturally made products created from New Zealand's pristine environment and bringing them under one single brand (N&Z).
And as we are talking, we are also working on a unique nutraceutical product development in collaboration with a well established and reputed pharmaceutical company in India and a world renowned nutritionist combining the distinctive NZ Manuka honey with Indian medicinal plant extracts for everyday wellness of people. This has also helped me to keep myself busy and productive during both the lock downs in 2020 and current lockdown in NZ.
I also believe some of my key personal attributes such as to continuously challenging myself, taking the path less traveled and follow my intuition and gaining knowledge and experience in various industries such as hospitality, finance and banking, food service and distribution, procurement, import and export has helped me build my entrepre neurial journey through my own experiences.
We make it our business to know your business
Share with us your experience of tackling the initial challenges faced during the development of the company? How would you describe your role in it?
During the foundation of the company, we realized the fact that there is no phrase as 'free trade' in India. Products coming into India attract very high import duties. Due a lack of 'Free Trade Agreement' between in India and NZ. New Zealand's products are already expensive because of its production costs as well as quality and highest food safety standards in the world. Attracting heavy duties was already a challenge in India along with the import duty, the logistics charges, the storage fees, the payments for resellers and so on. Hence, entering the Indian import industry accumulates huge costs for the companies. With time, we helped the companies tackle those challenges by being their strategic and consulting partner. Jayen Export Consultants was established with a vision to help entrepreneurs and indigenous companies to dare to go global. Hence, in spite of all the challenges we were able to represent our clients overseas, engaging in dialogue with potential business partners, creating business markets for their products and services and thus adding value to them.
Tell us about the unique proposition that Jayen Export and N&Z New Zealand ltd has to offer to its clients?
At Jayen Export Consultants our aim is to facilitate companies in New Zealand and overseas to achieve results faster in the most cost effective manner. We offer services to advocate and prepare our clients that are willing to do business in international markets and instill the confidence in them to be able to do so. We help our clients to learn first hand about global markets, find the right overseas trade partner and forge trustworthy business partnerships. We also help them build business etiquettes and provide them with an abundance of resources. We make it our business to know your business. Our team has a great deal of experience with combined expertise in procurement, import/ export, logistics and supply chain, operations, executive management and finance. We are well equipped to help our customers take our fine products from 'Source to Shelf'.
Our unique proposition at N& Z is The Natural and Zesty Difference...
Consumers have changed the way they think about their health and well being as a result of the Coronavirus pandemic. Environmental sustainability, naturally sourced ingredients and trusted production methods together with traceability are now even more important considerations in the minds of consumers. At N& Z our promise is to expertly deliver NewZealand's naturally, home grown products for better health and well being and ultimately, a happier and even zestier, life!
Also Being proud holders of the New Zealand government 'Silver Fern' Licence, we want to bring more exceptional offerings to our customers. We want everyone around the world to embrace the magic of New Zealand and help to create a pure, positive legacy for future generations.
Throw some light on one of the unique products of Jayen Ventures launched in India. What makes it so attractive to your customers?
One of our special products is Manuka honey which is a rare and
unique honey extracted from bees via the nectar of the New Zealand Manuka tree. This honey is cultivated from remote locations within New Zealand. Manuka honey is renowned as a delicious natural sweetener, a unique immunity boosting super food that can help improve overall well being.

Dating back 800 to 1,000 years ago, the Manuka Tree(Leptospermum Scoparium), a tree native to New Zealand was so important to the indigenous Mori people that they referred to it as 'Toanga' or 'treasure'. Even today, the medicinal properties of the Manuka Tree are just as important as they were hundreds of years ago in curing ailments, increasing immunity, healing cuts and scrapes, clearing infections, improving digestion and gut health and boosting overall energy. Manuka honey is highly valued for its rare and complex properties. The nectar of the New Zealand Manuka flower provides the unique, natural ingredients (MGO) to Manuka honey that differentiate it from other honeys. Manuka honey can only be created for a few weeks a year when the Manuka plant is in flower. MGO stands for methylglyoxal, the naturally occurring compound that makes manuka honey so unique. An MGO rating is a standardised measure of methylglyoxal content and is an indicator of quality.

In your professional journey so far, which are the milestones that bestowed you with utmost satisfaction?
Looking back at where I have started, it is a huge successful journey and my contribution of so many years in the company is a milestone for me. Also, starting my own business on a single scale and then building up a team in both New Zealand and India is no less than a milestone.I have an excellent team specializing in every aspect of business development which has helped our company to create a platform in India. One of the major milestones is successfully establishing my company in India and being able to sell my unique products on leading online platforms. Other ones I could probably mention is launching our own unique N&Z brand successfully into the market and working towards to launching them in several key markets such as SE Asia, Middle east and US. I move ahead with the hope to be able to cross much bigger milestones in the future.

Other than Jayen Export Consultants, what are the other ventures led by you? What are your future plans for yourself?
Jayen Export Consultants was conceived with the aim to connect New Zealand globally in international trade. We started providing advocacy to the clients and equipped them with information, education, advanced communication and resources to get them started with their own export and import business. During this process, I got the idea of venturing into India and starting my own importing and distributing company. This is when I started Jayen Ventures Pvt. Ltd. Jayen Ventures Pvt Ltd India is a wholly owned subsidiary of Jayen to import high quality food, skin care and healthcare products crafted by New Zealand in India.

In 2020, during the pandemic we identified a gap in supply chain which represented an opportunity for the businesses to add value by developing an assortment of high quality, naturally made New Zealand products across a range of categories under one single brand Natural & Zesty(N & Z). We are working towards building N&Z brand a one stop solution for global consumers which collectively brings together the best NZ products/produce.

Apart from this in 2021, we are also venturing into a new initiative under Jayen Ventures which would focus on production and supply of nutritional supplements to the Indian and export markets. As said above this will be a one of its kind innovation projects developing natural nutritional and dietary supplements to achieve overall wellness for people in their busy daily life.

Praveen Chirra, CEO, Jayen Export Consultants
Having decades of experience in inter national trade and business, Praveen specializes in helping the facilitation of global trade across international borders.

Hobbies: Travelling
Favorite Cuisine: Asian and Thai Food
Favorite book: The Alchemist
Favorite destination: Thailand and Sri Lanka

Licenses & Certifications: Member
India New Zealand Business Council, Been on Subcommittee for the annual summit -2017, Member of Industry Partnership Committee, Auckland Institute of Studies College New Zealand 2020 Student Representative at Chartered Institute for Procurement and Supply(CIPS) - 2016