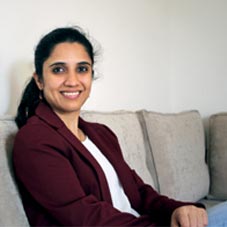 In the fast advancing world, digitization is the spine of any business' stability in the market. When it comes to digital transformation, every company requires a partner that understands the market scenario, adapt to technology, and know the audience to sustain in the long run. However, statistics show that only 30 percent of the digital transformation initiatives are successful, and 70 percent of the projects have either been stalled or failed.
Observing the severity and reasons for these failures, Radhika Chavan co-founded a platform that steers beyond age-old transformation processes and widens the digital transformation landscape. With the motto of improving the success rate of digital transformation, she established Digital Tensor that revolves around the concept 'transformation is measurable'.
While celebrating the top women-led startups, CEO Insights engages an exclusive conversation with Radhika Chavan to know more about her entrepreneurial journey.
What is your perspective towards the evolution of women entrepreneurship?
I don't think that gender plays any role when it comes to ideas. We, women, have cumulatively evolved by breaking multiple barriers. In the past, women were not able to pursue their careers or leadership in the direction that they had foreseen for themselves. They have always got stymied due to many personal reasons. However, today we have evolved with the mindset of growing together, helping and nurturing one another. We have various forums, global entities that are giving us many opportunities for uplifting each other. Personally, I am striving towards the hope that by the time my 8y old twin daughters pursue their career, this question becomes irrelevant.
What incited you to choose this niche domain to venture into? Narrate the inception story.
I and my co-founder have 35 years
of cumulative experience in digital transformation. In our journey, we have witnessed various projects that go through successes while some of them have seen failures. We were trying to analyse the reason for failure or why the product had to stop. While we know that there is no one sure-shot way to succeed in digital transformation, we tried to understand where and when it goes wrong - is it the client's mission, the capacity to add value from the professional services side, the commercial model, inability to keep pace with the ever-changing technology, false investment, or something else? We understood that clients are not sure about the kind of outcome that results out of any of these directions.

Most of the time, we see that the digital transformation arises out of burning requirements such as loss of market share or a competitor coming up with an awesome product - disrupting the client's product line etc. In such cases, the client will want to step up and showcase a digital transformation within the organization. This compulsive shift is dependent on so many factors, assumptions, and dependencies. In some cases, the efforts put into digital transformation spiral down to failure or push the client to an irreversible consequence.

We figured out that the reason lies in the inability to measure the impact of our decisions that we have taken. If Measuring Transformation is the key to solve this, then why not come up with a robust solution that can be addressing this. Therefore, Digital Tensor came up with a platform where digital transformation can be measured.

Portray your leadership style and the part you play in the company.
I am analytical. My way of working is to create an environment around me that is conducive and challenging at the same time. We as a team come together, we brainstorm as much as possible because every idea matters. In all of my corporate experience from being an associate to the youngest director and today as an entrepreneur, I ensure that my team would grow beyond their capabilities and realize their true potential. I feel that there is untold happiness when the team becomes a family. There is a great pleasure when you can blend the individual strengths and interests to maximize the efficiency of the team in whatever we deliver.

Throw some light on your offerings.
When I talk about the value proposition, it is about improving the
success rates of digital transformation. The areas of business impacts we focus on here are margins, revenue, velocity, and experience. These are the primary objectives to our digital KPIs and the work that we do as part of the platform - in the form of frameworks, markers, and other value creators.

We have built a scalable platform that allows us to contextualise that and co-create further along with our client. We don't just provide a cookie-cutter solution or a panacea for all of our clients' problems, but we build solutions together. We stand out from the crowd by adopting our directional strategies and techniques in AI/ML/DL, building creative customer experiences and accelerating objective transformations that are bespoke to specific markets. With technology as an enabler, our primary goal is to incentivise the data, bring up the margins and make the clients reach the market faster.

Why is Digital Tensor a Go-to Destination?
• "We are a firm focused on value-based services, i.e., we earn only when the clients achieve an outcome," says Radhika.
• Measuring elemental level activities validates what we do and provides a direction for next steps!
• "As a young brand, we map our success or growth to how to we solve a problem" remarks Radhika.

Roadmap
The company is currently developing solutions and platforms that are centric to C-suite officers –CHROs, COOs, CMOS, where it is deriving the link between the investments made for digital transformation. It aims to grow and become more on the enterprise level by ensuring that all stakeholders can leverage the solutions.

It is on the verge of moving from predictive analytics stage to prescriptive analytics where stakeholders have clear decision points/information before making investments and gain better insights on the outcomes of their investments.

Radhika exclaims, "We are going to delve into the direction of Sustainability. This aspect has been ignored by most of the professional services firms or product firms but it is going to become the epicentre of our business. Sustainability will be the intrinsic part of how we develop a product. We have already started off with our initial steps towards creating this activity and will launch by Q4 of 2021."