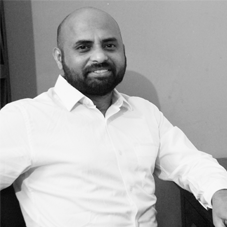 Education curriculum has changed in a big way, as there are plenty of resources available on the internet and the classic way of teaching on the blackboard is almost forgotten. Here is AspectO, a company that takes education to new norms. AspectO has developed solutions that provide data- driven, content -rich, event- based, on-demand analytics, visualizations, and intelligent suggestions based on inferences derived from incoming data streams.
By analysing the data, their system suggests improvement in pedagogy, provides appropriate data driven levers to the school administration to control costs, aids in decision making on training programs to teachers, automatically records attendance through-out the day, and allows administrators to mitigate risks from loss of revenue and reputation using the inbuilt AI- based campus security tool. Helming as captain of the ship for AspectO Technologies is the Chief Product Officer -Raghuram Vemuganty. A very interesting story of transition from an Army officer to being CPO of AspectO is to be unveiled by Raghuram Vemuganty in an exclusive interaction with the team of CEO Insights.
Give us a brief about your educational and professional background before AspectO technologies.
After serving in the Indian Army for more than 15 years, I took up a senior leadership role in a leading Renewable Energy firm, before starting this venture. I am an alumnus of the Indian School of Business, ISB, Hyderabad, apart from holding two bachelor's degrees in computer science and civil engineering. And of course, I have done many other relevant certifications to help me successfully transition to the IT space that I am in right now.
Having served the Indian army for almost 15 years and working with different verticals, how do you use your experience to develop product strategies that meets the vision and goals of the company?
That's an interesting question. I have always been passionate about
the armed forces and I am glad that I got the opportunity to serve our country. Army pre-pares you to face any situation with grace and immense strength. It has helped shape my personality and has given me the skills that enable me to face any challenge confidently. I had the opportunity to work alongside many amazing people from different backgrounds, with different strengths and perspectives. I worked on a variety of assignments ranging from counter terrorist operations to making long term plans for the organization at the Army HQ. This gave me substantial exposure to grassroot issues and prepared me for solid leadership roles. I gained significant experience in Operations, Program management, Contract management, negotiations, and other facets of leadership.
We got listed in the Forbes Technology Council feature as one of the most innovative products globally. This is a tremendous achievement and validates our belief that we are on the right path.
This experience has not only honed my leader-ship skills but has also made me very detail oriented and also very empathetic. I think attention to details and empathy are the qualities I give a lot of weightage to in a product development role. It allows you to visualize the problems from the perspective of the end user and create the perfect solution and user experience.
In our company, we make sure everybody is aligned to the vision of the company, and that is to improve effectiveness in education. Our vision started from a very simple idea when I was engaged in a conversation with the co-founder of AspectO about his son's academics. We realized that students lack confidence or fear embarrassment due to which they are not inclined towards having their doubts cleared or participating in class discussions. This is the one problem that many of us have faced, and many of the students currently face, which if we can solve, prob-ably we will be doing a lot of service to the student community. Once we do this, the next tangible result is that the performance of the students improves drastically. We spent a lot of time on doing extensive market research on how to achieve this and developed a comprehensive list of features that could help make this product achieve our vision.
How do you connect new ideas to your business strategy? Which are the milestones that bestowed you with utmost satisfaction - both as an individual and as a CPO?
There are two facets to this, first is- How do we improve our existing product? How to improve the efficiency of the product? How to make it work faster or extract more out of it by improving the technology. The other facet is, what else can we use this technology for? What are the spin-off benefits? we are constantly re-searching the applicability of our technology in various sectors. We constantly brainstorm and we have an amazing tech team, led by the other co-founder. They are able to execute our vision. Their willingness to take on challenges makes the journey much more interesting and allows me to be constantly on the lookout to generate new ideas on how to develop the product further and probably get into new products.

One milestone that has greatly shaped me as an individual has been my tenure in the Army. The life and death situations in counter-terrorist operations and camaraderie have taught me a lot of valuable lessons.

How do you stay fresh on new technologies and how would you describe your product roadmap process? Other Rewards and Recognitions?
We are a product-driven company and therefore keeping abreast of technology is extremely critical for us. We rely on continuous research and also on the product Technology Roadmap that we have developed. Once we have identified a certain product feature that may not be possible to be developed immediately due to any limitations in technology, it remains on our product technology roadmap, and as and when the technology evolves, that feature will be developed. This allows us to remain agile and reduce the development time on product features. The second thing is, we keep track of technology with an aim to improve the performance of existing features.

Recently, our product was mentioned in the 'Forbes Technology Council' feature as one of the most innovative products globally. This is a tremendous achievement and validates our belief that we are on the right path. At this point, we are measuring our success with our initial customers. We have also recently secured an agreement with the Indian Army for deploying our product in their premier training establishments.

Raghuram Vemuganty, Co-Founder & CPO, AspectO Technologies
AspectO is a state-of-the-art solution for the education sector developed using the latest AI and ML based facial recognition, emotion, and activity algorithms.