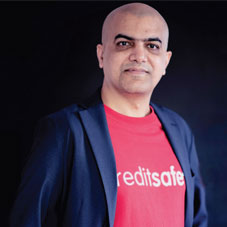 It is not the altitude of the hurdle that decides the height of an athlete's jump, but the count of his courage, self belief and the viscosity of his undefeated attitude decides the apex. Coming from a humble background, Rahul Bapat not only witnessed a lot of hardships in the prime stage of his life but complemented by his 'Try, fall, but fly again'attitude, he steadily learned to navigate through those obstacles to ignite the entrepreneurial spirit within him. Born in a humble family that struggled ineffably to make both ends meet, Rahul was initially raised by a single mother, who supported him against all odds by doing chores for others. When school fees got unaffordable, Rahul unhesitatingly got down to the street to sell books, clothes, wallets, belts, household utensils, fire crackers, and anything he could to get himself back to school. A down-to-earth persona, Rahul not only believes that his family background was the ultimate motivation for him to reach where he stands today but whole heartedly gives the entire credit of his success to his parents, especially to his mother for being his role model.
After moving to Japan post his educational accreditations, Rahul started multitudes of ventures including a computer typing agency, translation agency, Indian restaurants in Tokyo. The path was never smooth and he failed drastically at times, even to the extent of becoming completely broke in 2012. Despite all the crests and troughs, his family, especially his wife who has been with him since his school days, stood as a pillar encouraging him to transcend those turbulent times. Molding himself as an Investor vis-à-vis a Chief of Operations at Creditsafe, Rahul has gradually emerged as a focused investor in the Healthcare sector in India and the Real Estate sector in Japan.
Below is an excerpt of Rahul's exclusive interview with CEO Insights.
What decided the course of your journey with Creditsafe?
If given a choice between creativity & fun versus discipline, my obvious choice will be the former, and I believe that Credit safe satisfies this criterion for me. On top of that, Creditsafe had just begun its journey in Japan which is the second largest market for credit reporting business. Although the incumbent competi tors in Japan are goliath size, they came with a very unique offering of online credit reporting that has the potential to make a dent in the market. The mere thought of how much we can disrupt the market intrigued me against all the fear factors such as the newness in a highly culturally oriented market and customers' affinity towards the century old giant competitors, and so on. I was not only intriguingly impressed but predominantly on boarded to be the key enabler of Creditsafe to disrupt the market here.
Highlighting your roles and responsibi lities, tell us about your journey so far at Creditsafe.
Being a firm believer of `Ignorance on fire is far better than knowledge on ice', my passion for Creditsafe stems from the challenges we have in hand which is more than the role and the title. I have always worn different hats at different times depending on the need of the hour, even going to the extent of giving
cold calls to customers in the urge to demonstrate the thought process to my peers. As Sales has been a part of my DNA, I specifically engage in ensuring 'customer satisfaction' by transforming the data into trustworthy information that our customers can rely on to make insightful credit decisions.
With a passionate team of great people, we have just celebrated our fifth anniversary in Japan. We are in the infant stage of operations versus a big and ambitious journey ahead of us. I always keep an eye on how we can maximize our data available without compromising the quality while keeping costs at the bare minimum.
If givena choice between creativity & fun versus discipline, my obvious choice will be the former and I believe that Creditsafe satisfies this criterion for me"
How would you define Creditsafe as an organization and its position in the market? What is the unique proposition that your organization offers to clients?
Creditsafe, the global business intelli gence experts, has 23 offices in 14 countries and provides over 365 million online credit reports across 160 countries. We are one of the largest online credit reporting companies with unique yet disruptive offerings and there is hardly any information provided with such vast global corporate information. Our online credit reports include not only the basic information but also the key indicators like information on the financials, shareholders, directors, group structures, sanctions, negative events, customers, suppliers and so on.
We have a unique offering of web researching and telephonic fresh investigation of companies that comes at better customer value. Our customers can not only view the company reports but also monitor companies with an interactive alert mechanism in place when there is a change in the key performance indicators. We also provide unique services of corporate data cleansing and matching, Risk, and compliance solutions. This entire data is now available not only through our website but also in the form of easy-to-plugin APIs. I think this will be a key parameter in shaping the future of Credit safe.
What are the opportunities and growth scope you see in the Japanese market and what are the steps that you take to stay industry ready?
Striding in the second largest market of the corporate credit management business, we are still at the nascent stage, and I see there is a humongous scope for us to grow. However, the market is quite atypical in nature owing to its unique business culture, demand for accuracy of the data at a granular level.Additionally, customers are so accustomed to the local providers that we appear to be an outsider at times. We have a dedicated team that ensures our online reports are available 24x7, data is accurate and up-to-date while offering necessary customization. For this, we are adopting disruptive technologies wherever feasible, applicable and can provide customer value with iron clad information security.
What is the future roadmap set for Creditsafe and how is the firm gearing up for it? What role do you intend to play in it?
'Digging deeper against expanding shallower'has been Creditsafe's legacy, and we are continuing the same roadmap. We are young in Japan, and that makes us agile in adapting to new standards and technology. Our fresh and advanced offerings of online reporting, APIs, Risk and Compliance are disruptive. Being very selective about our resources, and we handpick our
associates who are experts with passion ready to disrupt.

In future, customers will demand quicker turnarounds, more accurate and up-to-the-hour information, and budgets with belts tightened will be the second nature of the market and this is where Creditsafe can beat the competition by latching on opportunities in this space. In the last five years of operations in Japan, we have clinched a customer base of over 3,000 happy customers and are poised to augment this further.

Whatever title I may behold, I am sure I will be playing the lead role in architecting the future of Creditsafe to take it to the finish line.

As an experienced analyst with a demon strated history of working across the administrative and operational functions of various firms, what advice would you give to the budding professionals?
Times are changing. The pandemic has brought a paradigm shift in the way our customers think and act. It has stirred the entire economy and pushed us into a focal point of the raging tornado of work from anywhere, digitization, mobilization, Automation, and disintermediation.

The way we work is never going to be the same. The skills we need will dramatically change. Rising and falling will happen faster than ever. The game changers are also combinatorial in nature. The entire operating system of how customers behave is changing.

Going forward, it's crucial how we structurally bring a planned organizational change that installs more agility, responsive strategy, and fearless culture of innovation and how you as a leader, step up to the plate, will define the future.

People not machines will still be the focal point of success. Specialize in appointing the right people to the task, set the goal that mirrors their aspirations, motivate them to get there, and compensate them well after the job is well done. Remember who you are. You be the expert generalist and let your specialist do the job. You be the integrator, not the analyst. You be the agenda setter, not the order taker.

You are also quite known for giving back to society. Tell us about the philanthropic works that you are currently engaged with?
I have been recently appointed as councilor to(IJF) India Japan Foundation a nonpartisan, not for profit, non state organization dedicated to working towards strengthening the India Japan Global Partnership(IJGP), towards the establish ment of the empowerment based Alternative Development Model (ADM) under the able leadership of Mr. Vibhav Kant Upadhyay who has been my inspiration.

As my little contribution to giving back to society, I also run a charity group called 'Taskeru Indo' in Japan along with a few friends. With over 150 members, we have touched over 15 financially deprived families for the last 15 years to make them stand on their toes.

Rahul Bapat, Chief Operations, Creditsafe
Rahul graduated from Fergusson College, Pune with a degree in Electronics and Computer Science along with an Advanced Diploma in Japanese. At the onset of his professional career, he got selected for an IT venture in Japan and has been residing in Japan since the last two decades. Before joining hands with Credit safe, Rahul was heading the Enterprise solutions business and managing a multi million dollar portfolio for an IT organization in Japan. A die hard fan of Robert Kiyosaki (the author of the book Rich Dad Poor Dad) and Timothy Ferris (the author of the book 4 hours work week), Rahul is intrinsically passionate about sales, and gladly admits to never losing an opportunity to sell till date.