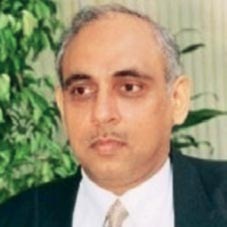 Rajan Luthra is a high-energy professional with deep and qualitative expertise in monitoring and managing accounts, finance, compliances, taxes (direct and indirect) and secretarial operations. Rajan is currently associated with Action Construction Equipment Limited (ACE) as Chief Financial Officer and oversees Secretarial functions. ACE is India's leading material handling and construction equipment manufacturing company with a majority market share in Mobile Cranes and Tower Cranes segment. Rajan manages investor relations, actively deals with analysts and investors, and updates them regularly to improve exposure and boost market capitalisation. He has an exceptional ability to demonstrate and enhance the company's profitability by changing the focus of the organisation and implementing new efficient systems and processes.
In his career, he has handled two equity issues independently and has raised more than Rs 200 crs. He has been instrumental in all the activities from the appointment of merchant bankers, legal, due diligence, restatement of five-year accounts, finalising the letter of offer and post-issue compliances. He is recognized as a dependable leader with exceptional problem-solving skills, expertise in maximizing resources, and the ability to motivate and encourage others. Rajan can execute financial procedures, monitor internal finance, and manage all audit and tax functions. He is responsible for overseeing the preparation of MIS reports on high-level decision-making in the areas of fund management, profitability, and cost control. CEO Insights is engaged in a deep discussion with Rajan Luthra (CFO) who elaborates on his professional career and his experience as CFO.
What are the major achievements of your professional journey as a CFO? Give us a brief detail about your educational background and professional background, and how has it helped you in your journey so far?
For more than 25 years I have led
global and domestic manufacturing organisations and I have experienced how the role of CFO has elevated from a mere steward role of preserving the assets of an organisation and getting the books right to a more strategist role. I have been involved in shaping the overall strategy and direction of the organisations and instilling a financial approach and mind set throughout the organisation to help the business flourish and reach greater heights.
Currently, I am serving as the CFO of ACE and in my role I oversee a myriad of financial initiatives such as managing the profitability of the company, increasing the market cap, overseeing the strategic and economic rationale for the investments. In my last 10 years with ACE, I have accomplished three mergers (two domestic and one overseas). During my tenure, ACE has achieved significant increase in turnover, profitability, visibility and market cap.
From my education perspective, I am a cost accountant and company secretary by profession. I have a PGP degree in personnel management from Faculty of Management Studies (FMS), Delhi.
The pioneers in innovative lighting control based on patented sensing technology and state-ofthe-art electronics, KES is currently offering the latest communication technologies for internet-based smart controls
A company's CFO undertakes various roles such as a leader, visionary, decision-maker, manager, board developer, and others. What different roles have you been undertaking at ACE?
The role of CFO is to steer the ship of the Company and I have been performing this role within ACE for 10 years now. I have been involved in strategic planning, nurturing business partnerships, negotiating contracts, designing/implementing effective turnaround strategies, ensuring investments bear long term value besides leading the financial function.
What were the initial challenges that taught you the fundamental lessons of managing diversified functions of large organizations?
Also, how did you manage to achieve the success that you had in the later phase?
Challenges are quite normal to any business and what has helped me throughout my journey is to be able to face the setbacks and learn how to cope up with the challenges that were thrown at me. Whenever faced with a challenge, I deep dive into the challenging situation, design a strategy to overcome it with my entire team of professionals and implement the course of action to come out with flying colours.

During this unprecedented time, there were multiple challenges we at ACE faced and one of the major concerns was to sustain the company through the lockdown. I, along with the entire ACE management together ensured our personnel's' safety, reorganised our strategy and ensured resilience of our business model. This resulted in ACE coming out as a much stronger, healthier and cost efficient company during this uncertain time. Also, on a personal level, the main thing that has always helped me sail smoothly during any challenging situation is my mental strength, integrity and the support of my family.

How do you manage to balance your personal & professional life? Also, Family plays an important role in every person's life. How has your Family supported you in your career so far?
I strongly believe that one should always strike a balance between professional and personal life. I try to wind up my work during my working hours. My wife, in particular, has been quite supportive in my career and she has always motivated me to excel in all factors of life.

How do you update yourself with the latest technologies and trends in the Finance Sector of India?
We live in 21st century and technology and compliances keeps on changing every day and it's very important that you know what is happening in your surroundings. How technology is impacting your sector, customers, vendors, investor & other stakeholders. I keep myself update with latest market trends and thrive to adapt to it. Internally, we keep on implementing various new models/technologies to ensure we are excelling in whatever we do, which helps us capitalise and deliver returns to our stakeholders.

Rajan Luthra, CFO, ACE Category
Rajan Luthra is adroit in preparing annual budgets, business plans, internal projections, and strategizing pricing structure in a volatile scenario of spiraling input costs and ensures to meet the bottom-line goals.