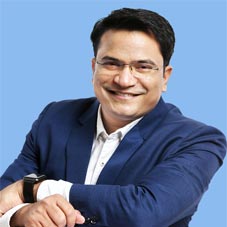 John A. Shedd, an illustrious American author once said, "A ship in the harbour is safe, but that is not what ships are built for." This famous quote captures the essence of Indian entrepreneurship landscape, where even the most brilliant individuals choose to settle within their comfort zone and toil to bring alive someone else's dream. Although Indians are renowned for their tech-savviness, most of the Indian scientists with doctorate degrees fall prey to the promise of easy money and fly abroad, rather than contributing to the scientific progression of India.
Only a handful of PhD holders have ventured into the startup space and dared to dabble in the minefield of entrepreneurship in an attempt to thrust our country to the forefront of technological innovation. Dr. Sandip Patil, Founder & Director, E-Spin Nanotech – a leader in nanofibre technology in India, is one such trendsetting technopreneur, who is celebrated for driving a wave of transformation in nanotech industry by designing India's first Super Electrospinning (Super ES) machine for our scientific community, which used to spend a dismal amount on importing research equipment from Europe and U.S.
Besides generating abundant employment opportunities, his invention - a high-quality and sustainable yet inexpensive product packed up with excellent backup services, lowered the barrier to entry and got many scientists started on the path of nanofibre technology, thereby opening up more research prospects in the Indian scientific community. No wonder, E-Spin receives orders not only from all over India but from all around the world as well. This success looks even more impressive considering that Dr. Sandip is a first-generation entrepreneur who grew up in a family that grappled to keep their heads above water due to extreme monetary constraints. No matter the hardships, this self-made man was determined not to let go of his entrepreneurial dream and took the risk of entering into a hardcore hardware realm like nanofibre production.
What further singles him out as a businessman to know in India is his ability to connect cutting-edge nanotechnology with commercial products to bestow the society with innovative products that remain within the reach of the community at a reasonable cost. As evidence, look no further than its Swasa Masks, which has an unyielding grip on the market to an extent where it has become synonymous with high-quality N95 masks. It is this genuine concern towards protecting our society that has propelled many prominent personalities in Bollywood and politics– including the Indian Prime Minister, to wear Swasa regularly and endorse the same.
A Scientific Company
What makes E-Spin a favourite choice of the scientific community is that it is run by technocrats, who pioneered the nanofibre technology in India. Most of the companies in the domain fail to deliver a fitting solution, since they merely concentrate on manufacture and sales. Hence, they lack the ability to understand the technical requirements of their clients, most of whom are scientists, striving to solve a specific problem in a particular application. Standing in sharp contrast amidst them, E-Spin's products have an upper hand even among the few top global contenders when it comes to addressing clients' nanotechnology-related doubts and lending a supporting hand to customers with their research, owing to its sound technical knowledge.
"We don't just provide the machine, but sell ideas along with it to serve the scientific community. Besides selling machineries like super ES2, hollow fibre membrane technology
and metal fabrication technology coupled with machine services, we also provide a perfect scientific solution to solve our clients' problems, whether it's regarding splitting the polymer composition or suggesting which polymer should be added to derive the nanofibres," explains Dr. Sandip. These free-of-cost recommendations enabled E-Spin to position itself as a scientific company that has assisted many scientists to innovate new products in the nanotech domain. In fact, many students from various universities across India have mentioned E-Spin as a guide in their research work.
Milestones on the Path to Glory
Dr. Sandip hails from Pimpri, a remote village in Maharashtra where most of the residents are tribals, who barely have any access to educational or healthcare necessities. Not one to settle for a mediocre life, Dr. Sandip's father, who worked as an agricultural labour in other people's lands, sent him to his uncle's home at the neighbouring village with a slightly better educational facility at the tender age of six. To attain higher education, little Sandip had to travel more than 35 kilometres every day. Moreover, being the eldest son in a family of six, he spent his spare time in the hole-in-a-wall stationary shop his family had managed to set up and burnt the midnight oil to improve his academics. But none of these hardships dampened his spirit! Dr. Sandip earned his B.Tech and M.Tech degrees with meritorious scores.
Today's customers are exacting in their demands and has unlimited expectations. That doesn't stop e-spin from constantly raising the bar higher for itself and innovate technologies better than its previous creation
Being a first-generation engineering graduate (perhaps the very first one in his village), he had little knowledge regarding the best educational institutions due to lack of guidance, until one of his professors suggested him to pursue doctoral research at IITKanpur. Dr. Sandip, who had a passion for machines and technology since childhood, was elated to work with nanofibre technology in the university's leadingedge IIT labs. Unfortunately, he hit a roadblock when his project required a Super Electro-spinning machine, since the machine was only available with foreign suppliers who quoted exorbitant rates. Having built a habit of turning stumbling blocks into stepping stones, Dr. Sandip built a perfect Electro-spinning machine himself that demonstrated immense efficiency and precision.
Bitten by the entrepreneurial bug since his college days, he decided to commercialize his invention. Impressed by his innovative spirit and unswerving focus, SIDBI Incubation and Innovation Centre at IIT Kanpur invested in E-Spin. "Back then, there was no Startup India movement and the funds from government and private sector were limited, especially for a hardware technology like ours. I poured in every penny I had including my student scholarship fund and then borrowed some from my friends and my PhD mentor Dr. Ashutosh Sharma," recalls Dr. Sandip.
Thus, he incepted India's first Electro-spinning machine manufacturing company in 2010, all the while pursuing his PhD. Determined to be self-reliant and self-sufficient from the very beginning, Dr. Sandip hired young and highly-motivated people and upskilled them, rather than borrowing funds from banks to recruit lateral hires. The hurdles brought on by the financial crunch only strengthened his resolve and trusted him to work every day and night and on holidays to enrich the portfolio with newer additions.
With Dr. Sandip's reputation preceding him, E-Spin's fame spread like a wild fire and he was supplying orders even before the company was formally registered. This helped him to break even and recover the invested funds within six months. Since then, E-Spinhas only
experienced the winds of fortune. He scaled up the nanofibre spinning technology for the industrial scale from the lab scale and morphed it into a commodity with ample use cases. In his quest to arm the Indian population with technologies that help them fight against air pollution, Dr. Sandip integrated nanofibre with air filtration technology and invented the Swasa Masks in 2018, which also provides better protection against virus and bacteria. "It is extraordinary that even common people are capable of understanding the product's connection with the technology today. We were able to propagate Swasa within a large section of community within just a minuscule of time," remarks Dr. Sandip.

Moving up the Evolution Cycle
Today's customers are exacting in their demands and has unlimited expectations. That doesn't stop E-Spin from constantly raising the bar higher for itself and innovate technologies better than its previous creation. A strong proponent of non-bureaucratic work culture, he still organizes brainstorming sessions periodically and motivates his team to keep up with the newest technologies in the market. The company soon aims to launch a washable nanofibre membrane which can be used in the reusable antipollution mask and air cabin filters, which will also address the challenge of land filling. Plans are afoot to add AC filters, antipollution windows net for schools, automobile air filter, gas filter and pharmaceutical filters to E-Spin's product line as well.

"What makes e-spin a favourite choice of the scientific community is that it is run by technocrats, who pioneered the nanofibre technology in India"

Dr. Sandip intends to parlay Swasa mask's success into a full-fledged healthcare brand called Swasa Lifeguard (or Swasa Protective Gears), which would offer all sorts of protection for daily usage. He is confident that foraying into industries like healthcare and automobile, which encompass a wide spectrum of products, would help him to grow E-Spin into a publicly listed company that can create ample employment opportunities. "I wish to run the company like Reliance and do business like TATA. Meaning: E-Spin's products should be within the reach of every community but the business should have a social impact and strong reputation. Everyone believes in TATA but most people purchase from Reliance. We aim to be the perfect blend of both of these qualities," concludes Dr. Sandip.

Dr. Sandip Patil, Founder & Director
An IIT-Kanpur alumnus with a PhD in Chemical Engineering, Dr. Sandip is a pioneer in the truest sense, who has revolutionized the Indian Nanotechnology sector with his innovations. His technology and solutions have been the cornerstone of numerous inventions in the field. Besides several awards and patents, he also possesses a strong publication track record in reputed journals to speak for his ingenuity.

Location: IIT-Kanpur

Awards:
• IIChE Shah-Schulman Award for the best PhD Thesis (2013)
• UICT Jalgaon alumni award for Young Entrepreneur (2013)
• Rajeev Motwani Young Entrepreneur award by Motwani foundation (2014)
• Indian School of Business Hyderabad Scholarship (2013)
• Featured in CNN (U.S. edition), Mint and the Wall Street Journal to name a few

Dr. Sandip Patil In Spotlight:
• Driving a wave of transformation in nanotech industry by designing India's first Super Electrospinning (Super ES) machine
• Connects cutting-edge nanotechnology with commercial products to bestow the society with innovative products that remain within the community's reach at a reasonable cost
• His genuine concern towards protecting our society has propelled many prominent personalities including the Indian Prime Minister to wear Swasa and endorse the same
• Besides selling machineries and offering machine services, E-Spin also provides a perfect scientific solution to solve our clients' problems