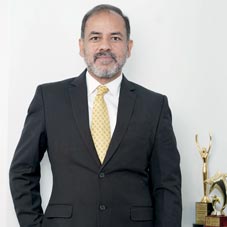 Shobhit's unmatched professional prowess has shaped him into the well-seasoned leader he is today, enabling him to effortlessly steer the ship of Nova IVF Fertility, one of the topmost fertility chains in India.
Taking us through Nova's ongoing ventures and plans for the post-COVID era, Shobhit shares with us his unforgettable journey as a thought-leader and a growth hacker.
Can you elaborate upon the key aspects and contributions of your professional journey and how your extensive industry expertise enabled you to build productive business modules for Nova IVF Fertility?
Post completing my professional education, I started my career with an investment banking firm, wherein I co-managed a small sectoral fund. Dealing with stock brokers, bankers, custodians and equity research professionals, was quite an enlightening experience. I got opportunities to interact with some of the senior industry leaders across the country, which helped me to understand the business overview of companies across a spectrum of industries.
Another remarkable experience was that of working for one of largest insurance brokers, when India had still not opened up the Insurance sector for private players. I had the opportunity to bring many innovative products for the first time in Indian financial sector and sell them through Government insurance companies. This definitely improved my understanding of financial markets and business.
Later, I joined Infosys, which was a real turning point in my career, as I got the chance to interact with some of the titans from the from corporate world. Being an entity with impeccable infrastructure and seamless work processes in place, Infosys helped me become more systematic and grounded when chasing stretch goals. One of the most rewarding assignments during my stint was heading the Procurement and Infrastructure verticals for India. I was managing a procurement portfolio size of over $600 million per annum and this gave me exactly the kind of exposure I needed to climb up the ladder.
It was the time to move to CXO ladder and I joined Manipal Integrated Services (MIS), which was a Student housing start-up of Manipal Group, which was co funded by a PE firm. I joined as the COO & later on become the CEO of Manipal Integrated Services. My primary objective was to build the company to a size where we could realise the right valuation.
Then I worked as the Group CFO and Head Business Development of Asia Healthcare Holdings, which is owned by TPG. My role was to unlock value for the enterprise by channeling growth through Mergers and Acquisitions (M&A), while also ensuring profitability for the existing businesses. I contributed to grow American Oncology Institute, Motherhood Woman and Child Hospitals and Nova IVF Fertility as part of Asia Healthcare investment portfolios. Last year, I took over the full time responsibility as CEO of Nova IVF Fertility to build it as world class enterprise.
Over the last two decades, I have been blessed to amass one-of-a-kind experiences across different facets of business, while working alongside entrepreneurs and building value for enterprises
Over the last two decades, I have been blessed to amass one-of-a-kind experiences across different facets of business, while working alongside entrepreneurs and building value for enterprises.
How did your academic and professional background help chart the course of your journey with Nova IVF Fertility?
Though my academic background is based entirely on finance, I was hooked on to the idea of running a business since the early stages of my career. Over the years, I have tailored my thought process to look beyond finance-it took some learning and unlearning to develop a clear perspective about how businesses are built, and more importantly, sustained. And this exposure has majorly aided my journey as the CEO of Nova IVF Fertility.
In 2019, Nova IVF Fertility was acquired by Asia Healthcare Holdings (AHH), and the biggest challenge I had on hand was perfecting a self-sustainable model for the company by improving profitability. It was vital for me to identify the existing gaps and the key levers that impacted business growth and profitability.
Thanks to my previous experience, I was able to put together a turnaround strategy quickly and align key stakeholders such as Fertility Consultants, Embryologists, Lab technicians and other employees.
Everything went according to plan and within a few months, the team managed to generate enough cash
flow to expand-soon enough, the 19 centres grew to 26 centres, including one in Dhaka, Bangladesh.

A company's CEO undertakes various roles such as a leader, visionary, decision-maker, manager and board developer, to name a few. What different roles have you been undertaking at Nova IVF Fertility?
Being the CEO of a fertility chain can be quite taxing, as it requires managing an extremely diverse workforce, ranging from stellar IVF Specialists to the operation staff at the clinics. Additionally, the healthcare sector is undergoing a massive change, with the focus shifting to patient-centric care and value-based returns. So, currently, my objective is to ensure that the team is in alignment with the company vision and the values we impart as an organisation. We still consider ourselves a startup-there is still a long way to go and eventually, we will get there.

What were the initial challenges you faced? Also, how did you manage to achieve the success that you had in the later phase?
I took over Nova IVF Fertility at a critical juncture when the company was going through a major managerial transition. While generating profitability was the obvious challenge, to me, the primary goal was gaining the trust of the people who made up the company.

Though initially, there were a few bumps in the road, it was an insightful journey, to say the least. The ability to make quick, timely decisions has been a significant aspect of my success.

More importantly, I consider myself fortunate to have a wonderful team by my side-the healthcare ecosystem is all about people, both internal and external. It is their tireless efforts that have transformed Nova IVF Fertility into what it is today.

Family plays a vital role in every professional's life. What role has your family played in terms of inspiration and support, during your stint with Nova IVF Fertility?
My family has always been my rock. As I have to travel a lot for work, my wife took the tough decision of taking a break from her career so she can focus more on our children. My kids are my source of inspiration. My elder daughter, who is a lawyer, is my constant conscious keeper. In fact, spending time with them constantly reinforces the true purpose of Nova IVF Fertility in my mind-To give a fair chance to every couple so they can experience the spectacular journey of parenthood.

Shobhit Agarwal, CEO, Nova IVF Fertility
With more than 25 years of unparalleled experience across different industries such as Business development, IT, Finance, Corporate Services, and Healthcare, Shobhit is a Gold Medalist in the Company Secretary Program and an All India Rank Holder in Chartered Accountant and Chartered Financial Analyst programs. The former CEO & COO of Manipal Integrated Services, he has also filled different leadership positions during his 12-year tenure with Infosys.