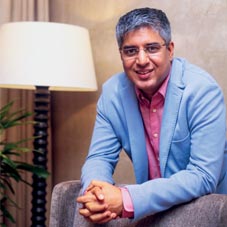 The entertainment industry is in the throes of a major transformation, as the consumer's patience levels are ebbing down while their options are going up hugely. Capturing audience's eyeballs amongst the humungous wave of brilliant content provided by diverse video streaming platforms and cementing one's position at the crest of this wave is impossible. But impossible is what Tarun Katial (CEO, ZEE5 India) specializes in. Customer centricity being his mantra to success, Tarun has propelled ZEE5 (the digital video on demand service from ZEEL's stable, an entertainment behemoth) into India's largest and fastest growing ConTech brand and an Entertainment Super-app by pouring in hefty investments into superior content and technology since its inception in2018.
Having created some of the most popular shows on Indian television over his two-decade long career, he has ensured that ZEE5not only offers 125,000 hours of real, relevant, and resonant content in 14 languages – one of the highest in the country, but also boasts of the highest number of originals in the video OTT space. Owing to Tarun's keen focus on the 3Vs – Voice, Video and Vernacular and a robust distribution network, the brand that successfully amassed a whopping 61 million active monthly users in its first 15 months in India, is witnessing an impressive growth of 15 percent every quarter in terms of revenue and subscribers. Tarun, in an exclusive interaction with CEO Insights, gives a glimpse into his journey and the strategies that have made this success viable.
What inspired you to takeup entrepreneurship in the entertainment industry? And tell us about the milestones that have bestowed you with utmost satisfaction.
During my academic life, my friends would often say that I'd become a CEO someday because I was the kind who loved taking on a lot of responsibilities, took that extra step, and gave up a lot of personal time in the bargain.My strong passion for content propelled me to create some of the biggest shows including Indian Idol, KBC, Bigg Boss, Fear Factor: Khatron Ke Khiladi, Jassi Jaissi Koi Nahin and Kyunki Saas Bhi Kabhi Bahu Thi – a show I commissioned in 2002, which went on to become one of India's longest-running television soaps. However, what I see as my biggest achievement is the realization that so many people who worked with me have gone on to accomplish so much for themselves. A list of successful shows is not half as exciting as seeing a host of successful people – people in whose lives I've been able to contribute in little ways.
A list of successful shows is not half as exciting as seeing a host of successful people – people in whose lives I've been able to contribute in little ways
What were the initial challenges that taught you the basic lessons of entrepreneurship and helped you achieve such tremendous success?
There have been turbulent times – projects that didn't seem to be going in the right directions and interpersonal challenges that seemed tougher than ever. But most answers lie within. Your ability to separate yourself from the situation and look at it objectively will allow you to find the answer. Every adversity brings an opportunity. During my stint at Big FM, we had a breakdown in negotiation with a big music label and it left me clueless. Taking the hard road, we decided to let go of the label, change our format and go retro. It turned out to be so successful that it became the hallmark of our radio network. Most recently, in this pandemic induced lockdown, ZEE5 registered 11.4million peak daily active users and 140 minutes of average watch time per user per day.
Kindly throw some light on your business strategy.
Our business strategy hinges on three pillars: original content, ecosystem partnerships and cutting-edge technology. We've partnered with 13 of the best tech disrupters of the global OTT realm, giving us the capabilities to offer world-class product, technology and data analytics monetization. Our unmatched UI/UX backed by superior AL/ML makes us the only player in the industry to offer a hyperpersonalized experience for the Segment of ONE, backed by our strong content delivery platforms. Most importantly, our constant evolution as a platform enables us toprovide multiple offerings for a diverse set of audiences and taste clusters – from bespoke content libraries across originals, movies, catch-up TV to kids content, music, ed-tech and gaming.

Brief us about your company's future plans.
Observing the youth's connection to the 90 second video format, we recently launched HiPi, a short video platform, which is already raking in users and views. We have our sights set on being India's number one entertainment super-app. We also intend to add about 80 originals in FY2021, while making 15 direct-to-digital movies for release in 2021.We now have 60 live channels on the platform; we will have a hyper-personalized news product by mid-next year. Next on the cards would be kids content coupled with edtech through which we aim to democratize education for over 310 million students in the 6-17-year age bracket.

Tarun Katial, CEO, ZEE5 India
After acquiring his MBA in Marketing, Tarun kick started his career in Enterprise Nexus and then Ogilvy, which laid the foundation for his four-year stint of spearheading the channels at Star Network and his tenure as Business Head and Executive VP at Sony Pictures. Post this, Tarun stepped into the radio world and founded Big FM, where he was the COO-CEO for over 12 years until he took on the role of ZEE5's CEO.

Words Of Wisdom:
Break the status quo and strategize how you need to play the game to win it. The real deal comes only when you get your skin in the game. Shortcuts never work, because the God is in the detail.