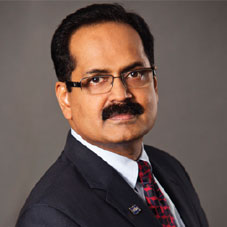 The insurance industry is a significant component of the economy, owing to the Premium revenue it generates, the scale of its investment, and, more fundamentally, the essential social and economic role it plays by covering personal & business risks. Its growth is supported by crucial government initiatives, substantial democratic factors, increased partnerships, and product innovations. Nowadays, insurers face challenges ranging from economic hurdles such as the potential for sustained inflation to sustainability concerns including climate risk, diversity, & financial inclusion. An experienced insurance professional & a visionary, Rajendran M. has been able to carve his identity as one of the exceptional stalwarts of the insurance industry. Well-aware of the nuances of this highly competitive market, Rajendran M. is currently positioned as the Regional Managing Director at AI Futtaim Wills Co. and is assisting clients in placing bespoke insurance and risk management protection for their business.
Rajendran M is amongst the most experienced and respected insurance professionals with more than 35 years of experience in leading global insurers, insurance brokers, & consultants. He is a hands-on leader specialized in the placement & servicing of complex risks, helping clients manage their risk exposures & unlocking potential..
Rajendran M. engages in a one-on-one interaction with the CEO insights magazine.
Tell us about your professional back ground and experience. How has your journey been so far with Al Futtaim Willis Co?
I have always been striving for excellence in everything I do. Working in the Middle East for over 30 years in various local, regional, & multinational companies, both in the insurance & broking sectors, has enriched my experience. In the UAE, I was the first Indian GM to head a
local insurance company, the first Indian CEO of a multinational insurance broker, & then the first Indian CEO of of the local arm in the UAE of the Global Insurer AXA insurance company. In 2013, when I moved to Al Futtaim Willis, part of the Willis Towers Watson group, the company turnover increased by 30 percent in the first five years, and we introduced new lines of business. In the past four years, despite the market challenges, we managed to retain all our key talents & clients, & last year, against all odds, we registered one of the highest net profits in our organization's history in the UAE.
Take risks in life and be willing to stand up for what you believe is right for your team
How would you define Al Futtaim Willis Co as an organization & its position in the market?
Al Futtaim Willis Co. LLC is a commercial insurance broker operating within the GCC since 1976. We are here to unlock potential & help companies manage their risks ethically & sustainably. Al Futtaim Willis Co. puts the clients at the heart of everything & invests time, effort, & money to ensure that crucial talents receive the technical & soft skill training needed to excel and thrive in a dynamic and positive environment. The team strives to ensure the client's risk exposures are mitigated through risk engineering on the General side and wellness and well being on the medical side. We are proud to be part of the world's top three insurance brokers and advisory firms.
What are some of the major challenges you have encountered so far? How did you mitigate them?
Two of our biggest challenges were the global pandemic and the proposed acquisition of Will is Towers Watson. Both happened simultaneously and created colossal uncertainty that could have threatened our ability to retain our clients and key staff. We kept the ship steady & through many crucial leadership decisions, we managed to achieve one of our best years in terms of net profit in 2021. Al Futtaim Willis Co. attained a blue ocean strategy which allowed it to compete on value rather than cost. The company tries to mitigate the challenges by bringing a unique client proposition to the market in terms of risk management, enhanced wordings, enhanced SLAs and in terms of wellness, etc. The
company has developed a panel of preferred insurers and partners which has helped us to scale our volume with each to leverage more competitive terms, added value, & services for our clients. Our philosophy is to be a boutique broker in the market.

How are you adapting new technologies to revolutionize your services to meet current industry standards?
We have developed a Client administration portal, which gives access to our market-leading self-service software portal, allowing them to administer their group Medical & Life policies. Our online program management system, 'OnePlace,' offers our clients an enhanced & secure digital experience. We are midway through the development stage of our online program management portal for our business' Health & Benefits side. We believe this portal will be the market's first step in digitally transforming the brokerage value proposition & will take our remarkably high standards to the next level. We are also working on implementing a new Broking system to be a one stop solution which will improve efficiencies and bring about economies of scale in the Organisation.

What are the changes in market behavior that you anticipate, and what are the opportunities you foresee?
I foresee a change in the reinsurance dynamics which will become more risk-focused, and clients will eventually better understand risk management, ultimately leading to improved risk profile of businesses in the market. In the long term, the UAE will continue to set an example for the rest of the region by leading the way in digital transformation. I also foresee more consolidation between brokers and between Insurers within the market place which will lead to a more sustainable marketplace where customer service & efficiency will be the watch wor.

Rajendran M., Regional Managing Director, Al Futtaim Willis Co
A Chartered Insurance Associate with ACII, AIRM and AIII qualifications, a published author, and a regular contributor to the insurance media & journals, Rajendran is one of the most experienced insurance professionals driving the company's & Industry's success. He always strives to be the best version of himself by upholding integrity and values.