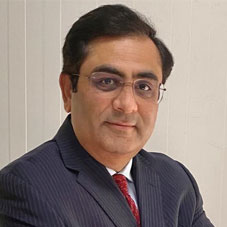 We have entered a competitive era where modernization is happening rapidly which makes existence in the business industry often rather difficult. With arduous competition everywhere, every organization needs to take on a transformative attitude to stay ahead of the curve. Besides, Governments across the region are transforming in a big way where we are seeing a series of Regulatory and Tax Reforms and Digital Transformation of the processes and related compliance.
Uniquely positioned in this space is Helios Consulting which offers Business and Corporate Advisory Services coupled with Tax Advisory Services and Technology Consulting solutions to businesses, leveraging their industry expertise, knowledge, and experiences. Helios provides a wide spectrum of services to its clients catering to organizations of all sizes, from startups, SMEs, family owned enterprises and large multinationals.
AlokChugh, CEO of Helios Consulting, has been selected as one of the `Top 10 Best Indian Business Leaders in GCC - 2022" and his unwavering leadership is helping the company grow by leaps and bounds. Below is an excerpt of Alok's interview with CEO Insights.
Take us through your educational and professional background. What inspires you as the new-age leader?
I'm a Chartered Accountant from India and Fellow Member of the Institute of Chartered Accountants of India with 29+ years of experience in Business and Tax Consulting in the Middle East. Following my qualification as a Chartered Accountant, I moved to EYMiddle East (Kuwait) where I grew and flourished as a recognized professional and eventually led the Tax and Regulatory practice of the firm with a diversified team of professionals for over 15 years. During my leadership our practice grew to an envious position of being the largest Tax Professional firm in Kuwait.
I have had the privilege of working with several large multinationals operating in the Middle East, large banks and financial institutions, family owned businesses on their International Tax and Regulatory compliance matters. With growing experiences, I also led the Government and Public Sector Tax Practice for EY across MENA and led projects for Tax Policy Advisory and Digital Transformation of Governments across Kuwait, KSA and the UAE.
Helios strongly believes in providing sustainable, ethical & value driven solutions to our clients
What inspires me most, in the course, is how the world has transformed during the last two years especially because of Covid-19 pandemic. It's phenomenal how businesses and people joined together to develop out of box solutions that present sustainable growth opportunities while addressing socio political challenges such as environment protection, healthcare and education.
Define Helios Consulting as an organization and its current position in the industry
Helios Consulting is a young company with offices in the UAE and Kuwait. During this short time, we have built strategic alliances with specialist Business and Technology Consulting firms in the Middle East, UK and in India to offer specialized services to our clients. Through our alliances and pool of resources at our Centre of Excellence in India, we have been able to deliver some strategic projects for our clients in Kuwait, UAE, Qatar and KSA for Tax planning and Compliance, Digital Transformation, FDI approvals and related Business Structuring and Human Capital Consulting. Our Alliances continue to grow and so does our extremely talented pool of specialist resources who are committed to provide ethical and sustainable solutions to our clients. I am excited about our future and do believe that Helios will soon be able to have a stronger footprint across all countries in the Middle East.
What matters to me as a CEO of the organization is Ethics, Loyalty, and Commitment towards our clients and to hire resources who are aligned with our mission and vision and are willing to deliver trustworthy value driven solutions. I firmly
believe in diversity and inclusivity which are very important in today's world. Growth to us means being inclusive and open minded where we do not fall prey to biases. Keeping these in mind, we consistently ensure that we consider all genders and backgrounds equally and follow an unbiased process in whatever we do.

What has been the success mantra that constantly helps you arrive at positive outcomes?
I think it is my personal commitment and ability to constantly motivate the people to remain focused towards lateral thinking and a solution oriented attitude. This helps us personal and professional growth and better client services. Turning challenges into stepping stones helps build resilience. If you have the will, there will be a way I believe in that.

What advice would you give to the upcoming leaders in the same industry?
Be honest, honest to yourself, honest to the people that you're working with, and honest to the clients that you are engaging with. Also, I recommend that a leader works with teams with diverse talents and skills; always look for people who inspire you and who bring the best out of you.

Alok Chugh, CEO, Helios Consulting Fze
Alok is a Business and Tax Consultant with over 29 years of experience of advising Multinational companies and large Family owned businesses in the Middle East. He is well versed with the legal, tax and regulatory environment in the region and is regularly consulted by various Government institutions (Tax authorities, Foreign Direct Investment Authorities) on Policy and Compliance matters. Alok is an active member and regular speaker at various business forums such as AMCHAM, British, German and Canadian business forums and Association of CA professionals in the Middle East.

Helios Consulting is a specialist consulting firm providing Business and Corporate Advisory Services, Tax Advisory Services, Human Capital Advisory and Technology Consulting solutions to enterprises globally We place emphasis on understanding our client's businesses, their vision, their challenges and then provide tailor made solutions to each client to help achieve their vision.