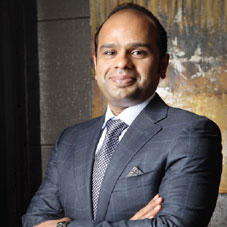 The FinTech or financial services industry is far too large to be serviced by a single organization. Hence the role of competent leaders, increased relationships between fintechs, partnerships with other companies and collaboration with regional level personnel is the only route ahead for any organization's growth bandwagon.
In an exclusive interview with CEO Insights Magazine, Adeeb Ahamed, Managing Director at Lulu Financial Holdings walks us through his professional journey along with the unique traits of the company.
Throw some light on your professional background and experience. How has been your journey so far with LuLu Financial Holdings and what drives you today as an industry leader?
Holding the position of Managing Director of Lulu Financial Holdings is a great responsibility that I deeply look forward to building upon every day. Over the last decade we have invested in world-class services and products to build a financial inclusion ecosystem. I started my career with a luxury brand in Europe, and shifted back to the UAE in the mid-2000s to help grow this company.
I've always believed that technology should be used to link people, and every thing that's being built right now is an attempt to do so. I am most passionate about making people's lives better through the use of financial services and technology as enablers. Our company has been one of the forerunners in our sector to strive for digital transformation, and I believe this is a continuing journey for which we are fully prepared.
How would you define LuLu Financial Holdings as an organization and its position in the
market?
Lulu Financial Holdings is a holding corporation in the traditional sense. In the financial services sector, it has a number of investments. This comprises a network of 250 physical branches in the Middle East under the Lulu exchange brand, Lulu Forex in India, and Lulu Money throughout the APAC area. We also have the NBFC sector in India LuLu Finserv, which primarily focuses on the microfinance sector. We also have our technology division, which is called Pearl Data Direct, and the MSME financing division LuLu Capital. Lulu money is our digital payments app, which is uniform across all territories. We currently operate in 11 countries, including Bangladesh, where we have a liaison office.
"I've always believed that technology should be used to link people, and everything that's being built right now is an attempt to do so. I am most passionate about making people's lives better through the use of financial services and technology as enablers
What are your plans to innovate your offerings further? How are you adapting new tools/technologies to revolutionize your services to be at part with current industry standards?
We switched to the cloud three years ago, and it has aided us in scaling up our infrastructure and improving the way we deliver our services. The move to the cloud has been our most significant milestone in the recent past, we've migrated practically all of our infrastructure to the cloud. There are a number of advances we've made for realtime processing, to enable transaction turnaround times of less than 15 seconds to some of our important corridors like India, Sri Lanka, and Pakistan. All of this is made possible by the different technology integrations we've completed on the backend.
Reflect on some of the major challenges you have encountered so far. How did you overcome them
and what did you learn from them?
Our entire plan was to construct for financial inclusion. And the question was, 'How can we go past these physical branches?' One thing to keep in mind in the Middle East is that the population is extremely large. A majority of these professionals are blue collar workers. The idea was to get them on board and engage with them. We enabled the use of UAEs Wage Protection Scheme debit cards as a payment option on our mobile payments app LuLu Money. This encouraged more of our customers to transition to our digital solution.

In the light of your strong industry experience, what advice would you give to the budding entrepreneurs of this domain?
I have always believed that entrepreneurs must consider the long term and generate value rather than chasing valuation. There's the fact that this financial service market requires a lot of innovation for greater customer acquisition. Not everyone is familiar with digital in the remittance arena. It's a protracted game, especially in developing economies, because that's where a lot of money flows from developed countries. Second, by stating that they must build value, they must first identify the customer's core cause and then proceed to build product market fit, ensuring that the solution is appropriate for the pain point in question. And in that particular pain point that they're attempting to resolve, they must continue to work on it and not expect immediate results. Build value through partnerships, and not by working in silos.

Adeeb Ahamed, Managing Director, Lulu Financial Holdings
Adeeb is the dynamic Managing Director of Lulu Financial Holdings. He has expanded the holding company to remarkable heights in just over a decade, investing in robust services and products all around the world to establish a financial inclusion ecosystem. Adeeb possesses a Bachelor of Business Administration from the University of Les Roches in Switzerland, as well as a Master of Business Administration in International Management from Royal Holloway, University of London.