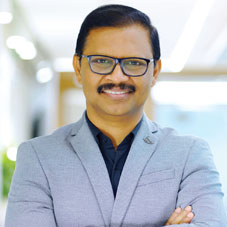 Since time immemorial, Indians have been stepping forward in the business arena and soaring to the pinnacle of success. Many talented entrepreneurs have made break throughs, pushed boundaries and held positions of power in the international business world.
One such leader who is making waves of recognition in the Pharma & FMCG sector in GCC is Abdurahiman EP, Chairman & Managing Director at Care n Cure Group of Companies.
Abdurahiman EP who once moved from Kerala to Qatar with dreams of career growth in his profession of being a pharmacist is now making a ruling an empire in the Pharma, FMCG, Engineering, Telecom, industries and astonishingly even more.
"Have values and principles intact! Don't go after money do it right and money will follow"
A pharmacist by qualification, Abdurahiman completed his studies in 1987, worked in Kerala for a couple of years, and moved to the Middle East. After a brief career affair with Julphar(leading pharmaceutical companies in the UAE)and a few others, destiny had for him in store a position of a medical representative at Mepha Pharma - a Swiss pharmaceutical company. He gained over 14+ years of fruitful experience at Mepha which is also when he began to explore his entrepreneurial potential.
Abdurahiman strives for the development and betterment of society having been an integral part of several forums to promote quality education and support budding entrepreneurs. He introduced BNI(Business Network International)in Qatar and is currently a distinguished advisory board member of the Kerala Business Forum. Marching forward with the mantra of making the world a better place he is manifesting a societywhere people give unconditionally and stay in harmony.
In an exclusive conversation with CEO Insights, Abdurahiman shares details of his expedition. Below are the excerpts.
What prompted your venture into the business world? Share the story of Care n Cure Group.
Care n Cure came to life in the early 2000s as a retail pharmacy brand. Slowly and steadily, we grew into a chain of 50+ pharmacies across Qatar. With time, we realized the need for a company that can bring in products such as pharma, nutra ceuticals, medical devices, equipment, and more. Having said that we have diversified further into segments in and around Qatar with the launch of Care n Cure Trading. After firmly establishing itself in the country's healthcare sector, we expanded into the FMCG, Technical, Engineering, and Telecom division.
Please elaborate more on Care n Cure's venture into other domains. How did the company transform into a Group of companies?
As mentioned earlier, we started off as a retail pharmacy and slowly moved into eCommerce as well. We have launched Care n Cure Trading
to bring the finest healthcare & product experience by implementing more advanced ways of taking care of our customers. Our FMCG division under Care n Cure
Trading itself caters to a huge range of thousand-plus products. Further, I joined hands with my friend and ideated HYDROCARE Trading for heavy equipment filtering (oil/air/hydraulic filters)in Qatar. Soon the division soared its wings to Saudi, UAE & Oman as well.
Customer loyalty and satisfaction are the topmost priority at Care n Cure Group
We have AL GHALIYA which is a professional telecommunications company focused on the delivery of outstanding FTTH (Fiber to the home) solutions. Moreover, AL GHALIYA has been chosen as the most preferred service provider by Ooredoo. While we progressed in this industry, we also ventured into security and ELV systems through CARECOM, which offers CCTV, Telephone & Data Systems, Fire Alarm systems, Access Control systems, and Vehicle Tracking with an exclusive CARECOM showroom for all ELV solutions.We recently inaugurated the first showroom of AL ZULAL trading which caters to the trading of Security clothing and Accessories, Tools and Equipment, Ready made Tactical Clothes, Furniture and much more.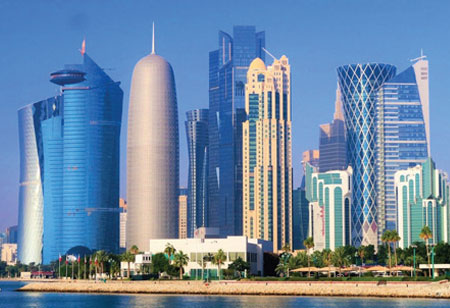 Today, we are proud to be the go-to name for an ever growing list of loyal clients and partners in all the diverse segments that we operate in.
How do you see the Care n Cure Group of Companies' position in the market in over 2 decades of its existence?
Speaking of the eminence we have gained, we are currently positioned as a Quality Service Provider. We are the first choice of online pharmacy for lakhs of happy customers. Proudly Care n Cure group is a name you can trust in every segment and sector we have forayed into.
Now, this is only possible because of our values that revolve around customer-centricity. Our priority is to fulfill and exceed the needs and desires of our customers through our service on an everyday basis. With one of our core values being service, we take pride in consistently delivering outstanding and excellent service to our customers.
Could you tell us about the unique services that are provided by Care n Cure Group of Companies that make it stand out from the rest in the market?
Our name says it all! Our name Care n Cure comes directly from the heart and our team truly delivers it in all aspects. All of this is possible only with our dynamic and motivated employees who align with our vision 'Our Name Our Promise'and work towards absolute customer satisfaction, quality, and delivering the best by being empathetic to the customer's needs.
Our entire focus is on providing the finest through which customers are happy. It is only when customers are happy, that we will be happy too.
What has been the success mantra that constantly helps you arrive at positive outcomes during challenges?
Starting anything from scratch
comes with a lot of challenges and growing pains, of course. I have been through the same, just like any other company founder. How ever, I believe that all of these experiences and setbacks will make you stronger. We have built the brand brick-by-brick and strength by strength. And the foundation of it was laid by the committed team we could form. Without any doubt my success mantra is MY TEAM!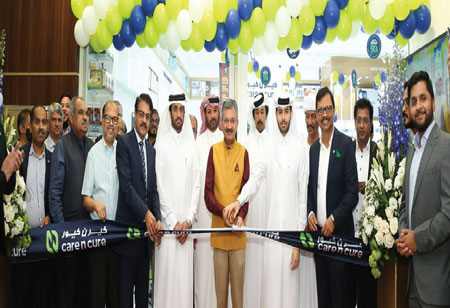 Tell us more about the dextrous team that is always behind the success of Care n Cure.
We are a dynamic organization with a diverse group of motivated people working together in an environment that fosters creativity, innovation, and progress. All our team members stand by the company's values of offering the best service. All of us are empathetic to the customers' needs and consistently work to deliver what customers deserve.
We are never in a hurry to make money; money is just a byproduct of the values we provide. We believe that journey is more important than the destination and ensure that our journey/process is straight forward with no shortcuts.
Being the Founder & Chairman, how do you plan to apply your exceptional understanding of this domain to the Care n Cure Group of Companies and take it to the next level?
My learnings come from the root level of being a customer first and then a retail chemist as well. I understand both parties very well through my education and the initial experience I gained as a pharmacist. Further when I joined Julphar (a pharma manufacturing company) I under stood various manufacturing processes including Quality Control and other background work. Subsequently, being into sales and marketing gave me exposure to various crucial aspects of the pharma business. Also, my journey as a professional gave me golden opportunities to interact with leaders and business persons who have taught me a lot. All of it has helped me to strengthen my abilities and equipped me to handle crises, lead the business at Care n Cure, and understand what's happening at the various levels of hierarchy.
What advice would you like to put forth to budding entrepreneurs?
It is vital to believe in yourself and have an open eye to learning. Have an interest to evolve with the dynamic nature of industries and learn from others. Don't focus on the processes and textbook methods, instead, keep an eye on the result and customize the processes by levering the learnings to achieve the goals.
Abdurahiman EP, Founder & Chairman, Care n Cure Group of Companies
Result driven leader, Abdurahiman believes that it is important to look at a problem from different angles before concluding on a decision or solution. He follows a holistic approach to analyzing a problem and finding a solution by listening to all.
Abdurahiman is an amazing storyteller and motivational speaker. He is also actively involved in various charity, business, and sports organizations. Abdurahiman believes that we have to stay indebted for what Mother Nature has given us and ensure to give back to the community in every possible way.