Rashmi Vaswani: A Perfectionist Whisking Right Blend of Chocolate Passion with Professional Experimentation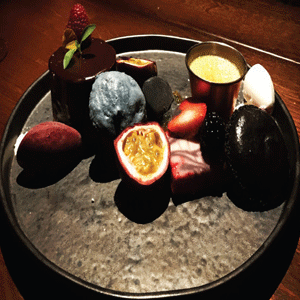 The highly-prized treasure over centuries, Chocolate has earned itself a prestige for its scrumptious taste and assorted qualities. Some call it exotic cubes of delectable flavours while others associate these choco-bars with medicinal qualities that restore energy and replenish mood and taste. It requires innate skill and novel passion for chocolate experimentation and a versatile perfectionist whisking this right blend is Bengaluru-based Rashmi Vaswani, the ace Managing Directorof an all women organization –Rage Chocolatier(a 2010-founded organization offering chocolate varieties for Indian palate).
Shunning the orthodoxy of 9-5 professional career, Rashmi took the path of entrepreneurship for transforming her chocolate making hobby into entrepreneurial venture. A passion that took wings in 2010 while fulfilling her father's sweet tooth, Rashmi always believed in steeping forward steadily for graphing united yet holistic growth. Explicating her entrepreneurial journey, Rashmi shares some exclusives with CEO Insights thatreflects upon her perfection, passion and professionalism in the art of chocolate making.
What propelled you to plunge upon entrepreneurship?
After completing my MBA, I decided to plunge upon my passion of chocolate making rather than pursuing a professional career in a 9-5 job. Initially, I used to enjoy making chocolates for my dad and treat him with new flavours. It was on Diwali once that I put up a small stall at an exhibition where in my creations sold out really well and earned traction among consumers. Steering a small success fuelled my passion and here I am today whisking chocolate fancies into real
experiences.

How have you created a unique position for your chocoholics?
The quality of our chocolates makes us unique in the industry. We have our own signature blend that is loved by our consumers. Why? Because it suits every Indian palate, which is not too sweet nor too bitter. We offer right blend of dark and milk chocolates in variety of flavours with ingredients including cashews, caramel, coffee, almonds, French crunch and many more. As we speak of variety, chocolate mousse, caramel cookies and cream-filled chocolates adds to the exclusive list and treats every chocoholic with experience like never before.

"Steering a small success fuelled my passion and here I am today whisking chocolate fancies into real experiences"

How do you bring in the element of customization for your retail and corporate consumers?
Although our organic chocolates have fetched much attention in the past, our packaging is something that really stands out. Our chocolate bars come in different wraps with interesting highlights such as monuments (sold primarily at international airports), love messages, congratulatory and birthday wishes, amongst others. While such covers attract retail audience, we offer customization advantage to our corporate customers by encasing chocolates of their choice in special boxes engraved with their company logos and colors. Wedding gifting boxes are also customized in-house based on customer preferences.

How do you maintain consistency in quality& taste throughout while establishing roots on various channels?
Unlike other food items, chocolate eating gives you an experience that revitalizes your mood, energy and senses. To deliver this experience with perfection, we focus on quality and use only best quality ingredients, thus ensuring consistency in quality and taste throughout. At Rage, we have a quality specialist who ensures quality checks at every step of chocolate making process.

Besides, we have experts in management who spearheads production, sales, marketing and advertising while an entire unit of specialists solely working for
packaging, making Rage's wraps and packs a standout in the market and around. With our manufacturing facility in Bengaluru (being revamped with automotive machines and paraphernalia), we are well establishing roots on e-Commerce platforms such as Amazon, Flipkart and other portals, and strengthening our brand presence across all channels.

As innovation is the twist to constant, where do you extract inspiration from & what plans do you deploy for consistent growth?
As I love to travel and read, I find my inspiration to newer ideas through them. Visiting exhibitions and being a tech-savvy person further scales up the innovation meter in me and makes me stay updated with latest market trends. Every time we have new clients onboard, we customize for them and create new flavours. And that's when we strike our innovative chords and come up with newer ideas. On Diwali, for instance, we introduce new range of ethnic chocolates with visual and taste of traditional Indian mithai with a chocolaty twist. The flavours include kesar pista, mango elaichi, gulab almond, raisin and gulab jamun.

Also, I believe in slow growth and steady progress at a consistent pace. I believe in loyalty and growing the company along with its people. On the future scale, I envision stepping up the echelon where Rage is recognized as one of the best chocolate brand among its consumers.

Key Management:
Rashmi Vaswani, Managing Director
Driven by passion and professional poise, Rashmi bridges the gap between international chocolate savouries and regular choco-bars with her signature chocolate blend, perfect for every Indian palate.

Flagship Store:
Bengaluru

Offerings:
Rage Signature Blend with Exotic Flavours & Ingredients such as Almond, Mint, Cashew Nut, French Biscuits, Center-Filled Chocolates, Crunchy Chocolates, Caramel Twist, Almond Rocks and Chocolate Bark

Exclusives:
Customization for Corporate & Retail Segment along with Festive Special Collection