Vaijayanti Bhalchandra: Transforming the Hair & Beauty Industry by Upskilling Talents with Clear- Cut Processes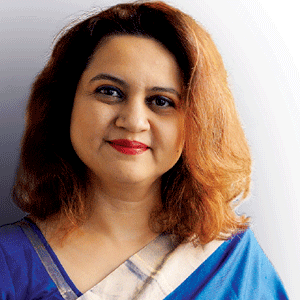 Vaijayanti Bhalchandra
Co-Founder
The Beauty industry in India is growing in leaps & bounds even in tier-2 & 3 cities and is displaying no sign of exhaustion in the future ahead. This coupled with the industry's transition from an unorganized market to an organized retail marketplace, has spurred a steep demand for skilled beauticians & hairdressers. Forecasting this upsurge in2008 itself, Vaijayanti Bhalchandra (Co-Founder), an inspirational trendsetter, has been driving a wave of transformation in the hair & beauty industry landscape by upskilling the industry talents over the past decade by establishing You Look Great (YLG), a Bangalore based salon chain. "The core of YLG's business model is based on a structured skill building process, which allows us to maintain consistently high service quality and better retention as compared to competition," affirms Vaijayanti.
Taking the transformational leadership route, she built a robust framework that integrates intense earnestness into the education in the largely disorganized field with complete focus on being process-oriented – a critical aspect that could be rarely found earlier. But what keeps YLG a cut above even the select few process-oriented organizations is the sense of self-assurance Vaijayanti instills within the minds of the beauticians & hairdressers, wherein they are made aware of the fact that their work matters and hence strive for excellence in a field that was deemed to be not so socially acceptable earlier. "We have trained more than 6,000 people for the Beauty & Hairdressing industry, with clear focus on certification, hygiene, education & process," adjoins Vaijayanti.
The Metamorphosis
Vaijayanti has always been fascinated by how students' lives are profoundly impacted by the teachers who have added value to their skills & education. As Vaijayanti has always been fond of teaching, it was a natural choice for her to kick start her career as a faculty in VNIT as a path to academia and later as a research fellow at IIT-Bombay. Her teaching background came to the fore again when she witnessed the massive skill deficit and lack of opportunities available to people working at the front-end in the retail industry – an industry where her husband Rahul Bhalchandra (Co-Founder) had been a long-term denizen of.
She graduated from a teacher to bonafide entrepreneur when she got the opportunity to shift the industry to the organized, education-driven realm, while also making a difference in those people's lives by building an organization that would improve skills constantly and create a brand for the millennials & post millennials. "We're glad to engage with people from different strata of the society (especially women), who have found their identity as a key contributor in their home as well as a person of themselves in the industry, which gives them satisfaction," adjoins Vaijayanti.
The Bellwether of Top Trends
Vaijayanti understands that the millennial and post-millennial consumers utilize technology to make their life more convenient, be more aware of their environment, and treat their time as the most premium commodity. By aligning YLG's strategy inline with her target customer's behaviors, Vaijayanti
eclipses competition by handpicking best-in-class products & services from all over the world, which are offered at reasonable prices to today's millennials, who are highly aware of the latest social media trends and desire to attain the best in the world as soon as it is available.

YLG offers a complete range of Skin, Hair, Nail and Makeup Services including Waxing, Threading, Facials, Pedicures & Manicures, Nail art, Cuts, Hair Treatments & Hair Spas, Hair Color, Texture, Styling and Bridal services. It's Home Salon services are a curation of some essentials (Waxing, Body Massages, Bridal services, Hair Spa & so forth), where as fashion-oriented services demanding specialized equipment and hair wash are generally excluded from the offering, as the organization feels that the experience at home is not to the level expected of a fashion service. Vaijayanti reviews the assortment of services every six months to include newer services and drop those which are not popular with customers, besides conducting periodic audits and a refreshment training program every quarter.

"By aligning YLG's strategy in-line with her target customer's behaviors, Vaijayanti eclipses competition by handpicking best-in-class products & services from all over the world"

YLG has won multiple awards at different forums – It has been winning the Best Salon – South for four years in a row by Franchise India, Best Salon Chain – South by the Retailers Association of India in 2018, and the Best Salon Chain – South at the L'Oreal Professional Indian Hair Dressing Awards in 2017 and 2019. Vaijayanti says, "I am thrilled at the sterling contribution of every member of the YLG team to uphold the highest service standards which has been recognized by various forums".

The Distinct Culture of Responsibility
Vaijayanti takes pride in the highly experienced team she has handpicked from India's leading service brands through a rigorous interview process. Keen on learning and implementing processes from different industries, her organization takes them through extensive training programs to help them understand the way YLG's customers expect to be treated, which ensures a top-notch quality. "As most of our customers are females, the operations team is sensitized constantly to the women majority team," adjoins Vaijayanti.

The multiple checks starting from biometric identification and attendance for all staff entering salons (including housekeepers) to the CCTV surveillance at entry & exit points, ascertains the safety & security of both customers and YLG team members. Vaijayanti has also laid-out a policy to place her people within a short distance from their residence to avoid unsafe and long journeys to and from work location. Nevertheless, in case of delays beyond closing time, the girls are provided safe escort to their homes.

Ownership being one of the core values deeply inculcated within every member of the YLG family, they own-up to their responsibilities with all their heart, which allows a fair degree of flexibility in working for all of them. When asked about her formula to maintain the perfect work-life balance, Vaijayanti reveals that she recharges her batteries once in a while by taking short breaks & traveling to new places every few months with family, practicing Yoga & meditation and enjoying movies outings.

But for her, the line between work & life is almost non-existent, as she has embarked on the journey with her husband Rahul as the co-passenger, who clearly understands the peaks & valleys the business goes through, which further smoothens the ride. "When you love
what you do so much, it can't be so much of a work. I'm blessed to have two daughters who love what I do and are thrilled with my success in this space," shares an impassionate Vaijayanti.

Keeping Pace with Industry Trends
Vaijayanti is an integral part of the bodies that drive the next set of education curriculum for India including the Curriculum Committee of the Beauty & Wellness Sector Skills Council for India for the Diploma as well as NCERT school syllabus for skill-based electives. She also plays a crucial role in creating & ratifying curriculum and setting-up norms for the framework for the qualifications and certifications for the Beauty & Wellness Sector. She has also been a regular participant at Industry events, shows, panels and juries to select new talent, and visits trade shows to keep abreast of new products and techniques.

"Vaijayanti also plays a crucial role in creating & ratifying curriculum and setting up norms for the framework for the qualifications and certifications for the Beauty & Wellness Sector"

Vaijayanti's strong research background laced with her extensive travel across the world explains how YLG has been able to stay on the top of the global trends. The creation of its International Color and Styling Collection for the past eight years has reaffirmed YLG's position as the bellwether for upcoming trends. Never letting her finger slip from the pulse of the market, Vaijayanti constantly keeps pace with the industry trends in order to spellbind her clients with the latest services & products that are curated from amongst the best in the world.

YLG also has its own Brand products such as cold wax strips that can be used at home and skin care products like Aloe Vera gel with 97 percent purity, which are available in the retail space. Yet another gem in its crown is Slogro, a patent pending product range, which slows down hair growth in between hair removal by shaving, hair removal creams or waxing. Galvanized by the tons of positive buzz generated by these products, Vaijayanti targets to launch more products in the skin care range soon.

Expanding the Territory
Evolving YLG's business model as per consumer's behavior, Vaijayanti intends to provide the consumers easy access to the store by either establishing a store in their neighborhood or bringing the store to customers' home. Holding a unique position as the leading training & educational brand, the organization is gearing-up to emerge into a nationally renowned brand with its retail chain spread countrywide. She might even opt for raising funds, if she feels the need to go national at a faster pace. Taking such long strides, Vaijayanti seems to have the perfect momentum to steer YLG towards the zenith of the industry very soon.

Key Management:
Vaijayanti Bhalchandra, Co-Founder
Holding a variety of degrees including a BE from VNIT Nagpur, M.Tech from IIT Mumbai, and PGDHRM from SIBM, Vaijayanti is a passionate educator. She is the proud recipient of the Mahatma Gandhi Samman Award at House of Commons, Westminster UK Parliament at the Global Achievers Enclave 2018, as well as the Bharat Jyoti Award. She was amongst the nominees chosen from over 21,000 Alumni of VNIT Nagpur for the distinguished Alumni Award and was felicitated at her Alma Mater by Honorable Minister Nitin Gadkariji in February 2019.

Rahul Bhalchandra, Co-Founder

Locations:
Bangalore(50stores), Chennai(10 stores) and Hyderabad(five stores)