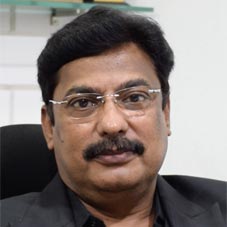 Ramkumar, Managing Director of Readylink, has been providing his services in this sector for 17 long years. A Mechanical Engineer, passion for starting the ISP sector has driven him to train and go to various classes to learn more about networking. He has been running the technical domain on his own for seven years, and later, he was followed by experts. CEO Insights, take part in an exclusive conversation with Ramkumar A, who elaborates new developments and the formation of the organization in the ISP market.
Over the last few years, India has seen an increase in the number of Internet users in the country by leaps and bounds. We would like to have an insight on the way you run the company?
As a specialist with experience in technology and communication systems, we had resources to develop both our customer-focused
support and our technical expertise. With a long-term vision, we have a reliable and safe business model that makes us a secure long-term partner for your company. We are developing a technological platform that will satisfy not just our potential needs, but also those of our consumers. Using our Next Generation Network, our state-of-the-art NOC and our in-house experience, we acknowledge that we are uniquely placed to help companies of any scale make the most of the opportunities that are now opening up.
Today, like almost any house, any individual and every office has an internet connection. While this is a need, how has your company's journey been so far, and what difficulties have you encountered on this path?
We started delivering services to educational institutions, the corporate sector and the BPO industry, and the first 12 years, we have only been supplying services to these three sectors. In 2016, we began broadband fiber networking and now have about 12,000 broadband customers with us.
We expanded our wireless bandwidth from Coimbatore to Tirupur because we were the only bandwidth service provider there. This was a challenge for us, and we managed to provide them with the best available facilities.
We are one of the most elaborate set up for providing Managed Services to Customers
Kindly throw some light on the various ISP services that your company offers, highlighting on your flagship service. Also, how do you ensure to maintain utmost trust and transparency while offering these services?
We offer Premium Dedicated Internet leased lines for Enterprise, SMB, BPO and Educational Institutions at highly competitive prices. We also provide our customers with high-speed Internet connectivity capable of serving a growing range of applications that cater to their needs for information, communication and entertainment.
Due to our constant support, all our clients are with us on our journey, and they believe us for the services we provide.

Enlighten us on the professional experiences & expertise of your team of experts at Readylink.
Some of my field workers are fresher, and the first batch of our field staff has been with my company for more than 15 years. We do have qualified experts from various ISP firms, and they manage and control the team.

Are you coming up with any innovations or up-gradations to enhance your existing ISP services portfolio?
Almost all internet users have a cloud. Thus we are going to set up our cloud service for our clients in the coming years.

What is the future roadmap set for your company? How are you updating yourself with the latest technologies/ trends in ISP to make your company reach its future goals?
We are currently operating with 4 manned POPs. 11 unmanned POPs and 48 franchisees in rest of Tamilnadu. We are looking to take a license to extend our services to throughout Chennai. We have also applied for license to offer Telephone connections. Internet Service is a technology driven business and we constantly keep updating ourselves to stay relevant in the competitive market.

Ramkumar A, Managing Director
A mechanical engineer started his industrial manufacturing solder wire in 1989. In 2003, he started internet services and also started to serve IT solutions in the name of Readylink communication & services from 2005. He accompanied his entire team and has a fullfledged infrastructure to deliver Bandwidth anywhere in the rest of Tamil Nadu.

Offerings:
• A fully equipped and 24*7 manned POPs at Tirupur, Erode, Tiruchengode, Namakkal and Salem.

• Premium Dedicated Internet Services

• Wireless & High Speed FiberBandwidth Services