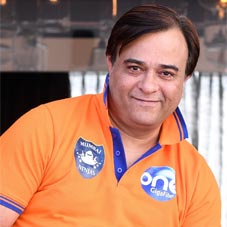 In this crowded market of several hundreds of small medium-national ISPs with majority of them eyeing the same juicy markets in the Top 50 markets & eating into each other's share. ONEOTT iNTERTAINMENT LTD (OIL) has emerged from this crowded market as India's fastest growing wired Internet Service Provider (ISP) with Half a Million+ subscribers from its close to 14,000 subscribers about 5 years back. OIL is a subsidiary of NXT Digital Limited (NDL), a part of the Media Vertical of the Hinduja Conglomerate and has reached amongst the coveted Top 5 wired private ISPs contributing to the digital inclusion in India.
To know more about OIL and its journey as one of the leading ISPs of the country, CEO Insights engages in a heartfelt communication with Yugal Kishore Sharma, CEO, ONEOTT iNTERTAINMENT.
Tell us about the journey of ONEOTT iNTERTAINMENT till now.
Back in 1999, the company started as India's first few private MSO-ISPs and the initial brand was 'In2Cable'. While In 2016, a renewed focus on broadband led to the evolution of Company's v2.0 journey and, ONEOTT iNTERTAINMENT LTD was born to address the growing appetite for data consumption to fulfil their ON-DEMAND ENTERTAINMENT needs. It provides an all-time Internet customer experience with the help of its responsive customer care team and, with its new brand identity – 'ONE'.
Shortlisted in three categories in the recently concluded 'ET Digital Telco Awards 2020' which included Best
Broadband Service Provider, Best WiFi Infrastructure Provider, and CEO of the Year (Operators category), OIL is triumphing in the fifth operating year of the company with enhanced focus from FY 2016 – 2017 onwards. The company has won several accolades & awards, including Indian Achievers' Forum award with title 'EMERGING COMPANY OF THE YEAR 2019', The TelecomLead. com Innovation Leaders 2019 award, Express Wi-Fi by Facebook – Launch of the Year -2019, My India Wi-Fi India Leadership Awards, Best Wi-Fi Service Provider (West) – 2018, Best Social Wi-Fi Project (West) – 2019.
Internet usage today has moved beyond browsing & social networking by expanding into the field of Online Learning, Remote health diagnostics, work-from-home and overall contribution to the Digital Inclusion in India as demonstrated by us in Dharavi & Manchar Village
How do you think your company benefits the customers that other companies in the market fail to deliver? Tell us about your USP?
Drawing benefit from the data revolution, OIL is a well-poised brand in the existing partnership ecosystem with the LMOs. It is leveraging its panIndian cable TV network infrastructure to bring entertainment powered by the internet, by introducing 'iNTERTAINMENT' to every household. We strive towards transforming the lives of its customers by providing an always-on internet experience backed by a responsive customer care team over – 'ONE Wire using ONE device for every Home' with our brand identity –'ONE.' OIL's key stakeholders are the Last-Mile-Operators (LMOs) who have equitable partnerships with the company and together, we are focussed towards building a scalable & future-ready Fiber-To-The-Home (FTTH) network aptly coined as Future-To-The-Home®. OIL leverages Nokia's state-of-the-art xGPON technology that delivers speeds of upto 10 Gbps to power the smart homes of today.
Highlight the various offerings of OIL caters which depict its uniqueness as a leading ISP.
With a vision to be a lead contributor to the digital space in India, OIL strives to connect homes & offices
online. Its business segments include home, SOHO & enterprise, wholesale bandwidth & connectivity as Aggregator for smaller ISPs as major segments for Organic growth and, ISPs entering into strategic alliance partnerships as part of its tried & tested IN-Organic growth story.

In 2016 under the brand name 'AmchaNet', we enabled Wi-Fi hotspots over 120 Ganpati Pandals including iconic locations Lalbaug Cha Raja, Girgaum cha Raja, Ganesh Galli with a special focus on providing Public Wi-Fi services on Ganeshotsav so that devotees can access free Wi-Fi from the first day of the festival till Visarjan.

In 2019 OIL, also announced a partnership with Facebook to offer Wi-Fi hotspots across Mumbai powered by ONE GigaFiber high-speed internet service and supported by Facebook's Express Wi-Fi software platform. We launched a pilot with the initial deployment of ONE Express Wi-Fi by a Facebook project in Dharavi, Mumbai, enabling Internet consumers to access 2GB of data per day free for 30 days via OIL Wi-Fi hotspots.

Tell us about the future roadmap of your company?
OIL having tasted its stupendous growth achieved in the last close 20 Quarters has now embarked its expansion journey to leverage its huge synergy with its Parent Company NDLs CATV last-mile LMOs (Last-Mile-Operators/Owners) for providing high-speed Internet and OTT Apps to over 1,500 cities of India. We have grown through collaborative-equitable-partnerships with our LMOs to create cost efficiencies & operational synergies for a city-wide-coverage-capacity and bandwidth management. We want to master the wave of the on-demand economy and plan to offer convergent solutions, such as internet access, and IPTV and voice through one wire. We will soon launch an IPTV service bundled with OTT as an entertainment solution for a smart home. Also, we have plans to launch smart security, smart lighting and IoT solutions for smart living.

Yugal Kishore Sharma, CEO
Yugal Kishore Sharma is a Telecom Industry stalwart with 26 years of rich experience in starting and setting-up businesses from scratch across high technology consumer, enterprise products, and telecom services in retail & enterprise. He has steered OIL into becoming India's fastest growing Internet Service Provider (ISP) with an ambition to be in the Top 3 most loved ISPs of India serving its purpose to lead contribution towards digital inclusion in India by connecting homes & offices online.