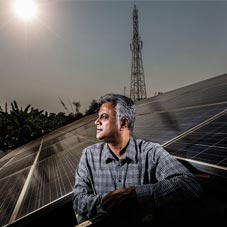 In the awakening era of sustainability, many eco-savvy minds are becoming more concerned about the earth's safety. Rohit Chandra is one such progressively motivated person who is environmentally conscious by propelling the benefits of green energy. To rethink energy harnessing techniques and follow eco-friendly practices for repairing the damage we caused to the mother earth, Rohit Chandra co-founded OMC Power in 2011.
Committed to add value to the industry and lead a change in the country's current energy portfolio he sculpted the foundation OMC Power which builds, owns, and operates power plants and smart mini-grids to serve telecom towers, businesses, and communities in rural off-grid areas. Under his leadership, the brand supplies reliable and affordable power to lakhs of people, thousands of businesses, and hundreds of telecom towers. Today, OMC Power's Pioneering ABC model is established as the largest, and one of the most successful, mini-grid company in the world.
To know more about Rohit's journey and the company's contribution to the world, CEO Insights engages an exclusive interview with him.
Enumerate your educational background and professional background.
I have completed my Engineering in Electronics and Communication from Aligarh Muslim University in 1986. My entry into the telecom sector was enabled by this qualification and this was at a time when the sector was just beginning. I joined Phillips in the telecommunications and data systems division at their headquarters in Mumbai. Thereafter, I have worked with Forbes & Campbell (a Tata Group company) in their communication division and subsequently, with Wandel & Goltermann GmbH as the country manager for India. I then took on leadership roles in Ericsson, Aircel, and Telenor India.
Highlight your experience and achievements that bestowed you with utmost satisfaction and helped you in the journey.
I have over 25 years of senior management experience in telecom. As COO of Telenor India, I led the efforts of launching a nationwide brand and was key to the fastest IT Infrastructure and Network roll-out in India and also set up Telenor India's sales and distribution network, and recruited key staff for launch. As Executive Director at Aircel, I made the company into one of the fastest-growing operators in the country with 11 Mn subscribers acquired in record time. I led 3000 staff members – securing Aircel the No.1 position across several states in India. I was also EVP at Ericsson India, managing Sales & Marketing and in charge of the Technical Solutions Division – gaining the company a 42 percent share of the mobile infrastructure market.
As a Rural utility OMC sees opportunity in value-added services based on energy like clean drinking water, irrigation, telemedicine, EV charging, cold storage, which helps in improving the rural infrastructure, health, and safety of people for the socio-economic development of the rural area
My professional experience has been in MNCs and large Indian corporates. I have been involved in starting up two MNOs and have also managed end-to-end responsibilities in smaller corporates. This experience has helped me hone skills that are required to set up a startup as a co-founder. What has also helped in my journey so far is the 'small company behavior' which I have adopted as my approach. By this I mean a corporate culture that is a combination of passion, speed, agility, innovation, transparency, and a hands-on, multitasking leadership style.
As a CEO of OMC, one of the most fulfilling and proud moments has been the discovery and development of OMC's ABC business model - an innovative business model to provide affordable access to energy to rural businesses and communities. It was very heartening to see the conversion of this idea into reality with the launch of OMC's first plant
in July 2012 in a village called Jangaon in rural Uttar Pradesh. Since then, we have been able to scale up the model to 200 plants in India and have also expanded into Africa and Asia. I am also very proud of our partnerships with some of the most prestigious global brands like the Rockefeller Foundation and Mitsui & Co. The social and environmental impact we can make with this project gives me joy and fulfillment.

How do you manage to balance your personal & professional life?
As a co-founder and CEO, a balance is hard to achieve. It is a continuous challenge, as for me OMC is not just a job but a way of life. Amongst other things, I live to do what I do at OMC and I am passionate about it. I would like to applaud my team, which has successfully helped me lead the company from a startup to the current growth phase where the management is decentralized, business processes are stable, automation of processes has been introduced and key partnerships (such as Mitsui & Co.) have been achieved. Mitsui & Co. as our partner is deeply involved in the business. We have Mitsui team members on secondment who are now an integral part of our management team and help us drive growth. Mitsui's support for our future expansion is key to our success. All of the above has significantly contributed to making our work lives time-efficient.

How has been the support & inspiration from your family in your journey so far?
My biggest inspiration has been my father. From him, I have learned commitment, values, relationships, and a never give up attitude. My family has been extremely supportive. While there have been many times when I have had to trade family time with work commitments, the family has been understanding and encouraging. Friends and colleagues have also been extremely supportive. I can proudly say that for me and my team OMC is not just a job, it is our passion and what we look forward to each day.

Rohit Chandra CEO, OMC Power
The Leader's Role in his brand
"At OMC, I have taken up all of the above roles and more. To begin with, I have been instrumental in setting the vision and mission for the Company. I have led the company and my team from the front. The Company as it stands today is attributable to a professional and high caliber management team that I have built and have been managing. As the CEO, I see myself as the custodian of the Company's culture and values. Therefore, I play a multi-faceted role."