In the past few years, India has seen exponential growth in the telecom sector owing to a number of factors such as development in urbanization, advancement in technology, easy accessibility of mobile phones and more. According to ibef. org report, the Indian telecom industry is expected to grow at a CAGR of 18.9 percent during the forecast period 2015-20 and reach $23.8 billion by 2020. Contributing to this industry is Salasar Techno Engineering Limited, a Ghaziabad based infrastructure company that provides customized solutions to meet the requirements of its clients.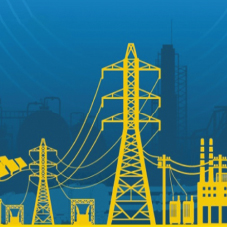 The company was founded with the simple idea of serving theneeds of India's dynamic infrastructure space. Today, with great dedication towards the industry and under the aegis of Shashank Agarwal (Director), the firm has emerged as the country's leading provider of telecom infrastructure solutions, with operations around the globe.
Explore the following snippets of an exclusive conversation of Shashank with CEO Insights to gain great insights on Salasar services and its unique offerings.
Tell us about Salasar Techno Engineering and its services along with its unique elements, which differentiate the company from other industry players.
We started as a telecom tower manufacturer in the year 2006 and over the years, we have built a reputation of being one of the most reliable and innovative organizations in our field. With strong dedication, we developed our capabilities by our own, and today we are reckoned as one of the best towers manufacturers of the telecom industry in India. With over 13 years of experience and working in 30+ countries, we have pioneered the design, manufacture, and installation of all kinds of infrastructure for telecom industry, with full customizability.
Our diverse product portfolio comprises of everything whatever a telecom industry needs, including Angular tower, Triangular tower, Monopoles, Smartcity poles, Cell on
wheels, Mobile Towers and more.
Our products are designed, engineered, and installed as per the requirements of our clients. We can confidently say that we are the ones in the country, who have a complete range of products for the tower companies in terms of structures. How ever, what differentiates us is our capability of delivering the project on time. We are highly stringent with the TAT, and we have been implementing this value since the very first day of our work. The synchronization between our supply team & project team is what enables us to deliver the projects on time. Our focus remains on fulfilling the requirements of our client's customers, hence we complete our work based on the end customer's timeline, and this is what gives an extra edge to Salasar.
With 13 years of experience, we have pioneered the design, manufacture, and Installation of all kind of infrastructure for telecom industry, with full customizability
Having major market share with all major tower companies like Indus Towers, Bharti Infratel, American Tower, TowerVision, Reliance Jio, BSNL and more, we are now leading the telecom infrastructure industry. Apart from catering to the infrastructure needs of the Indian telecom companies, we also offer our services to overseas clients. We have supplied towers to various clients in Nepal, Sri Lanka, Myanmar, Malaysia, Cambodia and more. Besides, we were also listed on the stock exchange in 2017 (BSE:SALASAR.BO), which makes us the only player in this space to get listed.
What is the driving factor for Salasar Techno Engineering?
Salasar is formed with the ambition of building a stronger world. According to us, the foundation of a stronger world is built on four pillars: Connectivity, Accessibility, Sustainability,and Resilience. Consequently, all our works are centered on these values. Hence, apart from turnkey EPC of Telecommunication Towers, we also cater to all sorts of infrastructure needs, be it renewable energy, smart cities, power transmission and more.
What is your contribution towards
the Smart City Initiatives?
Under the initiatives of the government to develop smart cities around the country, we have endeavored to manufacture and install Smart Poles for these Smart Cities. These poles are equipped with LED Lights, CCTV Cameras, pollution sensors, and Wi-Fi routers. We have worked for 50 sites in Vishakhapatnam, where we have built the sites from scratch. Alongside this, we are currently working on projects that are under progress in Agartala and Delhi.

Quality is the top most requirement in today's world. How do you ensure to maintain the quality and authenticity of your services?
Quality is a part of our regular work ethics. We have a dedicated QC team responsible for ensuring that manufacturing processes and products meet the company's quality specifications. Besides, we are associated with the Danish consulting giant Ramboll, with whom we have Technical Design & Quality Control collaborationfor our Telecommunication Towers, Monopoles, Poles, and Smart Poles.

What are your measures to ensure the safety of your employees? Also, tell us about your recent revenue growth along with the future roadmap.
We have our inhouse ESH team and certain processes in place to ensure the health & safety of our employees. We also organize medical checkups & camps and workshops to create awareness.

We have crossed Rs.650 crore as of March 2019, while in terms of revenue, about 95 percent of the part is from the Indian market, and the other five percent is from overseas. Hence, we are trying to discover new markets and new customers, where we can offer our solutions. We are also participating in global tenders for the supply of telecom towers, but our focus will remain on the Indian market.

Key Management:
Shashank Agarwal, Director
A B.Tech from Manipal Institute of Technology and a proficient Telecom professional, Shashank holds a deep knowledge and experience of the infrastructure industry, which enables him to lead the organization with maximum efficiency.

Office: Ghaziabad

Offerings: Telecom infrastructure services including Angular tower, Triangular tower, Monopoles, Smartcity poles, Cell on wheels, Mobile Towers and more