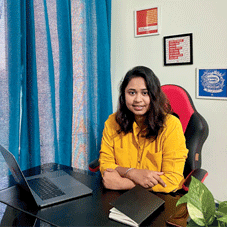 It is an undeniable fact that the number of women-led organizations lags than that of men. As an elixir to this biased stat, women are chasing their entrepreneurial dreams. They are on the raising graph despite a world of challenges confronting them, making a fair game of equality in the world of business. Among such ambitious and avid women, we have Samita Mondal, who courageously stepped out of a conventional job and became a freelancer. From an employee to an independent worker, now business leaders, Samita is a true inspiration for young women who aspire to succeed.
With the immense exposure gained from the startup ecosystem, she has evolved as an intellectual person and a leader. She has over seven years of industrial experience and contributed to 40+ projects and teamed up with 25+ clients. She is the person who looks for inefficient procedures, finds ways to streamline them, and consistently strives to boost productivity. Appreciating her work towards creating an environment that leads to no stress but 100 percent productivity, CEO Insights engages an exclusive conversation with Samita Mondal, Founder & CEO at Redmonk Studios.
Provide us with a glimpse of your educational & professional background before establishment Redmonk Studios? What are your skillsets & strengths that you consider unique to you?
I graduated with a Bachelor's Degree
in Computer Applications from Christ University Bangalore. Back then, I was an average student with a lot of interest in computer science and sports. During the final year of my studies, I got a chance to build a web application and publish a paper on Activity Recognition System.
On the professional front, my career started with an MNC. Within six months with the company, I realized that I am looking for mentors and not managers. Later, I joined startups to gain more knowledge and grow my skills. Fortunately, this helped me to build my portfolio and network. After the first two years, I started full-time freelancing.
Redmonk is a digital studio offering design & development services, focused on innovative user experience revolutionizing the digital-driven world
One of the skill sets that I developed through freelancing is creating user-friendly designs, websites for the end-users. Since customer experience is key to any business, we resort to User Interface or User Experience applications for increased customer retention. Today, I am capable of learning technologies overnight and comprehend the latest technologies in the market. I am the cumulation of many skills and talents. I am energetic and enthusiastic to work with clients who want results, clients who invest in their business to make it profitable. The impact that I can have on my clients' business is the value of what I do. I collaborate with both small and enterprise-level organizations building solutions such as SaaS & PaaS.
I research on the market treads and look up to clients who want to innovate with new technology. When they come with problems that need new solutions, we research and
experiment and learn a lot.

How the journey has been so far? Tell us about your roles and responsibilities that you have been undertaking so far.
I think that my freelancing journey adds up as a foundation to Redmonk. Though I am the founder, I work as an employee and get on the ground rather than focusing on the managerial role. As the Chief Executive Officers here, I take corporate decisions, manage operations and resources, talent acquisition, train people, and also work on web-development.

What challenges did you face in setting up the organization?
The major challenges I faced were to find skilled and self-motivated resources who want to innovate rather than getting guidelines. To overcome this, I evaluate resources based on their curiosity level, skill set, and attitude. Not based on their qualification and experience. I prefer hiring such candidates who could showcase skills. I look for a self-motivated person so that they can benefit the fellow team members as well. We want to nurture each other and not focus on the rat race. All that we want is to grow together.

Every aspect of my leadership comes from my college days, where I experienced no bias or discrimination at all. Also, I was given a lot of opportunities and responsibilities. I was surrounded by bold and ambitious teachers who made me feel that there is no limit to be creative. They have always inspired me and my fellow students without any discrimination. We have evolved with the mindset to grow together and nurture one another.

Samita Mondal, Founder & CEO, Redmonk Studios
Wise Words
Do not evaluate yourself based on what you have achieved so far. Hit small achievements and milestones (maybe learning something new each day) and continue to do so instead of aiming for big success because all your small steps will come together as a big victory one day.